We think some of the the best food in Mexico is found on the streets! There's nothing quite like visiting a Mexican street food – ahh the sights, smells and sounds! From Oaxaca to Mexico City, definitely one of our favourite parts of travelling in Mexico is sampling the local fare from the street.
Not too sure about "street food"?
One of the warnings you often receive when you visit a new country is to avoid street food to prevent food poisoning. While this is generally wise advice, it doesn't apply to Mexico where the best authentic local cuisine can only be tasted on the street.
Be it at stalls, small trucks, improvised tables under umbrellas, on a cart, a bicycle, or on the window of a private home, you haven't experienced real Mexican cuisine until you try the local street food.
Just make sure you make a smart choice. Normally the best street-food places are those that always have a crowd patiently queuing. Then you know it's good and, equally important, safe.
But without further ado, here is a list of the most typical Mexican street food.
First on our list of Mexican street food, considered the most iconic of Mexican cuisine and certainly the most consumed food in Mexico. Tacos are simple to make, cheap and quick to get. Most of all, in every corner of every city you will most probably find a taco place.
Tacos can be made with either corn or flour tortilla, topped with finely cut meat chunks, and sprinkled with avocado and onion. Of course a good dose of chilli sauce, a very spicy sauce, makes it authentically Mexican.  
Every region has its own variations, be sure to check out our Guide to Tacos which delves into tacos in much more detail. In fact, our love of Soft Taco Wrapss inspired our newest product Soft Taco Wraps soft wheat wraps which are perfect for making delicious and authentic street food such as Chicken Tinga Tacos.  
We are starting to see healthier versions of tacos. In Mexico City there are even a few famous vegan Soft Taco Wrapss places. We recommend trying Gatorta to get your vegan fix. Although a bit of a warning that vegan tacos are still somewhat controversial to many Mexicans who consider a dish without meat not real food!
Tamales
Tamales are a typical Mexican breakfast. Although you find them in many other Latin American countries, we think the Mexican ones are the best version. A tamale has corn dough wrapped in corn husks or banana leaves and stuffed with different kinds of meat or cheese, mole or rajas (strips of chile poblano along with some tomato and onion). Every region has its typical variation but everywhere Mexicans enjoy it either for breakfast or as a treat during the day.
Next on our list of Mexican street food is Quesadillas. The typical quesadilla is a flour tortilla folded into a sort of a pocket containing melted cheese and different kinds of vegetables, especially mushrooms or squash blossoms. In some regions, you can also find them deep-fried and topped with guacamole, bean paste, or a spicy tomato sauce, and shredded fresh cheese.
Tortas
Tortas are generally huge sandwiches made with bun bread and filled with all sorts of stuffing including meat, cheese, avocado, salad, tomatoes. The most typical are the overly stuffed Chemita in Puebla and the juicy Torta Ahogada in Guadalajara, which is a sandwich dipped in hot tomato sauce.
Beware that if you ask for a sandwich in Mexico, you won't get a "Torta" , because a sandwich is made with sliced bread only, not with a bun.
Sincronizada
Like a quesadilla, but instead of folding the tortilla you have another tortilla on top with ingredients squeezed between the two. Ingredients would be more or less the same as the quesadillas but vary between regions.
Tostadas
A delicious, crunchy salted corn tortilla topped with different ingredients. You will find tostadas with seafood or different kinds of meat mixed with salad, cactus (as pictured above) and avocado. Our Tuna Tostada recipe is absolute heaven!
Tlayudas
Tlayudas are typical of Oaxaca and consist of huge crispy fried tostadas, spread with a layer of mole sauce and topped with meat of your choice, Oaxaca fresh cheese and salad.
Gorditas and Sopes
These are the same things just with different names. A thick fat tortilla, fried or grilled, cut in two and stuffed with different kinds of "guisado" (a delicious stewed meat or vegetable).
Made with either yellow or purple corn which gives a different colour to the tortilla.
Elotes and Esquites
Elotes: Corn served on the cob, either boiled or grilled, and drizzled with mayonnaise, salt and grated cheese.
Esquites: the kernels have been removed from the cob and served in a cup. Served with mayonnaise, cheese and salt. Definitely easier to eat if you are walking.
Chicharrones
Ultra-crispy fried pork skin chunks sold in markets or in carts on the street. Very common everywhere in Mexico and eaten as snacks always with a delicious, spicy jalapeño sauce.
Chips
These look like just regular crisps, but the bags are open on the side and topped with hot jalapeño sauce. Eaten as a snack – yum!
Churros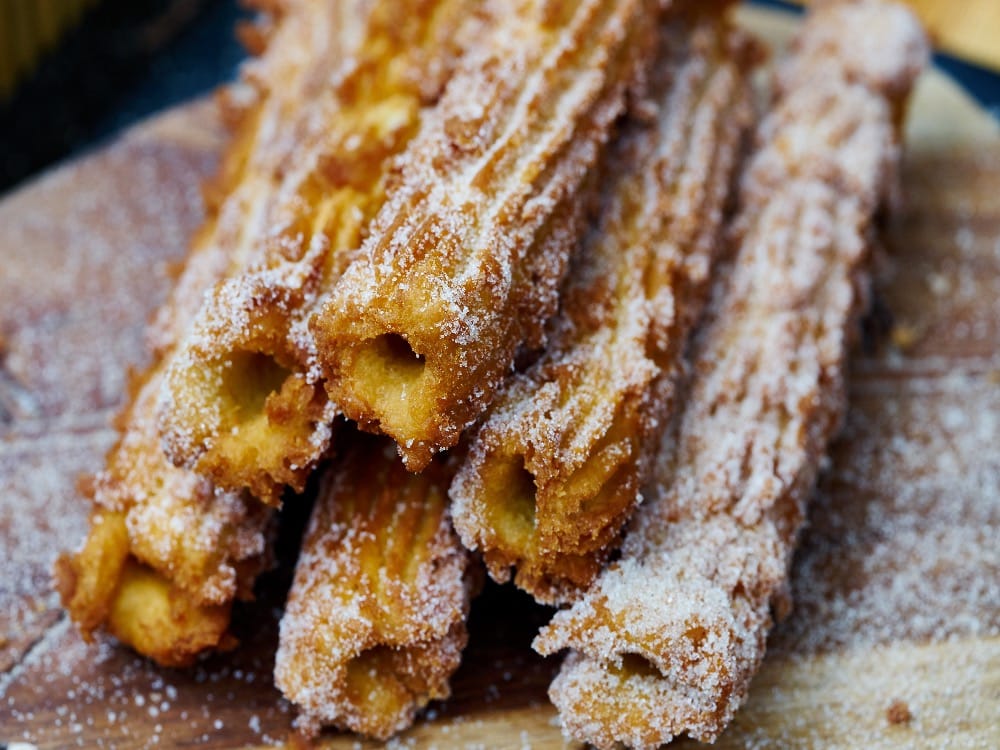 A typical sweet treat made of deep fried sweet dough in a cylindrical shape and sprinkled with sugar. Served with different sauces the most common being chocolate or dulce de leche.
Licuados and Juices
Finally up on our list of Mexican Street Food are the drinks. You'll find Licuados – a sweet rich drink made with fruit and milk. You can ask for the lighter version with water as a substitute of milk.
You will also find delicious fresh squeezed juices on the street. The most common breakfast drink is normally orange or grapefruit juice or mixed with carrots, pineapple, and/or apple.
We hope we've inspired you to try some street food whether it's on your travels in Mexico or at home! We would love to see how you get on, be sure to tag us #granluchito.
Some More Popular Recipes You May Also Like:
Easy Mexican Recipes To Try At Home, Best Hangover Food Ideas, Authentic Mexican Food, Easy BBQ Recipes, Things to do in the Yucatán, Egg Recipes