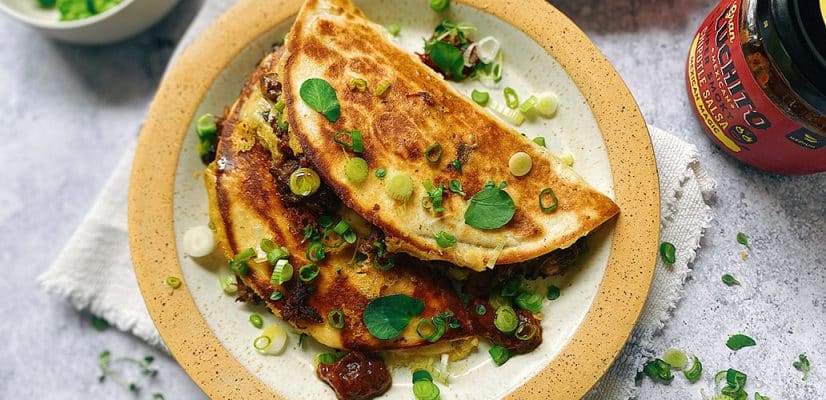 Beef Quesadilla
Looking for a deliciously cheesy beef quesadilla recipe for a tasty snack, lunch or supper? Look no further! Quesadillas are moreish and fun to make.
For these beef quesadillas we have used chuck steak and brisket, as they are great cuts for slow cooking and they are also budget friendly. We sear and slow cook the beef for a couple of hours with garlic, soy sauce, cumin, ale, beef stock, bay leaf, black peppercorns and most importantly a dollop of smoky Gran Luchito Chipotle Paste until the meat is so tender and falls apart. If you have a slow cooker great but you can also prepare this in the oven, in a baking dish, covered in tin foil.
Now making the beef quesadillas is the fun part! Once the beef is done, you can get going with the Gran Luchito Burrito Wraps or Gran Luchito Soft Taco Wraps (they both work great). Add plenty of cheese, spring onions and then warm them up over a hot pan until golden and crispy. When they are oozing, you know you're onto a winner. In your haste to try them, don't forget to add a dollop of our Gran Luchito Chipotle Salsa!
We recommend freezing the leftovers (if there are any) to defrost at a later date when you want to make these quesadillas without having to cook.
If you love the sound of this beef quesadilla recipe, make sure to leave your feedback in the comments section below, we would love to hear from you. 
Prep time

Cook time

Total time

Ideal for

Lunch

Make it

Mexican

Serves

4
Nutrition: Per serving
kcal 165
fat 9.5g
saturates 4.4g
carbs 9.1g
sugars 1.2g
fibre 0.2g
protein 9.2g
salt 1.5g
How to make it
Heat a pan over high heat with the olive oil. Season the beef chunks with plenty of salt and pepper and then place the beef into the hot pan until browned all over. Once ready, remove from the heat and set aside.

Add into the slow cooker the seared beef, garlic, soy sauce and cumin. Pour in the ale, chicken stock,

bay leaf,

the

Chipotle Paste

, peppercorns, salt, and cook slowly on high for 3-4 hours.

When ready, remove the meat from the slow cooker and place it into a bowl. Add the remaining cooking liquid into a saucepan and simmer on a high temperature to reduce. Once it thickens into a gravy consistency it's ready. This takes about 20-25 min approx.

Shred the meat with the help of two forks. It should be very tender. Then pour the reduced sauce onto the meat and combine.

To make your quesadillas, place two

Burrito Wraps

or

Soft Taco Wraps

over your kitchen counter and add a good amount of grated cheese

,

then shredded beef, a sprinkle of spring onions and more cheese. Cover with another burrito wrap or fold in half (if using soft tacos). You can brush the top with a little olive oil.

Now heat up a large pan, and once it's hot enough you can toast your quesadilla. When it's golden and crispy on the bottom, carefully flip it over with the help of a spatula and finish cooking the other side.

Remove from the pan, and with a sharp knife cut it into quarters. Serve warm and enjoy with a good amount of Chipotle Salsa.
Note: if you don't have a slow cooker you can cook your meat in the oven. Just sear your meat and place it in a baking dish with the rest of the ingredients, cover tightly with tin foil, and cook in the oven at 160°C / 320°F for 3 hours until tender.
What To Serve With Quesadillas
If you are wondering what to serve with this beef quesadilla recipe, why not go for some:
More About Quesadillas
Our How To Make Quesadillas blog will help you to master everything you need to know about making homemade Quesadillas. And our Quesadilla Recipes is our collection of tried and tested Quesadilla recipes with more flavours, protein and veggie options.
Download Our Free Guide To Quesadillas
Your free Quesadilla guide will be emailed to you immediately.


Similar Recipes You Might Like to Try
FAQs
Which wraps should I use for quesadillas, large or small?
Either our large Burrito Wraps or our small Soft Taco Wraps would work for quesadillas. If you prefer them just halved (like these beef quesadillas) and fried then the smaller ones. If you prefer to quarter them (fold them over once more), then use the larger Burrito Wraps.
What cheese can you put in these beef quesadillas?
Mexican cheese of course! Oaxaca and Chihuahua cheese are ideal because they melt easily and have a luxurious stretch. Manchego cheese is also a good option and may be more readily available. If you can't find any of these near you, we recommend using mozzarella, cheddar or Monterey Jack.
How many calories are in a beef quesadilla?
It depends what exactly is in them, and how much cheese etc. They are usually between 300 - 400 calories for each quesadilla.
Comments / Questions / Tips

Subscribe now for a free copy of the Gran Luchito e-cookbook filled with delicious, authentic Mexican recipes and join our mailing list for all the latest recipes, news and blog updates.