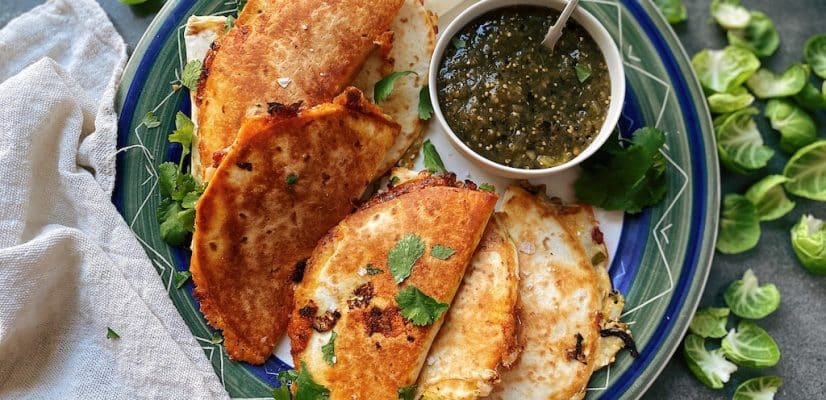 Chorizo Quesadilla
Quesadillas are traditionally made by placing a tortilla either wheat or corn with a bit of cheese on a hot pan, folded in half and left for the heat to do its magic. The cheese will begin to melt and ooze out of the tortilla transforming it into delicious crispy edges and both sides will become lovely and toasted. For this recipe we've taken the simple and humble quesadilla up a notch with the addition of chorizo. And if that wasn't enough, for our Chorizo Quesadilla, we have snuck in a bit of veg in the form of brussels sprouts. The sprouts pair nicely with the bold chorizo flavour and are so delicious we think it can even transform the biggest sprout hater!
For this recipe we start by frying chorizo with onions, until the chorizo is deliciously crispy and the onions have softened up. This is when we add the sliced brussels sprouts and season them with Gran Luchito Smoky Chipotle Fajita and Taco Mix, Gran Luchito Tomatillo Salsa and finish them with a bit of butter and freshly chopped coriander . Fill your Soft Wheat Gran Luchito Soft Taco Wraps with the grated cheese and sprouts mixture, warm them over a hot pan until deliciously toasted.
These are perfect served as a snack , lunch or even as an easy movie night meal with some of our Gran Luchito Lightly Salted Tortilla Chips on the side. 
Prep time

Cook time

Total time

Ideal for

Snacks

Make it

Mexican

Serves

4
Nutrition: Per serving
kcal 196
fat 11g
saturates 5.6g
carbs 13.8g
sugars 2.6g
fibre 1.4g
protein 9.3g
salt 1.2g
How to make it
Heat up a frying pan and add the chorizo first. Let the chorizo release its oils and then add the onion. Stir and cook over medium heat for 3 to 4 minutes.

Now add the brussels sprouts into the mixture, season with

Smoky Chipotle Fajita and Taco Mix

, a pinch of salt and black pepper, then stir and let it all cook over a medium heat for 10 minutes.

Add half a jar of

Tomatillo Salsa

into the pan, a little squeeze of lime juice and the butter. Mix everything and then taste. Finish your sprouts with the coriander scattered on top, then remove your pan from the heat and reserve.

Fill your

Soft Taco Wraps

with a generous amount of brussels sprout and chorizo mixture and grated cheese. Fold them in half and repeat the same process with the rest of the tortillas.

Warm up your quesadillas over a hot non-stick pan over medium heat. Once the cheese melts and your quesadilla is lightly toasted at the bottom, flip with a spatula and let the other side get golden brown. Serve your quesadillas warm and enjoy!
What to serve with Chorizo Quesadillas?
Our favourite sides to serve with Chorizo Quesadillas are:
More About Quesadillas
There's so much more when it comes to these little cheesy delights!
Our How To Make Quesadillas blog will help you to master everything you need to know about making homemade Quesadillas.
Our Quesadilla Recipes is our collection of tried and tested Quesadilla recipes with more flavours, protein and veggie options.
Download Our Free Guide To Quesadillas
Your free Quesadilla guide will be emailed to you immediately.


Similar Recipes You Might Like to Try
Comments / Questions / Tips

Subscribe now for a free copy of the Gran Luchito e-cookbook filled with delicious, authentic Mexican recipes and join our mailing list for all the latest recipes, news and blog updates.