Estimated reading time: 11 minutes
To all you future quesadilla fans out there, this one is for you! Most specifically, it's for those of you who aren't too sure what quesadillas are and are interested to find out. Or maybe you are a cheese lover in which case you will soon be a quesadilla lover! So in our How To Make Quesadillas blog we will share everything you need to know about them. Another authentic Mexican dish and something new to try at home that kids can also enjoy!
---
---
What are Quesadillas?
Quesadilla translated literally means "little cheesy thing". This Mexican dish is a type of taco, consisting of a tortilla that is filled primarily with cheese, and sometimes meats and spices, and then cooked on a griddle. These little parcels of joy are perfect for a snack, midweek meal or lunch, and are quick and easy to make. They are also great for reinventing leftovers from the night before! 
---
Typical Quesadilla Ingredients
Tortilla
Large soft wheat tortillas are the best tortillas to use for making quesadillas. They are large, and therefore have more surface area for you to fold into a half-moon shape on the pan when cooking, without losing too much filling space.
Cheese
When it comes to Quesadillas, it's all about the melted cheese. In Mexico, Queso Oaxaca is used which is a stringy cheese. As it can be quite hard to find, we prefer using grated gruyere or cheddar but you can really use any good melting cheese!
Other Fillings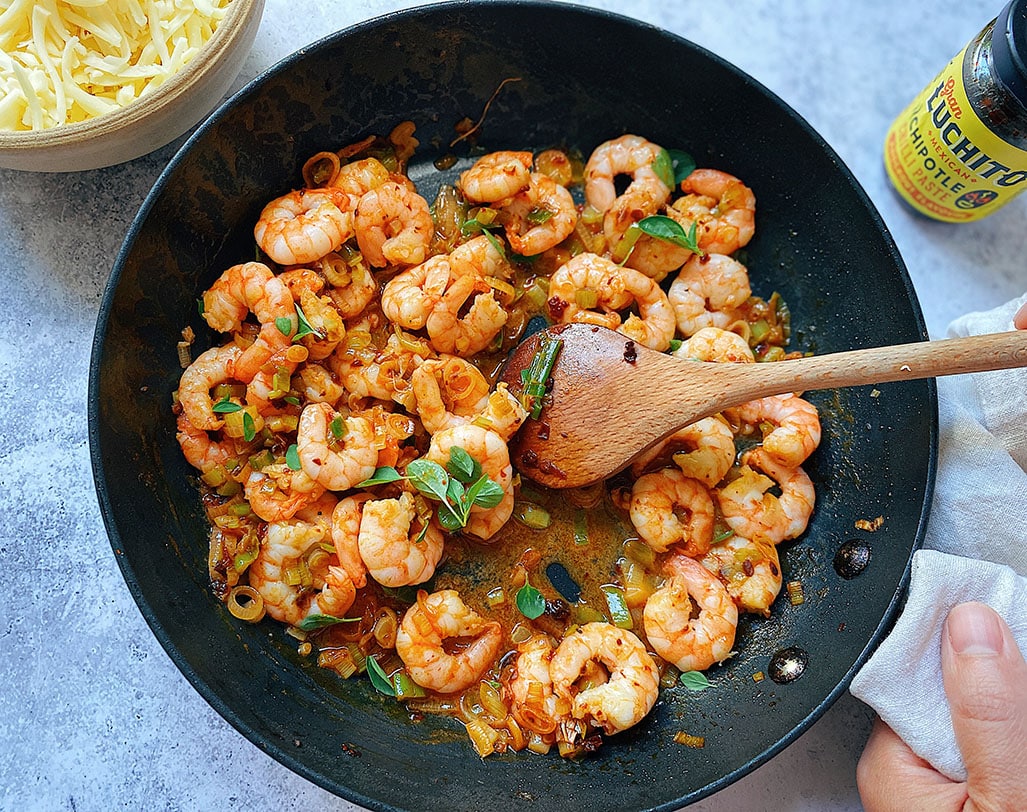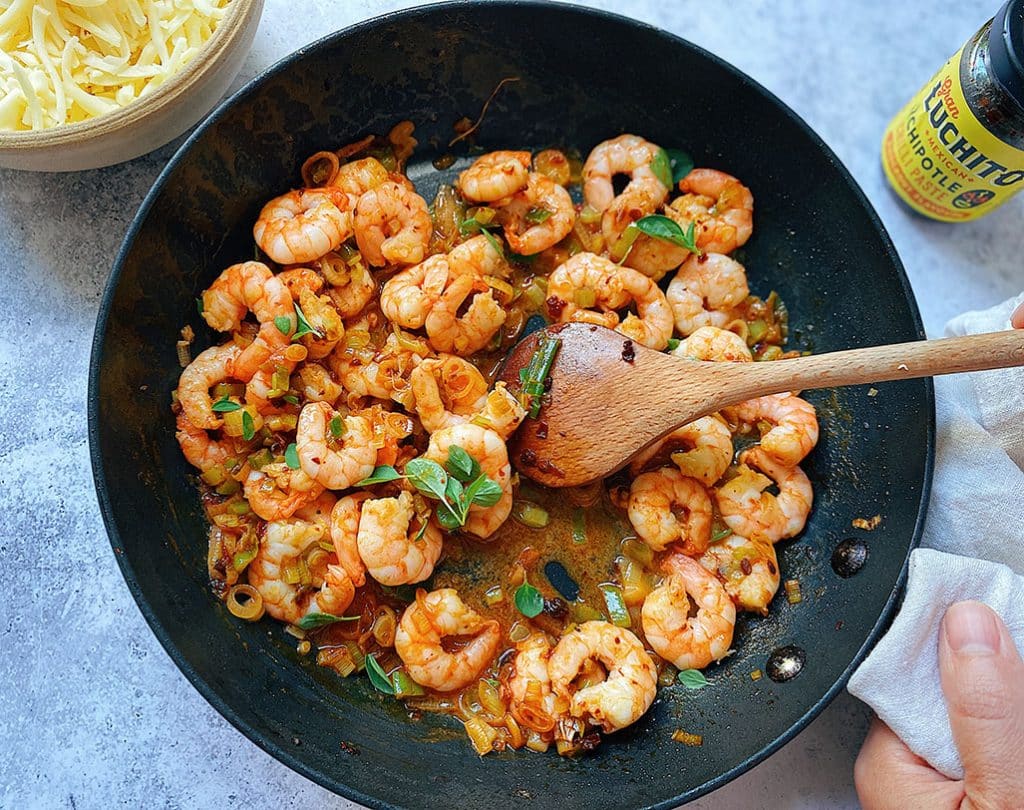 Now's the time to get creative! Whether sizzling peppers and onions for a quick veggie quesadilla, leftover roast chicken, grilled carne asada steak or king prawns – just about anything works!
---
Quesadilla Dips
One of the great joys of Quesadilla eating is the dipping! Dips are a great way to add extra flavour and also add a bit of fun.
Gran Luchito authentic Mexican Salsas are packed full of fresh ingredients – choose from our range including smoky Chipotle, zingy Tomatillo or fruity Mango Habañero.
Homemade Guacamole is also a delicious dip perfect for adding creaminess.
A dairy based dip is also a must! Of course there's sour cream, but we like to take it up a notch with Chipotle Créma which is made with creme fraiche, sour cream or greek yoghurt and a dollop of Gran Luchito Chipotle Paste.
---
How To Make Quesadillas
So this is how to make Quesadillas! Once you have decided on which recipe and prepared your fillings, you can get going on the fun part, the layering, frying and flipping!
In a clean, non-stick frying pan, lay a tortilla wrap.

Top half of the wrap with a little of your meat/veg mixture as well as a handful of cheese.

Fold it over on itself to create a half-moon shape. Heat on low/medium.

Keep an eye on the bottom of the tortilla and make sure it doesn't burn. When it is brown and crispy, carefully turn using a large spatula. Cook the other side until brown. Carefully open up the quesadilla and check the cheese is all melted.

Remove from the pan, slice and enjoy!
Please see here for our Quesadilla Recipes.
NB: You can make two quesadillas at the same time by doing this, both together with their folded sides next to each other in the pan. Using two big tortillas for one quesadilla would be too ambitious to try and flip over.
---
Top Tips To Make The Best Quesadillas At Home
Use flour tortillas, you will need the pliability to hold the cheese and fillings especially when you go to flip it.

We think the best quesadillas are made with one large tortilla that is folded into a half moon shape as they are by far easier to flip over and not lose the filling.

It's tempting to overstuff a quesadilla but we recommend about two heaped tablespoons of filling per large tortilla. Equal parts cheese to filling but make sure you use enough cheese to hold everything togethe

r.
There are differing points of view on using oil or butter. We think quesadillas are better without it, as flour tortillas will absorb the oil and become greasy.

Cook on medium heat so that the tortilla doesn't burn. It should take about a minute on each side to melt the cheese and toast the tortilla.

If you need to make a large number of quesadillas, you can make them in the oven. Preheat the oven to 210°C, and make sure your filling has cooled, as hot filling will create steam in the oven and stop the tortilla from going crispy. Spray the baking tray lightly with flavourless oil and cook for 8 minutes then flip and cook for another 8 minutes.
---
Quesadilla Recipes
When it comes to ideas for fillings for your quesadillas the only limit really is your imagination. If you're a meat-eater then chicken is the most usual filling but really anything goes.
We have recipes for the following meat filled Quesadillas:
But if these recipes don't tickle your fancy then you could also give ham and fish a go or even try tuna for a lighter and more summery option..or if you wanted a brunch option, go for sausage and egg!
Vegetarians need not worry, as black beans tofu or chickpeas all serve as great veggie quesadilla filling ideas.
We have recipes for the following veggie Quesadillas:
You could also try filling your quesadilla with sweet potatoes, squash, peppers, corn, spinach, zucchini, red onion, pickles or even cactus!!
---
What To Serve With Quesadillas?
Chips and salsa are definitely a fave of ours when it, but there are lots more sides you can add to your quesadilla to bring texture, flavour and make it a Mexican feast!
Check out our blog What To Serve With Quesadillas for inspiration on Mexican dishes that work well with Quesadillas.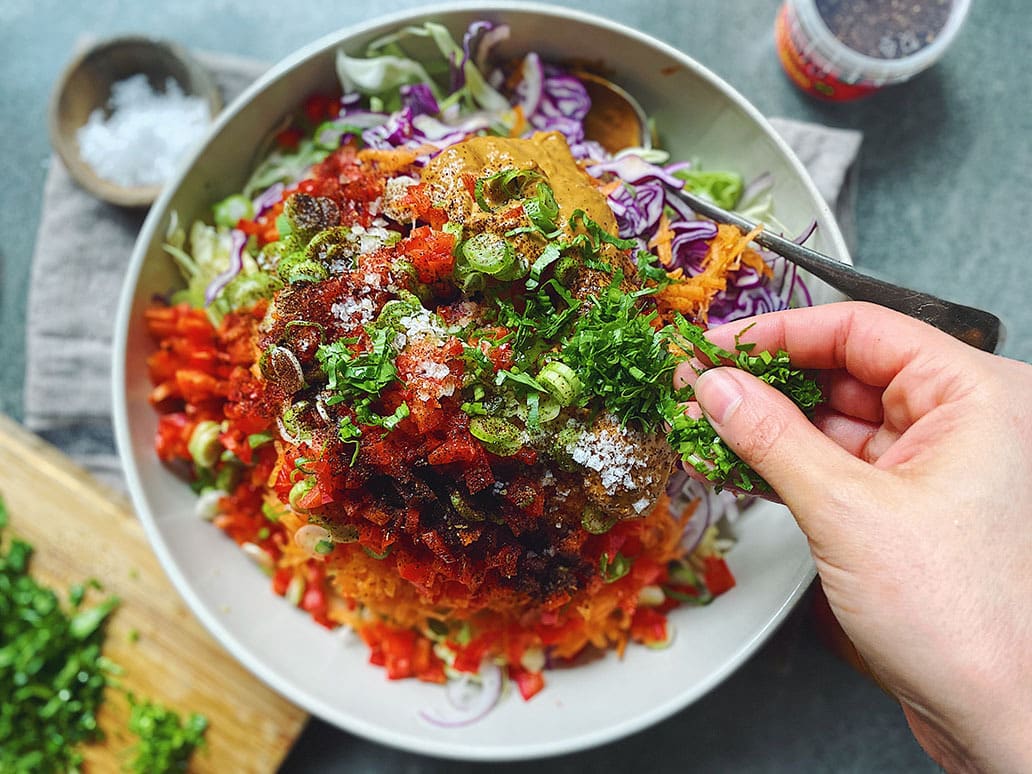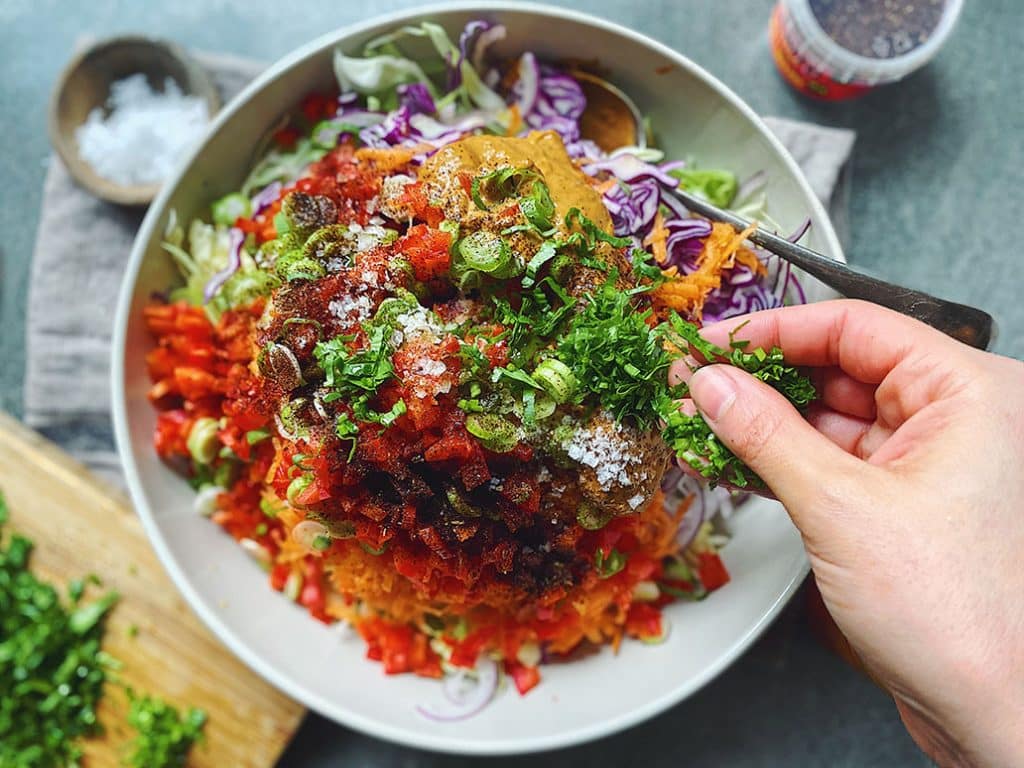 ---
Where are Quesadillas From?
Quesadillas date back to the 16th century and originated in Northern and Central Mexico. They were developed by the Spanish settlers who settled there and brought filled pastries with them which were popular in Spain. In Mexico they are cooked on a comal, which is a smooth and flat cast iron pan, until the cheese is fully melted and the tortilla is golden. The word Comal comes from the Aztec word Comalli. Today the comal is an integral part of Mexican cuisine and culture, and one can be found in every Mexican household and kitchen.
---
Can You Freeze Cooked Quesadillas?
Yes, you can freeze quesadillas! Having the option of a simple snack, lunch or dinner is always a good idea. Which is why having some pre-made and delicious quesadillas in your freezer is a seriously well thought out plan! They last in the freezer for up to about 3 months. All you need to do is place your cooked quesadillas on a flat surface or tray in the freezer for a couple of hours until firm. This prevents them from sticking to each other. Then place them in an airtight container, in sandwich bags or wrap them individually and put them back in the freezer.
The easiest way to reheat frozen quesadillas is to defrost them in the fridge overnight, and then reheat them the next day. You can either microwave or oven cook them again until the cheese has melted and they are warmed through. Although the oven takes longer, the result is always better than the microwave, as (like with reheating pizza) the microwave can make the slices a bit mushy.
---
We hope you've enjoyed reading our How To Make Quesadillas guide! It's always fun to try something new, and at Gran Luchito we especially like to see what you get up to in the kitchen! Don't forget to tag us #granluchito.
Discover More About Mexican Food: