Estimated reading time: 9 minutes
How To Make Enchiladas? In this blog we will share with you everything you need to know about delicious homemade enchiladas. What are enchiladas, how to make them, where did they originate from and more! A classic authentic Mexican dish, and something new to try at home – Enjoy!
---
What are Enchiladas?
Homemade enchiladas are the ultimate Mexican comfort food! They start with tortillas. You can use corn, or soft wheat ones like our Soft Taco Wraps, which we prefer as they are easier to roll. They are then filled with meat, veg or cheese, rolled up, and smothered in sauce and cheese which is then melted in the oven. They are meant to be eaten with a knife and fork.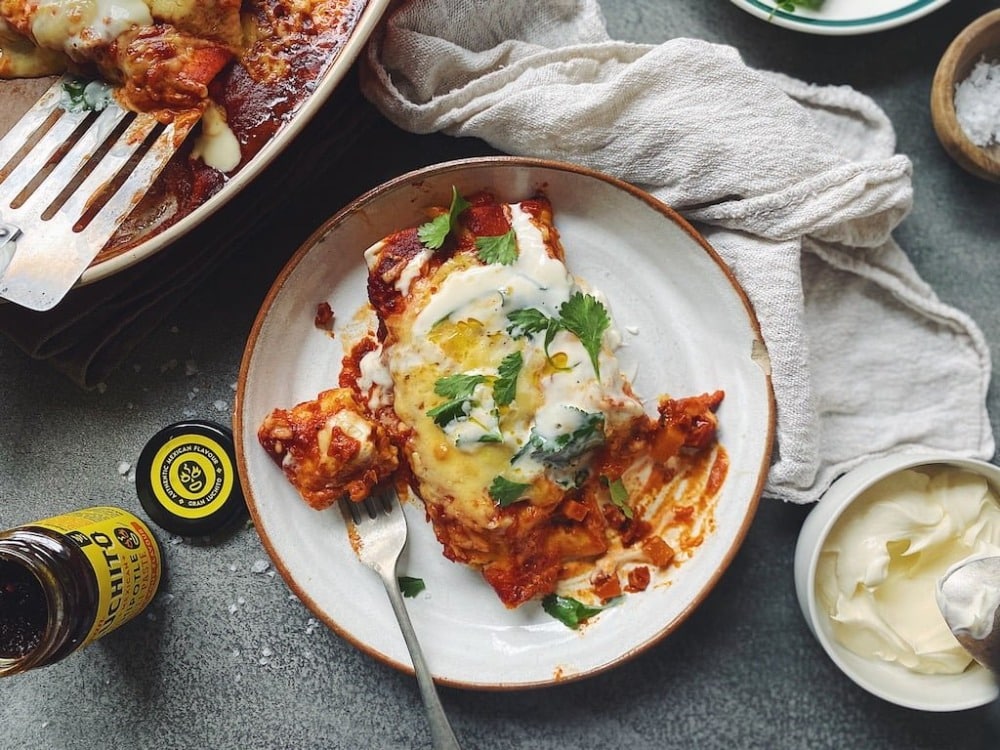 ---
What's In Enchiladas?
The ingredients that go into them are usually made up of meat, veg, cheese, beans and a sauce. Of course, you will need tortillas to wrap the ingredients up in! Other ingredients typically used as a dip on the side, or to slather inside also are sour cream, fresh coriander and a homemade guacamole.
Tortillas
These come first because they are not enchiladas without being rolled up in these babies! This is where our Soft Taco Wraps come in handy.
Meat
Typically used would be beef or chicken. However, vegetarians need not worry, as our Cantina Beans or chickpeas would serve as a meat substitute. Having said that, anything goes. Try tuna for a lighter and more summery option..or if you wanted a brunch option, go for sausage and egg!
Sauce
The sauce is important, as without it the dish would just be a few burritos! Typically tomato-based, it is poured on top of the rolled-up enchiladas once they are positioned in the baking dish. We do a delicious Enchilada Cooking Sauce, that takes the hassle out of making your own if you are short on time. Ours contains a blend of fresh tomatillos with jalapenos, onion, garlic and coriander.
Are Enchiladas Mexican?
They originate from Mexico where the practice of rolling soft flour tortillas around various fillings dates back to the Mayan times. In their original form as street food you would find them as corn tortillas dipped in a red chilli sauce. In Spanish Enchilar, a derivative of enchilada means to season with chilli peppers. Now there are many different variations of enchiladas that reflect the influence that different cultures have had on Mexican cooking.
Take a look here for more on authentic Mexican cuisine.
---
Sign Up To Download Our Free Guide To Enchiladas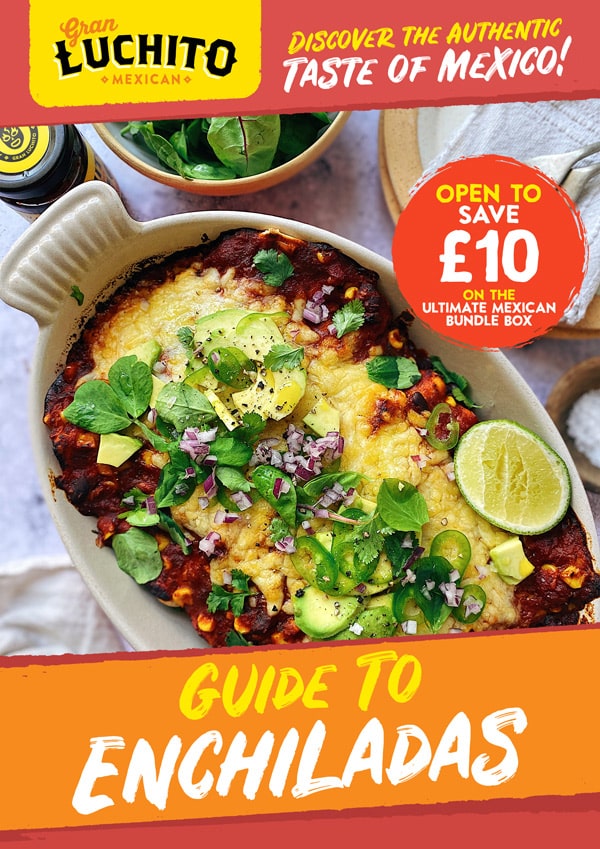 Free Enchilada Cook Book
Save £10 On Our Ultimate Mexican Bundle Box (UK Only)
Monthly Newsletters with our latest recipes and special offers
---
How To Make Enchiladas
So this is how to make enchiladas! Once you have decided on which enchilada recipe and prepared your fillings, you can get going on the fun part! The sprinkling and wrapping!
Spread a spoonful of the sauce around each of the

Soft Taco Wraps

, keeping about half back for pouring on top at the end. Top with whichever meat or meat substitute you have chosen, followed by a handful of cheese.
Roll each one up and assemble (seam facing down) in an oiled ovenproof dish. Pour the remaining sauce on top, finish with the remaining cheese and bake for 20 minutes until golden. Serve sprinkled with the remaining coriander leaves.
---
Our Favourite Enchilada Recipes
For more, see here for our other Enchilada Recipes.
---
How To Make Enchilada Sauce?
Now for the all-important spicy sauce! This is the most crucial part of any enchilada recipe. The main ingredients for this are tinned chopped tomatoes, tomato puree, onion, garlic, and fresh coriander. But don't forget the star ingredient for added kick – either our Chipotle Paste or Smoky Chipotle Taco & Fajita Mix.
Heat a little olive oil in a frying pan, add the onion, garlic, coriander stalks and either 2tsp of Smoky Chipotle Fajitas & Taco Mix or our Chipotle Paste, and season with salt and pepper. Fry for about 5 minutes until the onions have softened.
Add the chopped tomatoes, tomato puree and a splash of water and cook for about 45 minutes or until nicely thickened, stirring occasionally. Taste and adjust the seasoning, then blend to a smooth consistency.
Of course, if you are going to try our Easy Chicken Enchiladas recipe, then all that is needed sauce-wise is our Enchilada Cooking Sauce. Things made easy!
---
Can You Freeze Enchiladas?
Yes, you can! You can either make the dish a few days or weeks ahead of a special occasion and freeze, or just freeze your leftovers! It makes for a very easy dish down the line. All you will need to do is defrost the dish in the fridge overnight the evening before you want to cook them again. For freezing enchiladas once cooked, you first need to make sure they have cooled down. Then place them in a plastic container, or better yet just keep them in their baking dish. Cover with either a lid, tin foil or cling film. Once they are covered completely you can put them in the freezer. They should keep in there for 6-8 months.
---
So there is our guide on How To Make Enchiladas! We hope you've enjoyed reading it and it's inspired you to try something new out at home. We'd love to see what you get up to in the kitchen! Don't forget to tag us #granluchito.
Be sure to check out our Beginner's Guide to Mexican Food to learn more about what Mexican food involves.
For similar blogs to this one, please visit: