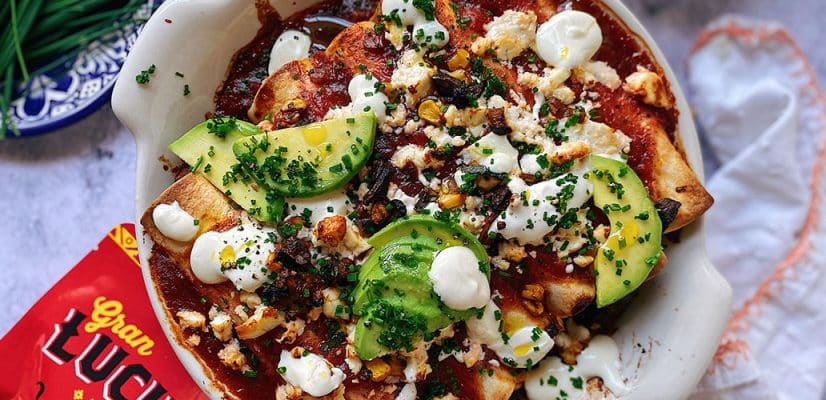 Vegetarian Enchiladas
Vegetarian Enchiladas are a great dish for casually entertaining a crowd especially because you can prepare them ahead. Then all you have to do is pop them in the oven and watch everyone's smiles as the saucy, melty veggie goodness is passed around the table. 
These vegetarian enchiladas are the obvious choice for vegetarian guests but they are also so tasty and packed with lots of hearty veggies and our Gran Luchito Cantina Beans so that everyone will love them. Feel free to substitute any dairy for non-dairy and make this vegetable enchilada recipe suitable for vegans as well.
What makes this an easy vegetarian enchilada recipe perfect for a weeknight meal or easy entertaining is the sauce we have used in the recipe – our Gran Luchito Chipotle Enchilada Sauce. You don't have to make a homemade enchilada sauce from scratch, but it will taste like you have. Our red enchilada sauce is made with fresh ingredients including fire roasted tomato, chipotle chillies and garlic and is a great shortcut to saucy enchilada perfection!
We like to top our veggie enchiladas with a dollop of sour cream or creme fraiche, and some fresh avocado slices.
If you have some committed carnivores around, then our Chicken Enchiladas is also a great make-ahead dish to consider serving alongside your vegetarian enchiladas.
Prep time

Cook time

Total time

Ideal for

Dinner

Make it

Mexican

Serves

4
Nutrition: Per serving
kcal 114
fat 6.4g
saturates 2.8g
carbs 10.6g
sugars 2g
fibre 0.8g
protein 3.6g
salt 0.43g
How to make it
In a frying pan with olive oil, fry the onion and garlic over medium heat until the onion softens. Add the corn kernels, courgette and chestnut mushrooms, then stir and let it cook for a minute or two.

Pour in half of the

Cantina Beans

sachet and half of the

Chipotle Enchilada Sauce.

Season with a little salt and freshly ground pepper, and let it simmer for a minute, then remove from the heat.

Finish your filling by crumbling half of the feta cheese on top, adding half of the chives, then set aside.

Preheat your oven to 180°C / 350°F.

In a baking dish add a drizzle of olive oil at the bottom. Spoon a good amount of the vegetable mixture into one of the

Soft Taco Wraps

, roll and place into the baking dish, and repeat the same process with the remaining tortillas.

Pour the remaining Chipotle Enchilada Sauce

 over your soft rolled tacos, crumble the remaining feta cheese on top, and bake for 20 minutes approx.

Serve your enchiladas with dollops of creme fraiche, fresh avocado slices, and the rest of the chives. Enjoy!
What To Serve With Vegetarian Enchiladas
Try serving these vegetarian enchiladas with a side of:
Check Out All Our Mexican Side Dish Recipes
More About Enchiladas
Our How To Make Enchiladas blog will help you to master everything you need to know about making homemade enchiladas. Our Enchilada Recipes is our collection of tried and tested enchilada recipes with more flavours, protein and veggie options. For a full list of the best side dishes, check out What To Serve With Enchiladas.
Download Our Free Guide To Enchiladas
Your free Enchilada guide will be emailed to you immediately.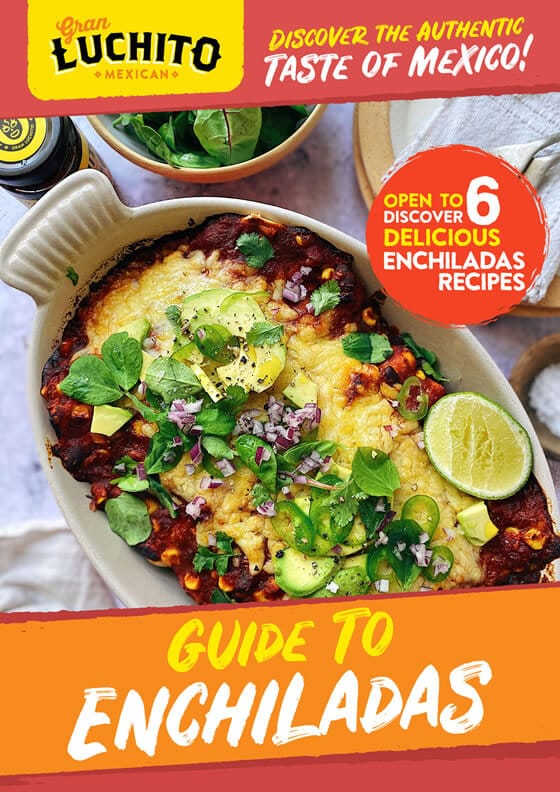 Similar Recipes You Might Like to Try
FAQs
how long do veggie enchiladas last in the fridge?
Baked enchiladas can be stored in an airtight storage container in the refrigerator for up to 5 days.
what vegetables can you put in enchiladas?
Garlic, onions, peppers, corn, spinach, coriander, chillies, chopped tomatoes, sweet potato, butternut squash, zucchini.
What beans can I substitute for our black Cantina Beans?
Comments / Questions / Tips

Subscribe now for a free copy of the Gran Luchito e-cookbook filled with delicious, authentic Mexican recipes and join our mailing list for all the latest recipes, news and blog updates.