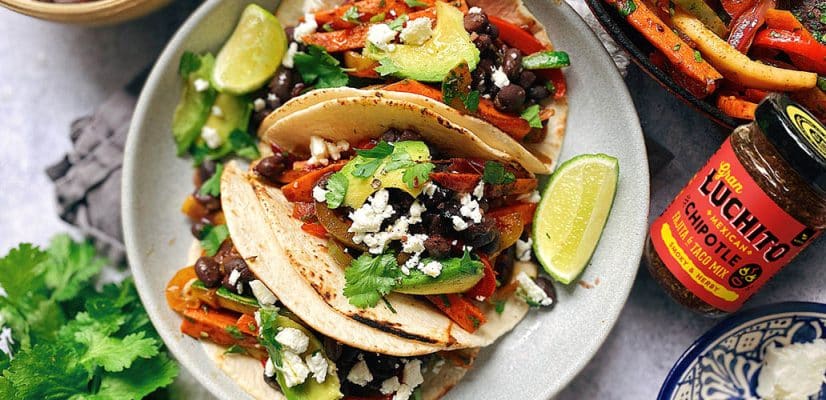 Vegetarian Fajitas
Our black bean and vegetarian fajitas recipe is packed full of colourful veggies including peppers, onions, courgette and sweet potato with lots of delicious smoky chipotle flavour from our delicious veggie fajita seasoning. Not only is it tasty, but with the addition of black beans and taco wraps it is also totally satisfying. This veggie recipe is perfect for vegetarians and for those who would like to include more plant-based meals into their diet. 
The best thing about fajitas and why everyone loves them is because they are so convenient to prepare and ready in no time which makes veggie fajitas the perfect everyday meal.
Now for the real star of this dish – the veggie fajita seasoning! With the help of Gran Luchito Smoky Chipotle Fajita and Taco Mix you can add a lot of flavour in no time to this dish, for a less spicy but still tasty option try adding Gran Luchito Garlic & Guajillo Fajita and Taco Mix. It's all about getting those crunchy vegetables nicely fried until they get a bit of colour, season with the Smoky Chipotle Mix, olive oil, orange juice, lime juice, tamari sauce, salt and pepper.
Finally to make your already tasty vegetarian fajitas even better, serve them over warm Gran Luchito Soft Taco Wraps, with a spoonful of warm Gran Luchito Cantina Beans, crumbled feta cheese on top and perhaps a little sour cream, all that is left to do is to enjoy!
You can turn this Vegetarian Fajitas recipe into a vegan fajitas version by substituting the feta cheese and sour cream for non dairy options. 
Prep time

Cook time

Total time

Ideal for

Lunch / Dinner

Make it

Mexican

Serves

4
Nutrition: Per serving
kcal 124
fat 6.3g
saturates 2g
carbs 12.7g
sugars 2.1g
fibre 1.1g
protein 4.2g
salt 0.59g
How to make it
To prepare the vegetable fajitas, begin by mixing in a bowl your fajita marinade.

In a small bowl add the lime juice, orange juice, tamari, Smoky Chipotle Fajita & Taco Mix,

olive oil,  whisk and set aside.

Now start to cook your veggies in batches. In a hot frying pan add half of the amount of olive oil and then fry the onion and sweet potato. Once the sweet potato gets a bit tender remove it from the pan and place it in a bowl while you cook the rest of your veg, set aside.

Into the same pan, add the remaining olive oil with the peppers and fry them for a couple of minutes, until they get a bit tender but they retain a slight crunch, remove it from the pan and set aside alongside with the sweet potato.

Quickly sauté your courgettes and add all the vegetables back into the pan, then pour in the fajita marinade that you prepared earlier and add a pinch of salt and freshly ground pepper, let it all come together and cook for a couple of minutes or until the sweet potato is cooked through.

Finish with freshly chopped coriander scattered on top and set aside.

In the meantime, reheat the Cantina Beans in a small saucepan over a medium heat and warm up a couple of Soft Taco Wraps.

Keep your tortillas warm by wrapping them in a tea towel.

Prepare your tacos for serving with a generous spoonful of fajitas onto warm Soft Tacos, add Cantina Beans into each taco, crumbled feta cheese on top, add a bit of fresh avocado, perhaps some sour cream and enjoy!
What to serve with Vegetarian Fajitas
Our favourite sides to start with/serve with these vegetarian fajitas are:
Download Our Free Guide To Fajitas
Your free Fajita guide will be emailed to you immediately.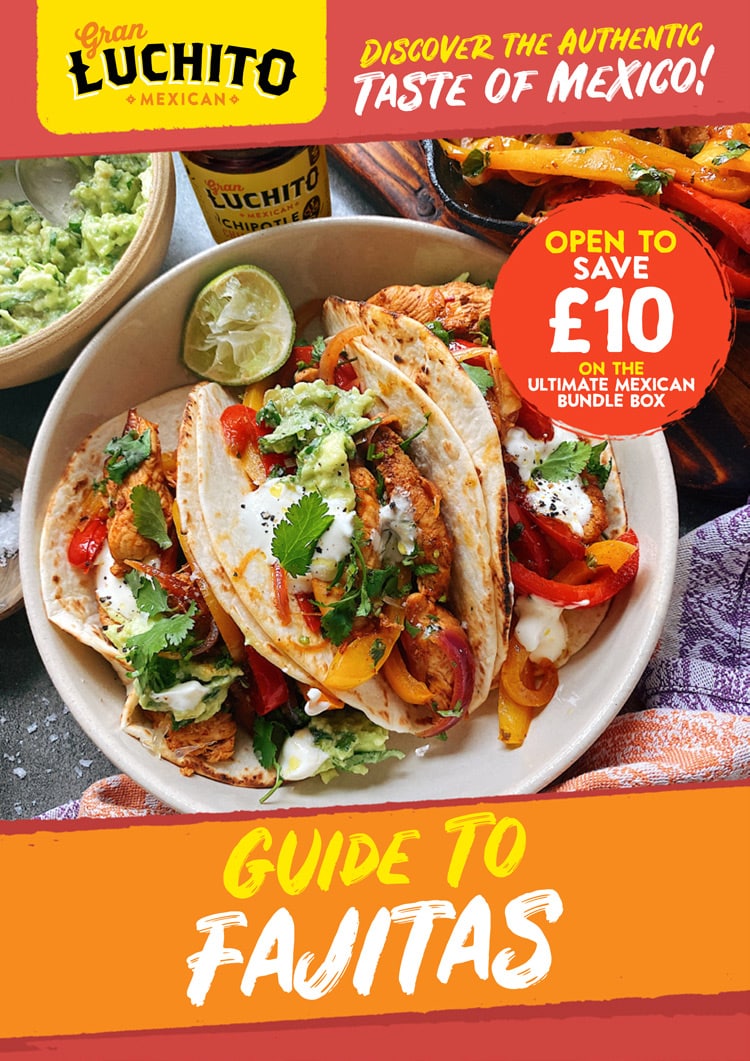 Similar Recipes You Might Like to Try
FAQs
How do you cut the veggies for vegetarian fajitas?
We like cutting the peppers and courgette into strips, the onions into half moons and the sweet potato into thinner sticks so they cook in a similar time.
What if I don't like peppers, what other veggies can I use?
Mushrooms are a great addition/substitution in this veggie fajita recipe.
Comments / Questions / Tips

Subscribe now for a free copy of the Gran Luchito e-cookbook filled with delicious, authentic Mexican recipes and join our mailing list for all the latest recipes, news and blog updates.