Homemade Crispy Chips
These crispy homemade oven chips are like roast potatoes in chip form, and they are delicious!
Once you try making your own homemade chips, you'll never go back to the tasteless, oily ones from the store. Not only are they incredibly flavourful, but they're also easier to make than fried chips and much healthier.
Our easy, tried-and-tested recipe guarantees crispy homemade chips. The secret is in the potato selection.
Potatoes come in two main types: waxy and floury. Waxy potatoes, such as Maris Piper, are less starchy and hold their shape better when cooked. Floury potatoes, such as King Edward, are more starchy and become crispy when cooked.
Chefs such as Heston Blumenthal recommend using floury potatoes for chips, while Jamie Oliver prefers waxy potatoes. We tried both types and found that Maris Piper potatoes made the best oven chips. They were soft and fluffy on the inside and crispy on the outside.
Another tip for crispy homemade chips is to cook them twice. First, parboil the potatoes in boiling water for a few minutes. Then, drain them and roast them in a hot oven until they are golden brown and crispy.
We roasted our homemade oven chips with rosemary and sea salt. They were delicious on their own, but they were even better when dipped in our homemade chipotle mayo. This is the perfect condiment for these chips, or you can try our recipe for macha mayo for a more unique flavour.
Prep time

Cook time

Total time

Ideal for

Sides

Make it

Mexican

Serves

4
Nutrition: Per serving
kcal 612
fat 7.8g
saturates 0.7g
carbs 17.6g
sugars 0.8g
fibre 2g
protein 1.8g
salt 0.34g
How to make it
Fill a saucepan with water and a pinch of salt and bring to a boil.

Carefully add the chips to the water and simmer for 5 minutes until slightly softened. Once ready, drain in a colander and leave to dry out completely, allowing the steam to escape.

Preheat the oven to 200°C / 400°F / Gas 6. Add the vegetable oil in a medium size roasting pan and place it in the oven for about 10 minutes until the oil is very hot.

Tip the potatoes back into the saucepan and add olive oil, flour, rosemary and a good pinch of salt and pepper. Hold the lid on and give the pan a shake. The potatoes should fluff up at the edges but keep their overall shape (don't worry if they break up a little).
Very carefully spoon the potatoes into the hot oil, using a metal spatula to spread them around and get them covered in oil.
Roast the potatoes for 35 minutes, keeping your eye on them so they don't burn.
Meanwhile, make some lovely homemade chipotle mayo. Add 1 teaspoon of Chipotle Paste to half a cup of your favourite mayonnaise, and stir well to combine.

Give the chips a good shake up every 10 minutes or so to ensure they are crisp all over. If they are not crisp enough after this time, return to the oven and continue to roast. Serve with a bowl of your homemade c

hipotle mayo

on the side.
What To Serve With Chips
Discover The Authentic Taste Of Mexico With The Gran Luchito Mexican Chilli Gift Box
Discover the authentic flavors of Mexico with the Gran Luchito Chili Gift Set. Featuring our smoky Chipotle Paste made with a blend of chipotle and rare Mexican chilies, spicy and crunchy Salsa Macha and zesty Chipotle Lime Paste. Available On Amazon Prime In The United Kingdom and The United States.


Download Our Free Guide To Mexican Classics
Your free guide will be emailed to you immediately.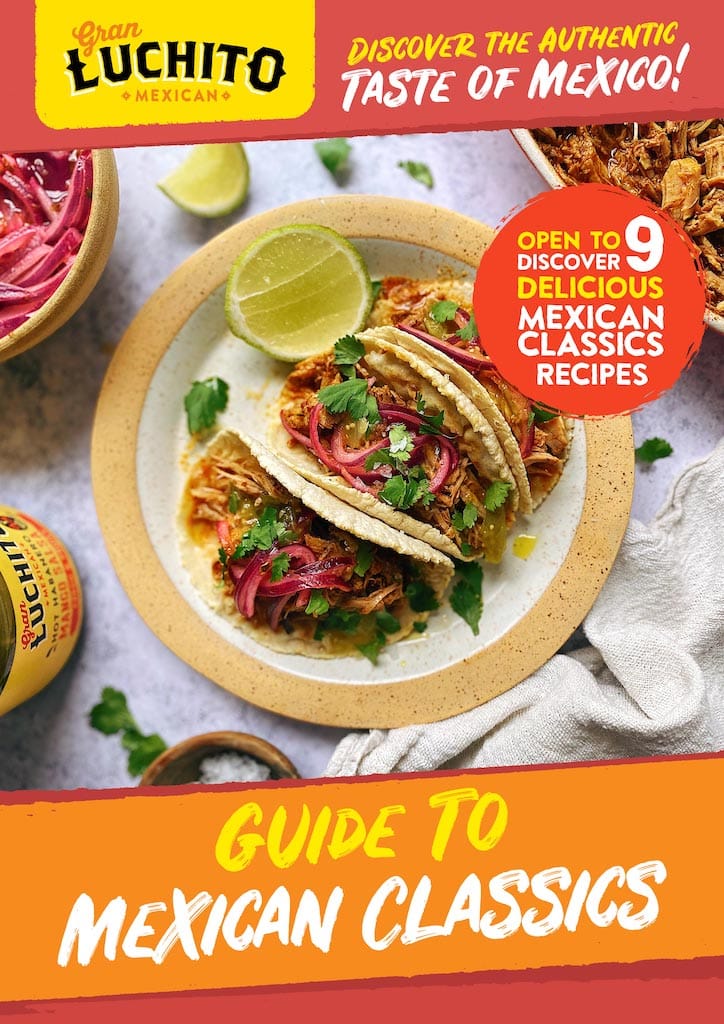 Similar Recipes You Might Like to Try
FAQs
What are the best potatoes to use for crispy chips?
The best potatoes for crispy chips are high-starch potatoes, such as Russet Burbank, Yukon Gold, or Maris Piper. These potatoes have a high starch content, which helps them to crisp up when cooked.
How long do I cook chips for
The cooking time for chips will vary depending on the thickness of the chips and the temperature of the oil. However, as a general rule, chips should be cooked for 3-5 minutes per side, or until they are golden brown and crispy.
How do I prevent my chips from sticking together?
- Don't overcrowd the pan.
- Use a non-stick frying pan.
- Drizzle the chips with a little oil before frying.
Comments / Questions / Tips

Subscribe now for a free copy of the Gran Luchito e-cookbook filled with delicious, authentic Mexican recipes and join our mailing list for all the latest recipes, news and blog updates.