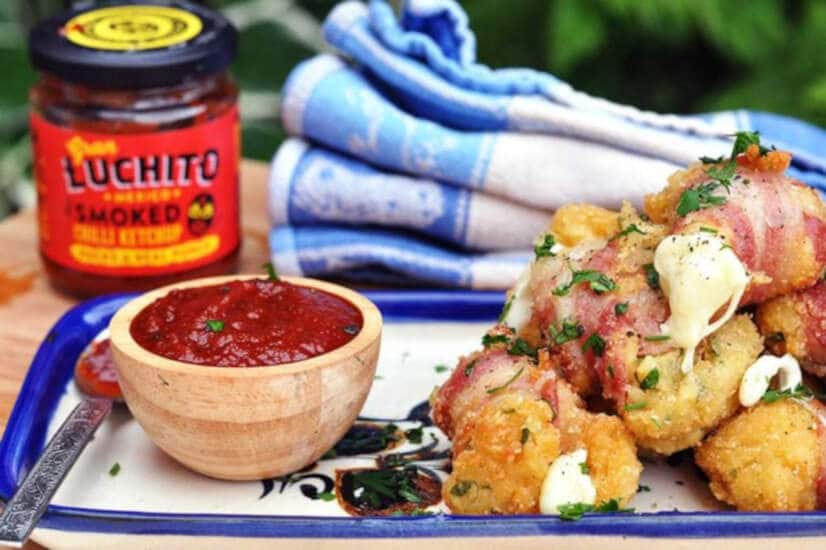 Cheesy Mashed Potato Bacon Bombs
These cheesy mashed potato bacon bombs are stuffed with gooey mozzarella and spiced up with our deliciously Gran Luchito Chipotle Mayo and Gran Luchito Chipotle Ketchup.
They're a great way to use up leftover Mexican mashed potato, but these mashed potato bombs are so delicious its also well worth making a fresh batch of mashed potato.
They make a tasty little buffet offering and are perfect served alongside our sticky chipotle glazed sausages and our bacon onion rings.
Chef's tip
You could also bake these mashed potato bombs in the oven at 180°C / 350°F / Gas 4. Just make sure you brush them in a little olive oil beforehand.
Prep time

1 hour

Cook time

15 mins

Total time

1 hour 15 mins

Ideal for

Snack

Make it

Mexican

Serves

6
How to make it
Start by preparing your Mexican Mashed Potato.
Lightly flour a surface. Grab small handfuls of the potato and flatten out into little discs.
Add a small cube of mozzarella in the centre and roll in your palms into a little spherical parcel. Place aside and repeat until all the mix has gone. Aim for 12 little balls.
Use a food processor to blitz the breadcrumbs into finer crumbs. Place the breadcrumbs, flour and egg into separate bowls.
Dip each ball into the flour, then into the beaten egg, then into the breadcrumbs and coat all over (try to keep one hand dry so as to avoid too much mess). Repeat the egg and breadcrumb stage.
Refrigerate for 30 minutes to firm up.
Wrap each ball in a rasher of bacon and secure with a cocktail stick.
Heat the oil in a deep-fryer or heavy-based pan to 180°C / 350°F. Carefully add the balls in batches (no more than 3 or 4 at a time) and cook for about 4–5 minutes until golden. Drain on kitchen paper.
Serve warm with the Gran Luchito Chipotle Chilli Ketchup for dipping and a sprinkle of parsley.
Similar Recipes You Might Like to Try
Please let us know what you think of this recipe