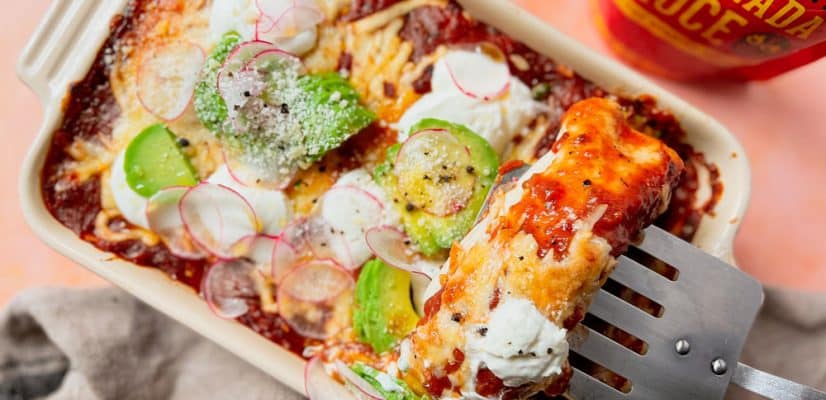 Sweet Potato Enchiladas
Sweet potatoes have many health benefits. They contain a good amount of fibre, antioxidants, and vitamins A and C. No wonder they are considered superfoods! For these reasons and the simple fact that they're delicious, they make the perfect filling ingredient for these vegetarian enchiladas.
This sweet potato enchiladas recipe is obviously suitable for vegetarians, but can easily be transformed into a vegan dish by substituting the dairy ingredients for vegan alternatives. 
If you're looking for a healthy and wholesome vegetarian enchiladas recipe, then this is it. It's perfect if you're cutting down on meat and want to have some tasty options for meat-free days, or if you simply just like sweet potatoes! You won't want to miss this recipe.
You can serve these vegetarian sweet potato enchiladas as a starter or side dish alongside our recipe for Pollo Asado. Or serve this recipe as your main with a side of Arroz Primavera and Refried Beans.
Prep time

Cook time

Total time

Ideal for

Dinner

Make it

Mexican

Serves

5
How to make it
Preheat the oven to 180˚C/360˚F, and start by preparing your filling. For this, heat up a frying pan over medium heat with the olive oil. Once the oil is hot enough, add the onion and garlic, and stir, letting them soften for a couple of minutes. Add the sweet potato and peppers with the

Chipotle Paste

, season with a pinch of salt and pepper, and cook this for a further 5 minutes, stirring occasionally.

Finally, add the water and cover the pan with a lid. Finish cooking the sweet potatoes for another 15 minutes, until they turn soft. At the end, add the kale and let it wilt lightly into the mixture. Once ready, remove from the heat and set aside.

Get a large baking dish ready. Then add two spoonfuls of sweet potato mixture to the

Soft Tacos. R

oll and wrap them into a burrito-like shape and place them into the baking dish, until it's full and you use up all your filling and

Soft Tacos

. Open the

Chipotle Enchilada Sauce

sachet and pour it on top of your enchiladas. Spread the red enchilada sauce evenly with the back of a spoon, then add the grated cheese on top, and bake in the oven for 15 minutes.

Serve while they're still warm with spoonfuls of greek yogurt on top, slices of avocado, and a sprinkle of cotija cheese on top.
What To Serve With Sweet Potato Enchiladas
You can serve these easy sweet potato enchiladas as a starter or side dish alongside our recipe for Pollo Asado. Or serve this recipe as your main with these two side dishes: 
Download Our Free Guide To Enchiladas
Your free Enchilada guide will be emailed to you immediately.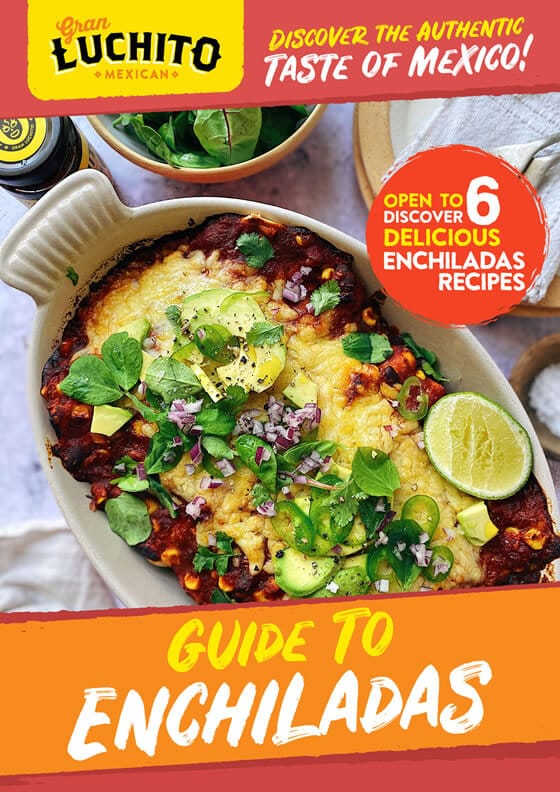 Similar Recipes You Might Like to Try
FAQs
Are sweet potatoes healthier than regular potatoes?
Sweet potatoes are a bit healthier than regular potatoes, because of their very high vitamin A content. Sweet potatoes are also lower on the glycemic index, meaning that they are less likely than regular potatoes to make your blood sugar spike.
Do sweet potatoes have less carbs than regular potatoes?
They both contain about the same amount of carbs. Sweet potatoes have more fibre though. Lots of people love sweet potatoes as they are a nutritious and healthy complex carbohydrate that is both sweet and savory, packed full of vitamins, minerals, antioxidants, and fibre.
What country invented the sweet potato?
Sweet potatoes originated in the tropical regions of Central and South America. Christopher Columbus discovered the sweet potato growing when he discovered the Americas. The sweet potato was taken back to Spain in 1500. It was cultivated on a small scale in Spain but never became popular across Europe!
Comments / Questions / Tips

Subscribe now for a free copy of the Gran Luchito e-cookbook filled with delicious, authentic Mexican recipes and join our mailing list for all the latest recipes, news and blog updates.