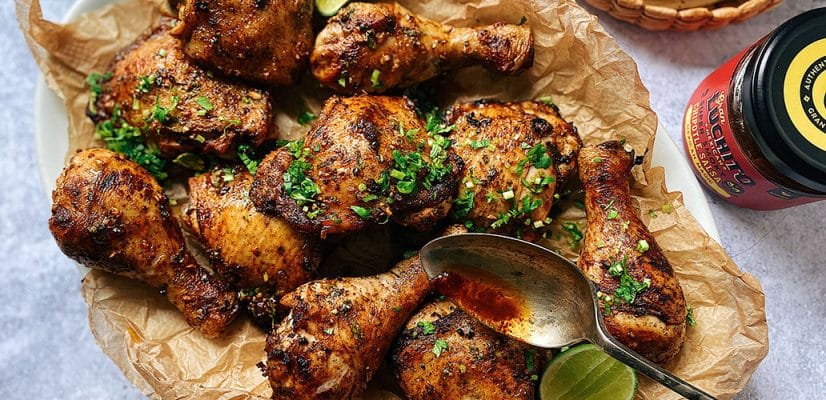 Pollo Asado
"Pollo Asado" or grilled chicken in English, is a very popular dish you can normally find in well-known franchised takeaways all over Mexico. It's where spit-fired chicken is sold by the kilo, accompanied by warm tortillas, salsa, and limes. We cannot think of a better meal to make for your family!
The simplicity of this Pollo Asado is what inspired this recipe. It's a very easy and practical meal for you to prepare in the comfort of your own home. It also happens to be a great recipe to cook over the summer when the weather is nice and you're able to get the barbecue up and running.
The dish is all about the Pollo Asado seasoning, or marinade, and letting your chicken absorb all the flavours before cooking it. So make sure to leave enough time for marinating before cooking!
You get better results and a more authentic Pollo Asado flavour when it's cooked over charcoal on the barbecue. However, it's also more convenient and absolutely fine if you'd prefer to cook it over the stove in your kitchen, and then finish it in the oven.
If you want to do it the Mexican way, you absolutely have to serve this Pollo Asado recipe with warm Gran Luchito Soft Taco Wraps, Gran Luchito Chipotle Salsa and some limes to squeeze. Then, in order to make some tasty tacos, get ready to pick up that lovely meat and eat it with your hands the proper way. Don't forget the lime!
Prep time

10 mins

Cook time

25 mins

Total time

35 mins

Ideal for

Lunch

Make it

Mexican

Serves

4
How to make it
Begin by marinating your meat. Place the chicken thighs and drumsticks in a bowl, add garlic, cumin, paprika,

Gran Luchito Smoky Chipotle Fajita & Taco Mix

, olive oil, lime juice, orange juice and half of the coriander. Mix everything together with your hands, making sure the chicken is well coated in all the flavours. Then place into a zip lock bag and let it marinate in the fridge for 1 hour before cooking.

Once your chicken has had enough time marinating, prepare your grill or frying pan (if you are cooking it over your stove). Place the chicken over the grill or over the hot pan with a bit of olive oil. Cook a few pieces at a time with the skin facing down to start with, and season with salt and pepper while you are cooking.
Make sure the chicken gets a good colour and crispy skin, then turn over with the help of kitchen tongs, and use the remaining marinating juices to brush over the skin. If you're cooking in your chicken over the stove after searing it, place it over a baking tray and brush it with the remaining marinating juices. Finish cooking in the oven at 180°C / 350°F for 15 mins, approx.
Once your chicken is ready, serve over a pretty platter with the remaining coriander scattered on top. Add on the side some warm Gran Luchito Soft Taco Wraps, Gran Luchito Chipotle Salsa and lime wedges. Enjoy!
What To Serve With Pollo Asado
Try serving this pollo asado with a side of:
Download Our Free Guide To Mexican Classics
Your free guide will be emailed to you immediately.
Similar Recipes You Might Like to Try
FAQs
What is Pollo Asado?
It's Mexican grilled chicken! Pollo Asado is a style of chicken that is typically cooked in an open fire/bbq or grilled. It is marinated beforehand in citrus juices and spices.
How to cook Pollo Asado in the oven?
Pre-heat the oven to 180°C. Spray some oil onto an oven-proof dish and arrange your chicken inside. Chicken thighs and legs with bones in usually takes 30-35 mins, whereas boneless chicken is cooked quicker (20-25mins).
What does the word asado mean?
It means to roast. So Pollo Asada literally means roasted chicken. The difference between this dish and roast chicken is that chicken thighs and legs are used instead of a whole chicken.
Please let us know what you think of this recipe