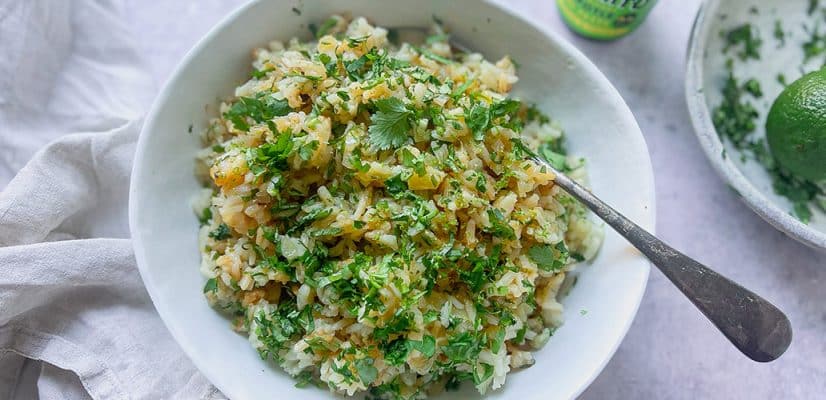 Lime and Coriander Rice
Lime and Coriander Rice is the perfect accompaniment for Mexican food, and if you know Mexicans, you know their love for coriander! It's used to garnish every single taco or as a vital ingredient to give more flavour to a simmering sauce or stew. Coriander always makes an appearance in most Mexican meals. 
Having said that, if coriander isn't your thing, we won't judge! Just substitute it with parsley in this recipe, and you'll get a similar result.
We like to use basmati or white long grain rice. Just make sure to wash and rinse your rice with cold water before cooking, as this will help to get rid of some of the starch and avoid the rice from losing its shape when it cooks.
Another good tip when cooking rice is to always cook your rice with a ratio of 1:2 in mind. For example, if you're cooking one part rice use two parts of water. Or you can calculate using 1 cup of rice to feed 4 people, you can then plan accordingly and duplicate or triplicate depending on how many people you're cooking for.
The liquid you use to cook your rice with can be water, chicken or vegetable stock. For more flavour, we recommend using stock, but if you haven't got any at home just use plain water. For a more fragrant rice, try adding lime zest while it's cooking. The zest of the lime releases it's natural oils and gives the rice more of a lime flavour. 
Once the rice is cooked, remove it from the heat and let it rest for 20 minutes, then fluff it up using a fork. You can then add the fresh coriander and lime juice, without making your rice mushy.
To make our coriander and lime rice (or cilantro lime rice) even better, we add 1 to 2 teaspoons of Gran Luchito Chipotle Lime Paste and combine it lightly – it gives you even zestier rice with a light chipotle flavour!
Prep time

Cook time

Total time

Ideal for

Side Dish

Make it

Mexican

Serves

4
Nutrition: Per serving
kcal 81
fat 2.0g
saturates 0.3g
carbs 15.1g
sugars 1.4g
fibre 0.7g
protein 1.8g
salt 0.84g
How to make it
Begin by preparing the rice. In a saucepan, heat up the olive oil over medium heat. Once it's hot enough, add the onion and garlic, and gently fry for 2 to 3 minutes until translucent. Now add the washed rice and cook with the onions for a minute or two, stirring continuously.

Pour in the stock, lime zest, and season with a pinch of salt and black pepper. Stir to distribute the liquid evenly and bring to a boil, then lower the heat to a minimum and cover with a lid. Leave to cook without touching the rice. This takes from 15 to 20 minutes, until all the liquid has been absorbed.

Once the rice is cooked through, remove it from the heat and allow it to cool down for 20 minutes (approximately). Add the fresh coriander, the lime juice and Chipotle Lime Paste, then combine it all lightly using a fork or a spoon, without over mixing. 

Serve your rice warm and as the perfect side to many Mexican dishes.
What To Serve With Lime And Coriander Rice
Serve this delicious lime and coriander rice with one of the following, for a complete meal:
Download Our Free Guide To Mexican Classics
Your free guide will be emailed to you immediately.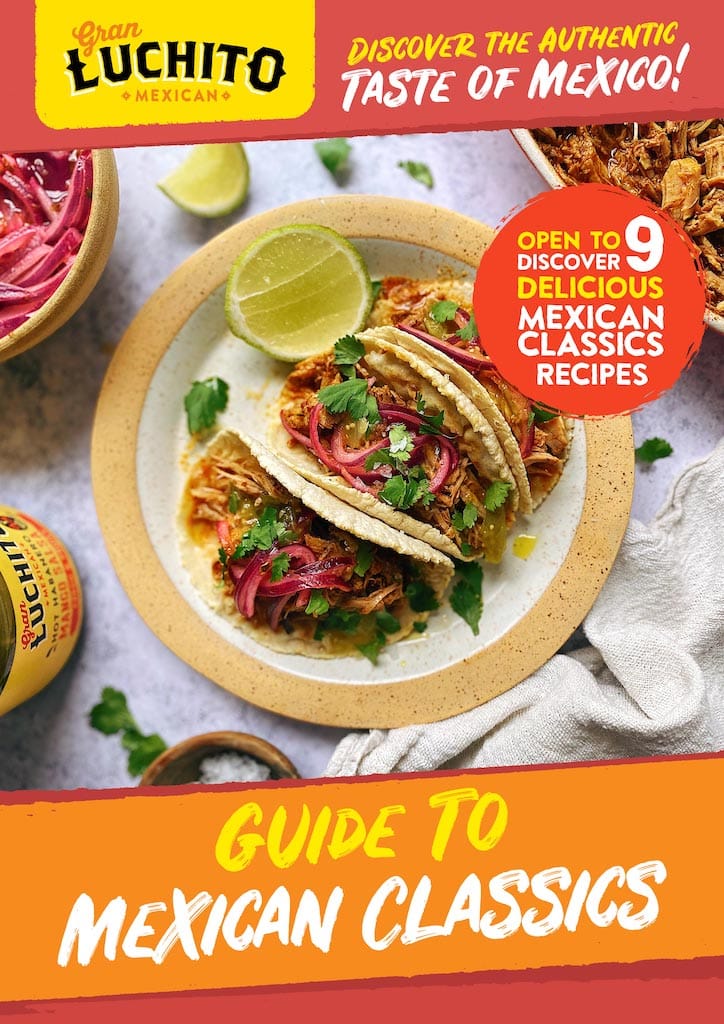 Similar Recipes You Might Like to Try
FAQs
How to use coriander?
Coriander can be used to flavour all types of curries, sauces, soups, stews as well as sprinkled on top of salads. It has a sweet lemony flavour that lends itself well to savory recipes.
What goes with coriander lime rice?
This side dish goes well with any Mexican meal, but especially well with chicken and fish. You could also use it for your burritos or chilli.
Can you freeze coriander lime rice?
Yes! Let the rice cool completely before transferring it to a freezer bag or airtight container. You can freeze it for up to 3 months.
Comments / Questions / Tips

Subscribe now for a free copy of the Gran Luchito e-cookbook filled with delicious, authentic Mexican recipes and join our mailing list for all the latest recipes, news and blog updates.

wpDiscuz