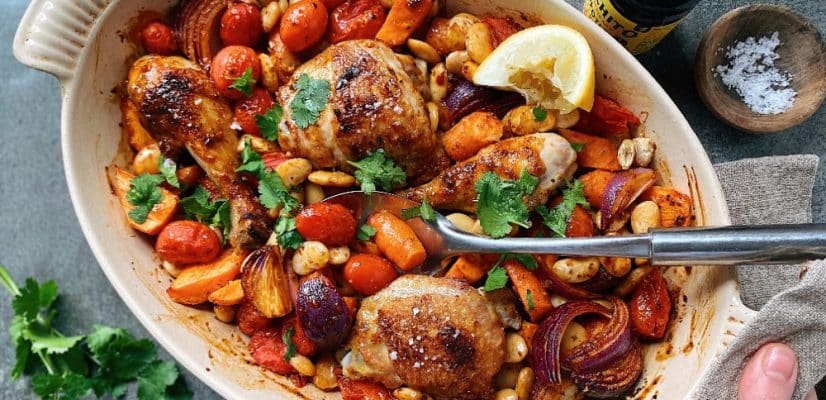 Chicken Traybake
For midweek meals there is nothing more handy than an easy recipe that is just simple. Something that will avoid a lot of preparation and a whole load of washing up afterwards. For that, we think that traybakes or one-pot meals are a great solution to feed a family. But lets face it, some chicken traybakes are just a bit boring! Well not our chicken traybake recipe – it's full of delicious, smoky flavour!
A bit of Gran Luchito Chipotle Paste and honey mix and mingle in with delicious chicken juices and vegetables!
Now there are two ways to make this recipe :  
The first one is more practical and straightforward. You would use skinless chicken and put all of the ingredients into a baking dish with the chipotle spicy mixture on top. You would then bake it in the oven at 200°C / 390°F for 35-40 minutes approx, until your chicken is cooked through.
The second option is for those of you who love crispy chicken skin! For this we recommend you sear your chicken pieces in very hot olive oil to achieve that lovely and delicious crispy skin, before adding the chicken into your baking dish with the beans, vegetables and spicy mixture. It then goes in the oven for a further 30 minutes.
We hope this recipe comes in handy, and feel free to double up the recipe to feed a bigger family.

---
---
Prep time

Cook time

Total time

Ideal for

Dinner

Make it

Mexican

Serves

2
Nutrition: Per serving
kcal 168
fat 14g
saturates 3.3g
carbs 6.7g
sugars 4.3g
fibre 1.8g
protein 3.5g
salt 0.54g
How to make it
Prepare the spicy mixture by adding the garlic cloves, Chipotle Paste, honey, lemon juice, coriander, extra virgin olive oil, black peppercorns and salt into a food processor. Blitz everything into a smooth mixture and reserve.

Heat up the oil in a frying pan. Season your chicken pieces with a good amount of salt and freshly ground black pepper. Once your oil is very hot add your chicken pieces with the skin facing down. You want to sear both sides and achieve crispy golden skin but not cook it through. Set aside once it's ready.

I

n a large baking dish, place the butter beans, red onion, carrots, and cherry tomatoes. Pour the spicy mixture on top and coat your veggies well in the mixture using a spoon.

Spread the bean-vegetable mixture on the baking dish and place in your pieces of seared chicken. Tuck them into the vegetables to avoid them from drying up whilst cooking in the oven. Add a pinch of salt and freshly ground black pepper, as well as another drizzle of olive oil and the stock.

Place your baking dish in the oven for 30-35  minutes approximately, (depending on your oven) until your veggies are cooked through. 

Serve your chicken hot with a squeeze of lemon juice on top and a drizzle of extra virgin olive oil. Enjoy!
What To Serve With Chicken Traybake
Serve this main course with sides of:
Similar Recipes You Might Like to Try
Comments / Questions / Tips

Subscribe now for a free copy of the Gran Luchito e-cookbook filled with delicious, authentic Mexican recipes and join our mailing list for all the latest recipes, news and blog updates.