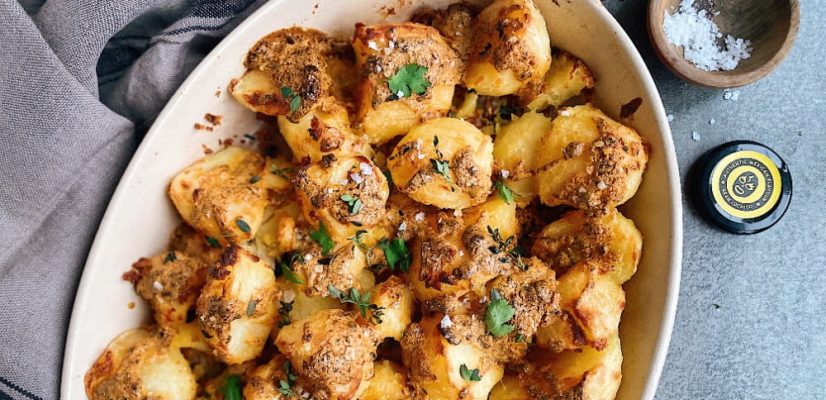 Mexican Roast Potatoes
There's a reason roast potatoes are practically everyone's favourite. Crispy on the outside, fluffy on the inside and totally delicious. Now what if you took the flavour up a notch and made your usual roast potatoes even better?
In our Mexican Roast Potatoes recipe we mix our signature Gran Luchito Chipotle Paste with white tahini for a deliciously smoky, nutty paste that is rubbed into all the nooks and crannies of the par-boiled and fluffed up potatoes before they go into a hot oven. This gives them incredible flavour! Covering them in hot olive oil, to turn them crispy and golden in the oven, just brings them to the next level. 
Prep time

Cook time

Total time

Ideal for

Sides

Make it

Mexican

Serves

6
Nutrition: Per serving
kcal 152
fat 8.2g
saturates 1.2g
carbs 16.7g
sugars 0.9g
fibre 2.3g
protein 2.9g
salt 0.11g
How to make it
Preheat the oven to 200°C / 390°F. Place your potatoes in a deep pot with cold water (enough to cover them). Add 1 teaspoon of salt and bring to a boil, then simmer on a lower heat until they are cooked through.

Remove your potatoes from the heat, drain the water and let them cool down a bit. Shake them to create fluffy edges.

While you wait for the potatoes to cool down, mix the white tahini with the

Chipotle Paste

in a small bowl. Whisk until you integrate all of the chipotle into the tahini and set aside.

In a baking dish add the olive oil and place it in the oven to get the oil very hot.

Take the baking dish out of the oven, and with a spoon, coat the fluffy potatoes in the hot oil and then pour the chipotle tahini mixture on top. Season with flaky salt and black pepper, add the lemon thyme, and roast until they turn golden brown and crispy. Once ready, serve alongside your main meal.
What to serve with Mexican Roast Potatoes
Our Mexican Roast Potatoes are the perfect dish for an epic Sunday roast served alongside:
Similar Recipes You Might Like to Try
FAQs
What are the best potatoes to use for roast potatoes?
We like to use Maris Piper as when roasted in hot olive oil they go crunchy on the outside but remain fluffy on the inside.
Ho do I make crispy roasted potatoes?
The key here is first to fluff up the potatoes after boiling to give nice edges, then make sure the olive oil is hot before pouring onto the potatoes and the oven is preheated to 200°C.
Comments / Questions / Tips

Subscribe now for a free copy of the Gran Luchito e-cookbook filled with delicious, authentic Mexican recipes and join our mailing list for all the latest recipes, news and blog updates.