Honey Roasted Carrots
We know how busy the holiday season can be, and we want to do all we can to help you and inspire you to cook with Mexican flavours at home. A must-have in your pantry in the run up to New Year has to be Gran Luchito Chipotle Paste! Its versatility and unique combination of Mexican dried chillies and spices make it the flavour bomb you need to season your food during the festive period.
We love this Honey Roasted Carrots recipe as it's so simple to prepare, but gives your roast vegetables a special oomph. The sweetness of the roasted carrots goes beautifully with the smoky and deep chipotle taste that the Chipotle Paste gives. They also cannot be easier to prepare! Simply peel the carrots and rub with Chipotle Paste, olive oil and a few sprigs of rosemary, salt and black pepper. Roast them in the oven without the need to parboil first, and just let them get deliciously roasted and tender in the oven. 
We like to add the honey at the end while the roast carrots are still warm and just come out of the oven. A quick squeeze of lemon juice on top, along with some flaky salt, and they're ready to be served and enjoyed alongside other holiday treats or simply with your usual Sunday roast.
We hope you give these honey roasted carrots a try and that you love them as much as we do!
Prep time

Cook time

Total time

Ideal for

Side

Make it

Mexican

Serves

3
Nutrition: Per serving
kcal 53
fat 1.9g
saturates 0.3g
carbs 8.4g
sugars 7.9g
fibre 2.4g
protein 0.8g
salt 1.0g
How to make it
P

reheat the oven to 200˚C/390˚F. Place the carrots into a bowl, add the Chipotle Paste, rosemary leaves, and olive oil. Rub with your hands until they are all coated in the mixture, then season with salt and pepper.
Prepare a tray with parchment paper at the bottom. Place the carrots on the tray and place them in the oven for 30 minutes (approx) until the carrots turn tender and are nicely roasted on the outside.
Remove the tray from the oven and place the carrots in a nice serving dish. Finish the carrots by drizzling the honey on top while they are still warm. You can also add a squeeze of lemon and flaky salt on top. Serve your roasted carrots recipe warm and enjoy!
What To Serve With Honey Roasted Carrots
Serve these honey carrots with Mexican Roast Chicken and Mexican Roast Potatoes for your next Sunday lunch!
Download Our Free Guide To Mexican Classics
Your free guide will be emailed to you immediately.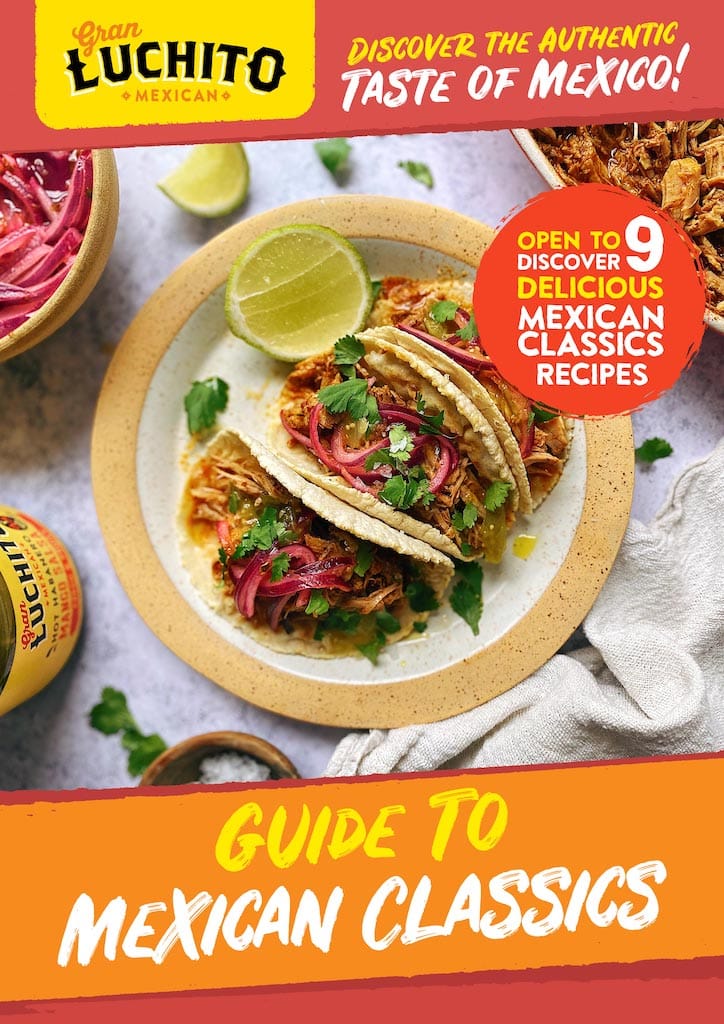 Similar Recipes You Might Like to Try
FAQs
What main dish goes with roasted carrots?
Roasted carrots, and our honey roast carrots in particular, go really well with a Sunday roast. Any of the following Gran Luchito recipes: Mexican Roast Chicken, Chipotle Honey Glazed Ham, Roast Turkey Breast or Turkey Enchiladas. Serve them alongside side dishes such as Mexican Roast Potatoes, Mexican Cauliflower Cheese, and Mexican Green Beans.
Do you peel roasted carrots?
It's not entirely necessary, but we like to peel ours, yes. Peeling the carrots gives them a cleaner appearance. If you choose not to peel, scrub them with a veggie brush to make sure you get rid of any dirt or debris before cooking.
Can you reheat honey roasted carrots?
Yes! You can make these honey glazed carrots in advance. If you do, we recommend boiling them for a minute or two less just so that they don't become mushy when you reheat them. To reheat them, simply saute until they're warmed through, or place them in a medium heated oven just to heat them through.
Comments / Questions / Tips

Subscribe now for a free copy of the Gran Luchito e-cookbook filled with delicious, authentic Mexican recipes and join our mailing list for all the latest recipes, news and blog updates.

wpDiscuz