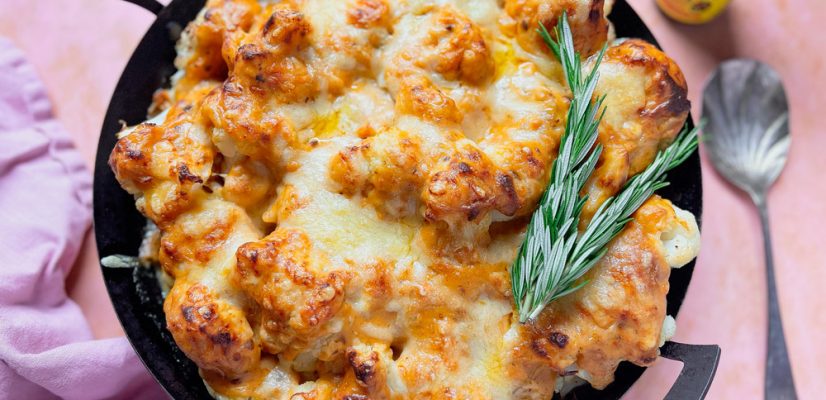 Mexican Cauliflower Cheese
Cauliflower Cheese is a British classic usually served as a side dish for a Sunday roast, or on special occasions such as Christmas. It mainly consists of cauliflower florets that have been boiled and then covered in homemade cheese sauce that's then baked in the oven to become one of the most comforting dishes there is.
For our cauliflower cheese recipe, we use Gran Luchito Chipotle Paste to make our cheese sauce taste slightly smoky and deliciously spicy. This, combined with the cheddar, makes a beautiful combination of flavours that takes regular cauliflower cheese to another level!
Cauliflower Cheese with Chipotle Paste is perfect when it's served for special occasions like Christmas or New Year's Eve, but could also work perfectly well as a side dish to any dinner party when you're entertaining at home. For a different spin on this cauliflower recipe, but with equally delicious results, try substituting the Chipotle Paste with Gran Luchito Crunchy Salsa Macha for a slightly nuttier flavour in your cheese sauce.
This Mexican cauliflower pairs perfectly with our recipe for Roasted Chipotle Honey Ham and also our Mexican Roast Chicken.
Prep time

Cook time

Total time

Ideal for

Side Dish

Make it

Mexican

Serves

5
Nutrition: Per serving
kcal 158
fat 10g
saturates 6.1g
carbs 10.9g
sugars 6.3g
fibre 2.3g
protein 5.5g
salt 0.84g
How to make it
Preheat the oven to 200˚C/390˚F.

Add the cauliflower florets into a large saucepan, then fill it with enough water to cover them, then add the salt. Bring to a boil and cook the florets for 5 mins, just enough to soften them but not to overly cook them. Once ready, drain the hot water into the sink using a strainer. Place the florets under running cold water for a couple of minutes to stop them from keeping on cooking, then reserve them on the side.

Prepare the chipotle cheese sauce. Heat up a saucepan with the olive oil over medium heat. When ready, add the onion and garlic, and let them soften. Then add the Chipotle Paste, mustard, and butter. Once melted, add the flour, and stir until you form a roux (2 to 3 mins). Toss in the bay leaves, milk, and keep stirring. Simmer for 6 minutes approx or until your sauce thickens. Fold in 150g of the grated cheese, and then season with salt and pepper. Stir until the cheese is completely integrated, and once ready remove from the heat and set aside.
In a medium sized baking dish add a few spoonfuls of the chipotle cheese sauce at the bottom of the dish. Place the cooked cauliflower on top, add the knobs of butter, and season with salt and pepper. Drizzle the remaining chipotle cheese sauce over the florets, finish it with the remaining grated cheese on top and some freshly ground black pepper, then place in the oven for 20 minutes. Serve warm and enjoy!
What To Serve With Mexican Cauliflower Cheese
Our recipe goes really well with one of these two main courses:
Download Our Free Guide To Mexican Classics
Your free guide will be emailed to you immediately.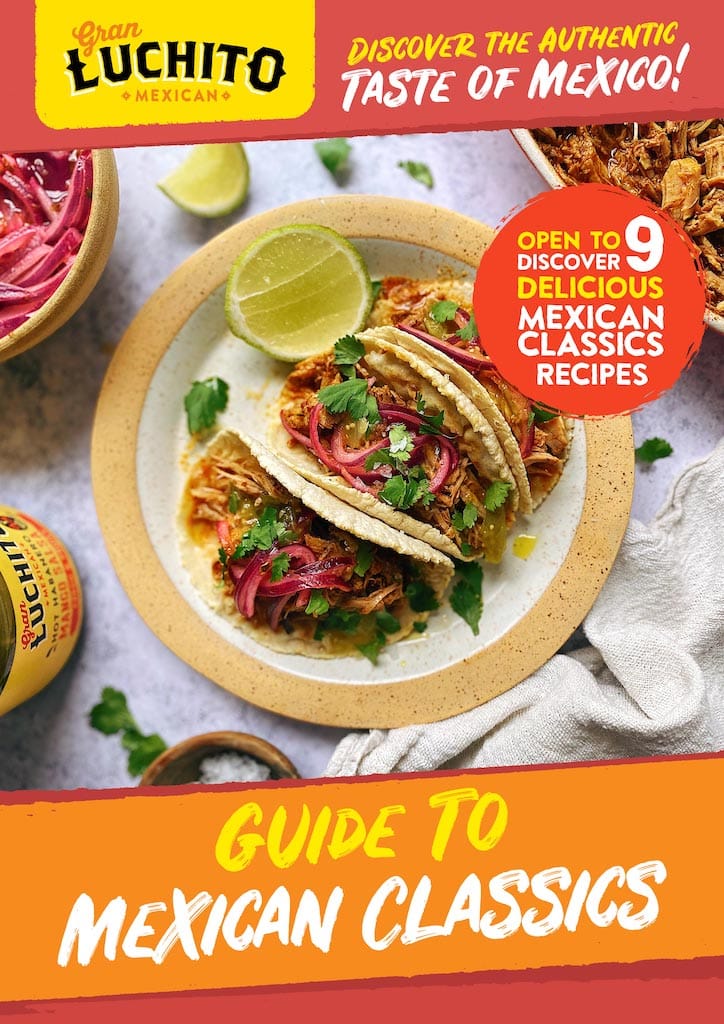 Similar Recipes You Might Like to Try
FAQs
Can cauliflower cheese be frozen?
Yes it can. Once cooled, you can place the roasted cauliflower in a freezer bag and keep frozen for up to three months. If you decide you want to use it for dinner, take it out in the morning and place it in the fridge.
How to reheat frozen cauliflower cheese?
Place it into a hot oven for around 25 minutes until it's piping hot throughout. Sprinkle over some freshly grated cheddar cheese, then bake for a final 5 to 10 minutes to melt the cheese.
What to eat with cauliflower cheese?
Our Chipotle Honey Ham recipe or our Mexican Roast Chicken recipe! It generally goes amazingly well with a Sunday Roast. You could also add pasta to it and have your very own Mexican Mac and Cheese for a cosy night in.
Comments / Questions / Tips

Subscribe now for a free copy of the Gran Luchito e-cookbook filled with delicious, authentic Mexican recipes and join our mailing list for all the latest recipes, news and blog updates.