Quick Queso Fundido with Roasted Chipotle Cauliflower
Getting together to share a meal with family and friends is very important in Mexican culture, maybe done once a week and is a great opportunity to catch up and spend time together. The food that is served takes a very important place in these gatherings, normally everyone brings a dish and food is shared in the middle of the table. These meals always start with a nice "botana" or "snack" , something small to enjoy before the main meal. This is always a good introduction to what's to come and an opportunity to share some tequilas while catching up! Our Quick Queso Fundido with Roasted Cauliflower is the perfect botana to share at such a meal!
Queso fundido, if you aren't already familiar, is a very popular snack in Mexico. What's not to love about cheesy deliciousness melted in a skillet under the grill?! Often you will find queso recipes with chorizo as in our Chipotle Queso Fundido recipe.
In this recipe we use roasted cauliflower flavoured with a glaze made with Gran Luchito Chipotle Paste, honey and a bit of Gran Luchito Smoky Chipotle Fajita and Taco Mix. This gives heavenly roasted flavour edges to the cauliflower and when served with the melted gruyere is just a match made in Mexican heaven. Served with warm tortillas, guacamole  and a bit of fresh salsa. 
Our Slow-Cooked Chicken Enchiladas make for the perfect main to share with family and/or friends. We hope that you enjoy this version on your next get together or a Friday night treat for you and your family.
Prep time

Cook time

Total time

Ideal for

Snack

Make it

Mexican

Serves

6
Nutrition: Per serving
kcal 270
fat 16g
saturates 7.6g
carbs 19.6g
sugars 3.9g
fibre 0.3g
protein 11.9g
salt 1.4g
How to make it
Preheat oven to 200C/390F.
Begin by making the chipotle glaze for coating for the cauliflower. In a medium size bowl add the Chipotle Paste, honey, Smoky Chipotle Fajita and Taco Mix, olive oil, tamari sauce, lemon juice and garlic cloves, season with a pinch of salt and black pepper, combine the mixture with a spoon and reserve.

Add the cauliflower into the bowl with the chipotle honey mixture. Coat your florets well and evenly, then season with a pinch of salt. Place the cauliflower over a baking tray and roast for 25-30 minutes approximately or until they get those delicious roasted edges!

While your cauliflower is cooking,

add the chees

e over a cast iron skillet or a small baking dish. Place it in the oven about 10 minutes before your cauliflower will be ready, so then both can be nice and warm to serve at the same time.

Remove the roasted cauliflower and bubbling cheese skillet from the oven, place the florets on top of the cheese.

Serve hot with Lightly Salted Tortilla Chips

on the side or warm

Soft Taco Wraps

ready to scoop up that cheesy deliciousness. To go with it, why not try one of our salsas on top – Tomatillo Salsa is our pick!
What To Serve With Quick Queso Fundido
Serve this quick queso as a starter with some:
Download Our Free Guide To Mexican Classics
Your free guide will be emailed to you immediately.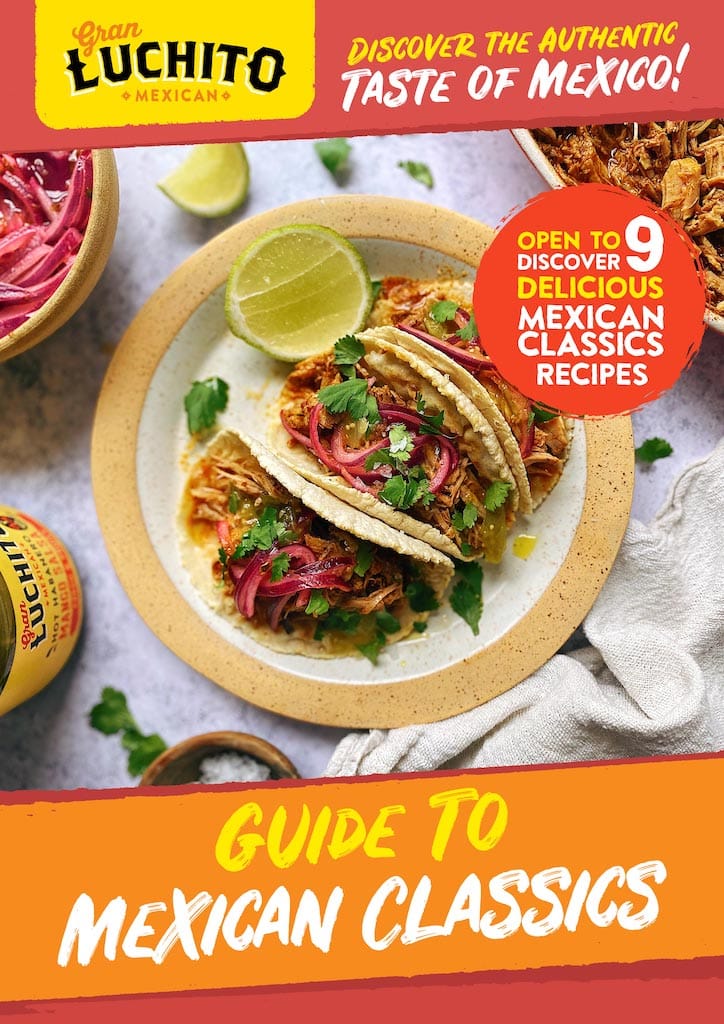 Similar Recipes You Might Like to Try
Comments / Questions / Tips

Subscribe now for a free copy of the Gran Luchito e-cookbook filled with delicious, authentic Mexican recipes and join our mailing list for all the latest recipes, news and blog updates.

wpDiscuz