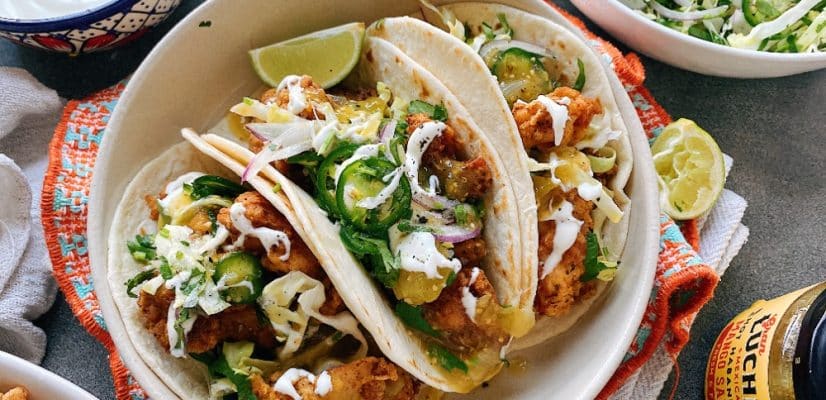 Fried Chicken Tacos Recipe
This fried chicken tacos recipe is a promise for what's to come in the summer! It makes us long for sunny days, warm afternoons with friends, and a couple of cold beers on the side. They also happen to be super delicious and a great way to begin the weekend!
If you're looking for new recipes to try this weekend, this is a good one to get you going on a Friday after work. Perfect for when it's time to chill and enjoy thinking about something else other than work, which we think cooking is great therapy for.
Our Gran Luchito Hot Habanero and Mango Salsa is the perfect addition to this fried tacos recipe! All you need to do is add a generous amount of our delicious, fruity and spicy salsa onto your tacos with that very important squeeze of lime and pinch of flaky salt!
Be sure to check out all of our taco recipes. From more familiar ones such as easy Beef Tacos and Turkey Mince Tacos to delicious and authentic tacos including Baja Fish Tacos, Tacos Al Pastor, and Pork Pibil Tacos, we have tonnes of taco inspiration!
Prep time

Cook time

Total time

Ideal for

Lunch / Dinner

Make it

Mexican

Serves

4
Nutrition: Per serving
kcal 212
fat 13g
saturates 3.1g
carbs 17g
sugars 1.9g
fibre 1.3g
protein 6.6g
salt 0.56g
How to make it
In a bowl add the white cabbage, onion, jalapeno, coriander, lime juice, vinegar, extra virgin olive oil and coriander. Mix everything with a spoon and simply season with a pinch of salt and freshly ground black pepper, and reserve.

In another bowl add the eggs, a splash of milk, a bit of salt and pepper, and whisk until all the ingredients are combined.

Prepare another container with the flour, add the Smoky Chipotle Fajita & Taco Mix, salt and freshly ground black pepper, mix with a spoon, and reserve.

Heat up the vegetable oil in a frying pan. You want your oil to be very hot before frying! To check if your oil is ready add a small piece of bread into the oil and if it starts bubbling up quite quickly it means it's hot enough and you're ready to go.

Coat your chicken with the egg mixture first, then into the flour with chipotle spice and finally into the frying pan until it gets crispy and golden brown. Remove from the oil and place it over kitchen paper to absorb any excess oil. Repeat this process with the rest of the chicken.

Warm up the Soft Taco Wraps and get ready to serve your tacos while your chicken is still warm. Add a good amount of crispy chicken on each, then some of the slaw, a generous amount of Hot Habanero Mango Salsa, a drizzle of creme fraiche and limes on the side.

NB – If your chicken gets cold a good way to reheat it is by placing it into the oven at 200°C / 390°F for a couple of minutes.
Download Our Free Guide To Tacos
Your free Taco guide will be emailed to you immediately.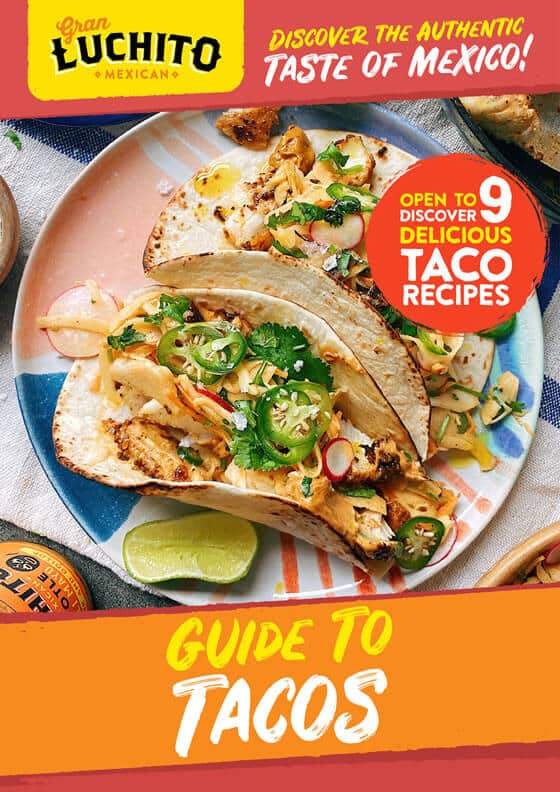 What To Serve With Fried Chicken Tacos
We highly recommend turning this chicken tacos dish into a taco platter with these two side dishes:
Similar Recipes You Might Like to Try
Comments / Questions / Tips

Subscribe now for a free copy of the Gran Luchito e-cookbook filled with delicious, authentic Mexican recipes and join our mailing list for all the latest recipes, news and blog updates.

wpDiscuz