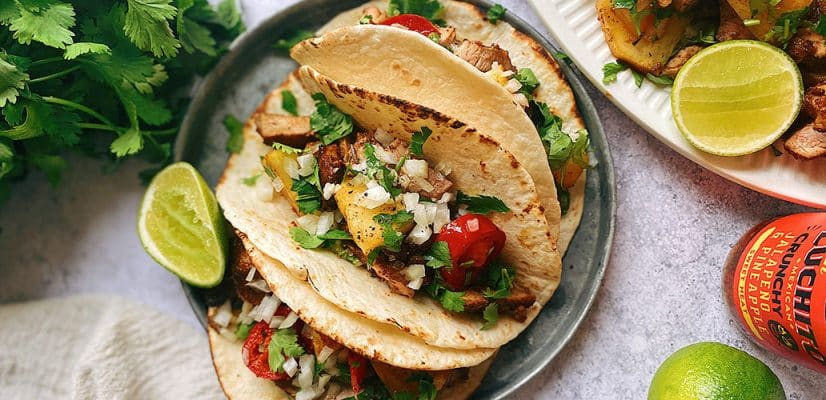 Tacos Al Pastor
Al Pastor, from the Spanish meaning "shepherd style", is inspired by shawarma! A method of cooking brought by the Lebanese to Mexico in the late 19th and early 20th centuries. Nowadays you can find 'al pastor' style tacos everywhere in Mexico, but Mexico City is famous for having the best ones.
Traditionally they consist of spit-grilled pork, covered in a unique marinade made with Mexican dried chillies, fruit juices and achiote paste (as well as other ingredients). The meat is carved from the vertical spit stand called "trompo" and served with grilled pineapple over corn tortillas.  
A fun fact is that Tacos Al Pastor can also be served over wheat tortillas with melted cheese and they are known as "Gringas"!
Our pork taco recipe is a homemade version of Tacos Al Pastor where we marinate pork shoulder steaks with Gran Luchito Garlic & Guajillo Fajita & Taco Mix, pineapple juice, annatto seeds and spices. The pork is grilled and served in warm Gran Luchito Soft Taco Wraps and topped with Gran Luchito Jalapeño & Pineapple.
We recommend making it a meal by serving these al pastor tacos with a side of Mexican Rice and our authentic Gran Luchito Refried Beans.
Prep time

Cook time

Total time

Ideal for

Dinner

Make it

Mexican

Serves

4
Nutrition: Per serving
kcal 105
fat 3.2g
saturates 0.7g
carbs 10.5g
sugars 0.7g
fibre 0.7g
protein 8.4g
salt 0.26g
How to make it
Prepare the pastor marinade by adding in a blender: the annatto seeds, clove, cinnamon, cumin, Mexican oregano, peppercorns, garlic,

Garlic & Guajillo Fajita and Taco Mix

, pineapple juice and vinegar. Blend smoothly. 

Cover the pork shoulder steaks with the marinade, then leave them in the fridge overnight (or for at least for 3-4 hours).

Allow to come up to room temperature and season with salt and pepper before cooking.

We recommend cooking your meat over the bbq to get that lovely charcoal flavour, but if the weather doesn't cooperate you can also cook your pork over a hot cast iron pan with a bit of olive oil in your kitchen.

Cook your meat until it gets a good colour on both sides and the pork is cooked through. Once ready, let your meat rest on a platter for 6 minutes. You can also cook some pieces of fresh pineapple here with the pan juices.

In the meantime warm up Soft Taco Wraps over a hot pan and keep them warm wrapped up in a tea towel.
After resting your meat, slice with a sharp knife into thin strips and serve over the warm soft tortillas, with our Jalapeno and Pineapple, a bit of onion, freshly chopped coriander and a squeeze of lime. This will make the perfect taco!
What To Serve With Tacos Al Pastor
Serve these tacos with a side of:
Download Our Free Guide To Tacos
Your free Taco guide will be emailed to you immediately.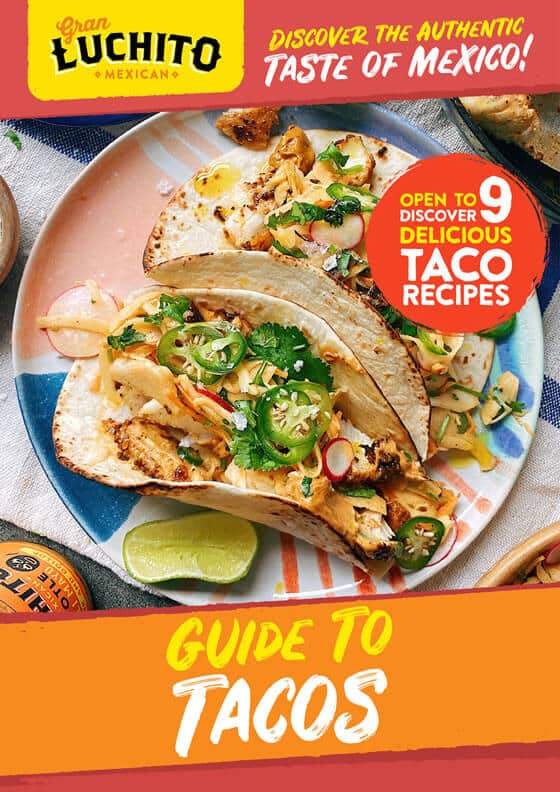 Similar Recipes You Might Like to Try
Comments / Questions / Tips

Subscribe now for a free copy of the Gran Luchito e-cookbook filled with delicious, authentic Mexican recipes and join our mailing list for all the latest recipes, news and blog updates.

wpDiscuz