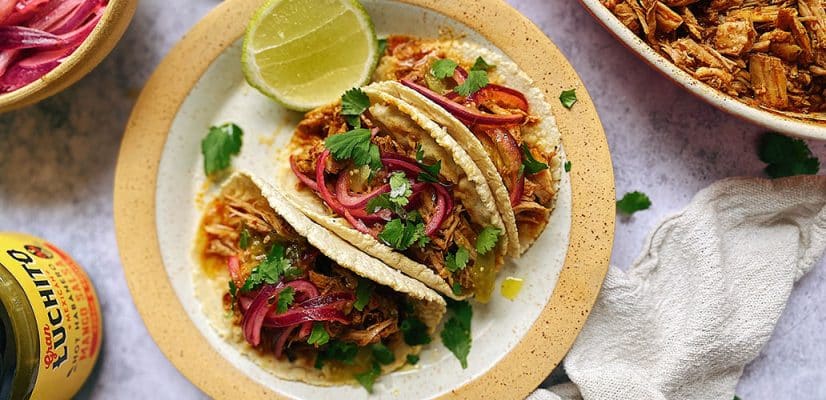 Pork Pibil Tacos
Pork Pibil is a dish that originated in the Yucatán Peninsula, Mexico. It mainly consists of pork marinated with bitter oranges (typical from the region), spices, and annatto seeds that are used to give the vibrant burnt orange colour to this dish. 
Traditionally a cochinita (baby suckling pig) is wrapped in banana leaves and cooked in an oven made in a hole in the ground, lined with stones. After a few hours, the meat is dug out and the banana leaves open to reveal tender and delicious pork. This is then served in tacos with pickled red onion and habanero (a chilli). Very spicy but the perfect complement to these cochinita pibil tacos!
This pork taco recipe is our humble homage to Pork Pibil Tacos. We wanted to come up with a taco recipe that is very practical to prepare at home, and with all the delicious smokiness and depth of flavour that our Gran Luchito Chipotle Paste gives. We recommend using pork shoulder steaks for delicious and tender results.
For a really authentic Mexican experience, and if you have a bit of time, we recommend making your own corn tortillas to accompany this authentic cochinita pibil recipe. Our corn tortilla recipe calls for a specific type of cornflour called Masa de Harina which you can find at larger supermarkets speciality outlets such as MexGrocer.  However, for those who are looking for a more practical recipe you can of course use our Gran Luchito Soft Taco Wraps.
We serve our delicious chipotle pork pibil with Gran Luchito Hot Habanero Mango Salsa which compliments this dish perfectly! A side of Mexican Corn and a couple of our Easy Quesadillas Luchito Style would finish things off perfectly!
Prep time

Cook time

Total time

Ideal for

Dinner

Make it

Mexican

Serves

6
Nutrition: Per serving
kcal 138
fat 8.2g
saturates 2.2g
carbs 8.1g
sugars 2.2g
fibre 0.4g
protein 7.9g
salt 0.69g
How to make it
Begin by preparing the chipotle pibil marinade. The first thing is to place your garlic cloves over a hot pan and char them all the way around, turning them from time to time. Then add the spices in with the garlic, and toast them briefly. Remove from the heat, and set aside.

In a blender add your toasted spices and garlic, then the olive oil, orange juice, apple cider vinegar, lime juice and last but not least the

Gran Luchito Chipotle Paste.

 Blend smooth and set aside.

Place your meat in a baking dish and add the chipotle pibil mixture on top. Cover with cling film and let it marinate overnight in your fridge (if possible).

When you are ready to cook your meat, preheat your oven to 130°C / 270°F.

Get your meat out of the fridge and add a good pinch of salt over your marinated pork. Then cover with two layers of tin foil and wrap tightly around the edges. Place in the oven for 3 hours to cook slowly.

In the meantime, prepare your quick pickled red onions. Into a bowl, place the onion with the olive oil, the juice of two limes, the oregano and a pinch of salt. Mix with a spoon and let it marinate whilst your meat is cooking.

If you have time, prepare your own homemade corn tortillas! Check the quick recipe below. But if you are looking for something a bit more convenient, use our lovely

Gran Luchito Soft Taco Wraps.

30 minutes before your meat is ready, remove your baking dish from the oven and shred the meat with the help of two forks. Combine the meat with the juices and place it back in the oven, uncovered, for the remaining 30 minutes.

Serve your tacos with the delicious chipotle pork pibil, a little bit of the pickled red onion on top, a spoonful of Gran Luchito Hot Habanero Mango Salsa and lime on the side.
To make the corn tortillas:
Mix all the ingredients in a bowl with a wooden spoon to form the "masa" (dough), and knead briefly. 

Heat up a non-stick pan.

Form masa balls with your hands. 

Then using a tortilla press and two plastic films press your masa into a tortilla shape.

Place in the hot pan for a minute or less on each side and keep them warm wrapped in a tea towel.
What To Serve With Pork Pibil Tacos
Serve your pork pibil tacos with sides of:
Download Our Free Guide To Tacos
Your free Taco guide will be emailed to you immediately.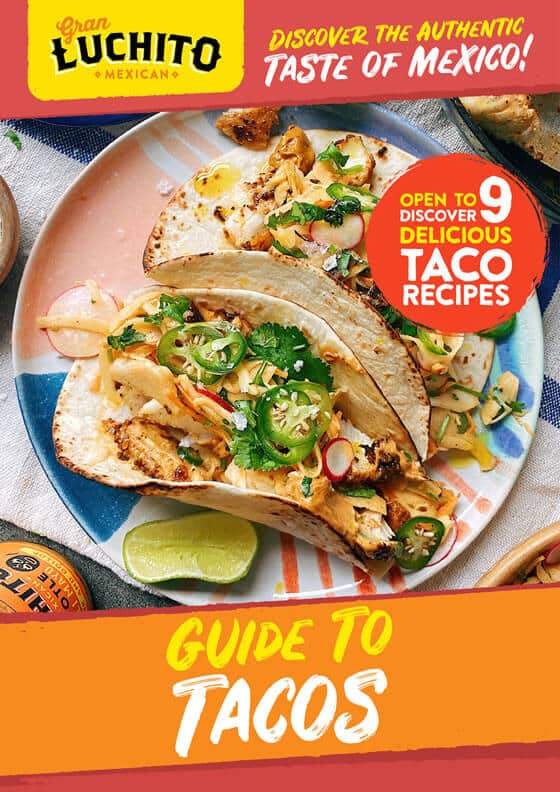 Similar Recipes You Might Like to Try
Comments / Questions / Tips

Subscribe now for a free copy of the Gran Luchito e-cookbook filled with delicious, authentic Mexican recipes and join our mailing list for all the latest recipes, news and blog updates.

wpDiscuz