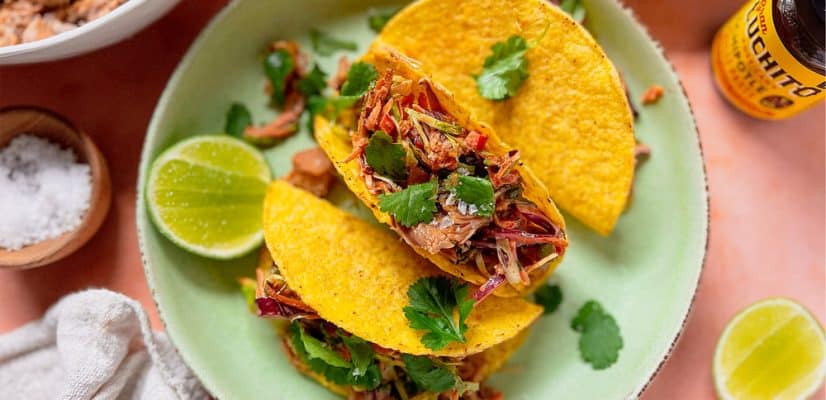 Pulled Pork Crunchy Tacos
Crunchy Tacos are a Tex Mex favourite, also known as a great dish for entertaining enjoyed by many. This recipe will make you love them even more, prepared with Gran Luchito Hard Shell Tacos, slow cooked pork with Chipotle Paste, and topped with a spicy and seriously delicious slaw that is made with our recipe for chipotle mayo.
To start, place the pork in the slow cooker and let the pot do its magic with the spices and meat juices. Once it is ready, shred the tender meat with the help of two forks and reduce the cooking juices until they thicken. Combine the juices with the shredded meat, this is a key step to ensure that you keep all the flavour locked in.
A tasty slaw is the perfect compliment to these tacos, and we have just the perfect recipe for this. Our Mexican Slaw is filled with crunchy vegetables and coriander, seasoned with vinegar, olive oil, a good pinch of Gran Luchito Smoky Chipotle Fajita & Taco Mix, plus a chipotle mayo, prepared with our signature Gran Luchito Chipotle Paste.
Bake the Hard Shell Tacos for 4 minutes, to make them even crunchier and get ready to serve, with a good amount of succulent pulled pork and topped with Mexican Slaw, served with limes on the side.
You could also add to these tacos your favourite Gran Luchito Salsa, Mango- Habanero, Tomatillo or Chipotle. If you are hosting a party we recommend serving the 3 of them so you can have a variety of heat to choose from.
Other toppings we recommend with these tacos are:
For a complete family meal why not serve these Crunchy Pulled Pork Tacos with a side of Arroz Primavera and Refried Beans.
Prep time

Cook time

Total time

Ideal for

Dinner

Make it

Mexican

Serves

3
How to make it
Preheat oven to 180 ˚C, 360 ˚F.
In the slow cooker place the pork shoulder steaks, add the onions, garlic, bay leaf, Chipotle Paste, stock, orange juice, apple cider vinegar, olive oil, a pinch of salt and freshly ground black pepper. Close the lid of the slow cooker and cook for 2 to 3 hrs, if your slow cooker has a pressure cooker mode cook only for 1 hr.
While your meat is cooking, it is a good time to prepare Mexican Slaw.
Place the Hard Shell Tacos in a baking tray and bake in the oven for 3 to 4 minutes.
Once the pork is ready, remove the meat from the slow cooker and place it in a bowl and with the help of two forks shred it. Pour the remaining cooking liquid in a small saucepan (discard the bay leaves) and reduce it over medium heat until it thickens. Mix the meat with the pan juices and set aside.
Serve the shredded meat in the baked Hard Shell Tacos and add a good amount of Mexican Coleslaw on top, serve with lime wedges on the side and enjoy!
What To Serve With Pork Belly Tacos
Download Our Free Guide To Tacos
Your free Taco guide will be emailed to you immediately.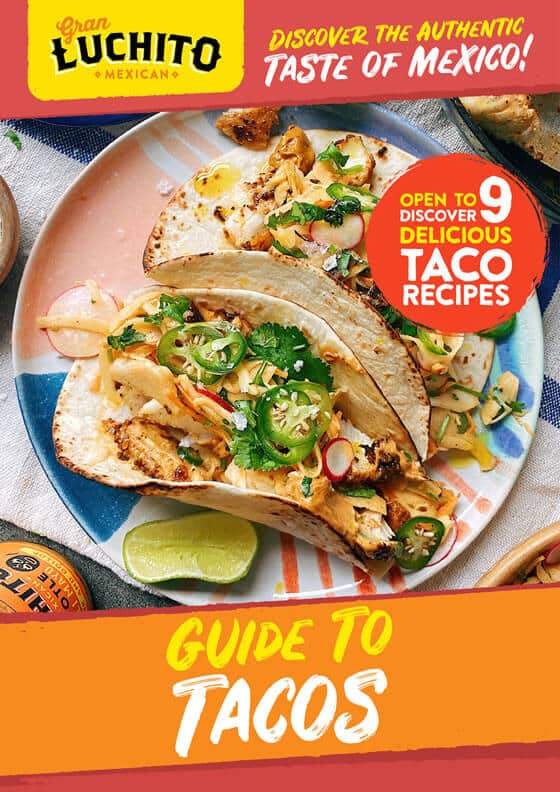 Similar Recipes You Might Like to Try
FAQs
How do I reheat leftover pulled pork crunchy tacos?
The best way to reheat leftover pulled pork crunchy tacos is to reheat the pork in a skillet or in the microwave, then assemble the tacos with fresh toppings and freshly fried shells. This will help keep the shells crispy.
What toppings go well with pulled pork crunchy tacos?
Popular toppings for pulled pork crunchy tacos include shredded cheese, lettuce, salsa, diced tomatoes, sour cream, guacamole, and hot sauce.
How can I make pulled pork crunchy tacos healthier?
To make pulled pork crunchy tacos healthier, use lean cuts of pork and bake the tortilla shells instead of frying them. Use fresh, colorful vegetables as toppings and limit the amount of cheese and sour cream you add.
Comments / Questions / Tips

Subscribe now for a free copy of the Gran Luchito e-cookbook filled with delicious, authentic Mexican recipes and join our mailing list for all the latest recipes, news and blog updates.

wpDiscuz