Pulled Pork Tacos With Red Cabbage Slaw
These Pulled Pork Tacos with red cabbage slaw are a really simple way to use up leftover pulled pork using our deliciously smoky Gran Luchito Chipotle Paste. However, if you have decided to make the pulled pork from scratch, we recommend making a big batch the day before, perhaps freeze some, and then enjoy it throughout the week in tacos!
If we talk about recipes that are perfect for batch cooking, pulled pork has to be at the top of the list. What's not to love about a Mexican Pulled Pork? A big piece of meat is infused with our famous Chipotle Paste, and slowly cooked until tender. It can later be used as one main meal as well as a few quick lunches!
A slow cooker is a perfect way to achieve this, but if you don't own one you can also cook your meat in the oven. If it's the latter, we recommend you cut your meat into smaller pieces and place them into a baking dish with the rest of the ingredients. You can then cover tightly with tin foil and cook at 160°C / 320°F for 5-6 hours. Just make sure to check your meat from time to time and add water to prevent it from going completely dry.
If Red cabbage slaw isn't your thing then you could try these Pulled Pork Tacos with our Mexican Corn recipe.
Do leave your comments below, and be sure to check out our other Mexican slow cooker recipes!
Prep time

Cook time

Total time

Ideal for

Lunch

Make it

Mexican

Serves

6
Nutrition: Per serving
kcal 130
fat 7.9g
saturates 2.2g
carbs 6.3g
sugars 2.1g
fibre 0.7g
protein 8.1g
salt 0.71g
How to make it
Step 1 – We recommend doing this in the morning so it's ready to eat later that day. If you are having them for lunch, perhaps do the pork the day before
Step 2 – Do this 30 min before serving the pork
Place the meat in the slow cooker and all the ingredients listed for pulled pork. There is no specific order or fancy way about it! Just add all the ingredients into the slow cooker, cover with a lid and let it cook on the high mode for 5 to 6 hours
Prepare the quick slaw by adding into a bowl the cabbage, red onion, red chilli, Smoky Chipotle Fajita & Taco Mix, lime juice, extra virgin olive oil, a pinch of salt and freshly ground black pepper. Mix everything with a spoon, taste and adjust seasoning if necessary, reserve
After 6 hours of cooking uncover your pork and shred the tender meat with the help of two forks. Mix in with the juices
Warm up your Soft Taco Wraps over a hot pan.
Once everything is ready, build your tacos using the warm Soft Tacos, pulled pork, quick red cabbage slaw, fresh salad leaves, a squeeze of lime, and finally a dollop of Chipotle Mayo!
Download Our Free Guide To Tacos
Your free Taco guide will be emailed to you immediately.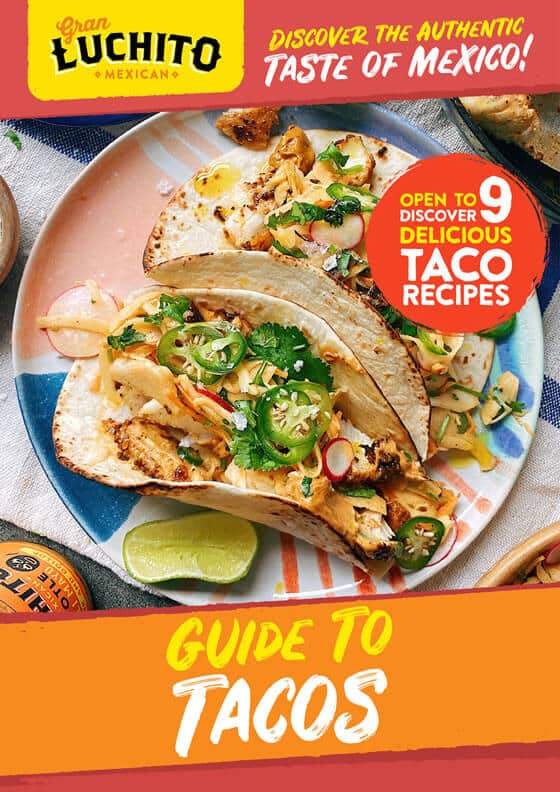 What To Serve With Pulled Pork Tacos
Serve these pulled pork tacos with sides of:
Similar Recipes You Might Like to Try
Comments / Questions / Tips

Subscribe now for a free copy of the Gran Luchito e-cookbook filled with delicious, authentic Mexican recipes and join our mailing list for all the latest recipes, news and blog updates.