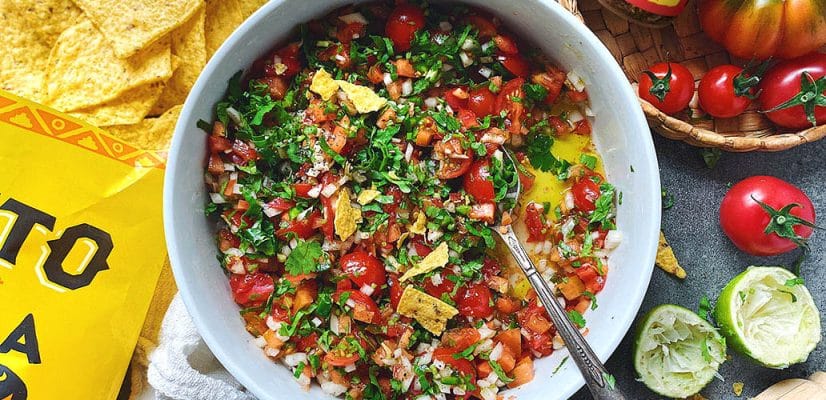 Pico de Gallo
Yum

Pico de Gallo is one of the easiest and freshest salsas there is and you can serve it with or on just about anything to add loads of fresh and healthy flavour. Whether as a topping for tacos or scrambled eggs, a dip for your tortilla chips or to liven up a side of refried beans, our easy pico de gallo recipe is the perfect topping.
In our authentic Pico de Gallo recipe we show you how simple it is to make this fresh tomato salsa at home. The lovely combination of fresh tomatoes, raw onion, chilli, lime juice, coriander and Gran Luchito Smoky Chipotle Fajita and Taco Mix is so good and seriously addictive.
Another tip for this salsa is that you can make it as spicy or mild as you like by adjusting the amount of chilli you add. But also equally important is to use different varieties of tomatoes to bring even more flavour to your salsa. We love using heritage tomatoes when they are in season to get the best flavour.
Prep time

Cook time

Total time

Ideal for

Snack

Make it

Mexican

Serves

4
Nutrition: Per serving
kcal 122
fat 6.2g
saturates 0.8g
carbs 14.3g
sugars 2.9g
fibre 1.3g
protein 1.9g
salt 0.27g
How to make it
In a big bowl add your onion and chilli first, then squeeze the lime juice on top and add your chopped tomatoes.

Season with our Gran Luchito Smoky Chipotle Fajita and Taco Mix and add the extra virgin olive oil. Mix the ingredients together with a spoon.
Add the coriander, and a pinch of salt and freshly ground black pepper. Mix and taste, adjust seasoning if necessary.
Keep in the fridge, or serve freshly made alongside some of our Gran Luchito Lightly Salted Tortilla Chips, all ready to tuck in. Enjoy!
Similar Recipes You Might Like to Try
FAQs
How do you pronounce pico de gallo?
Pico de gallo is pronounced PEE-koh day GUY-yoh.
What does pico de gallo mean?
Literally translated it means rooster's beak. There are a few different explanations as to why it is named as such including that it was originally eaten by pinching pieces of it between their fingers or because it is minced similar to bird feed. Regardless, it is delicious and we highly recommend it!
What is the difference between pico de gallo and salsa
The main difference is that pico de gallo uses raw ingredients and isn't cooked. Pico de gallo is chunky and generally made with the same ingredients wherever you go and includes diced tomatoes, onion, jalapeño, coriander. Salsa on the other hand is cooked with ingredients such as roasted tomatoes and has a thinner consistency. You will find a lot of variation in the taste and ingredients of salsa.
What are other names for pico de gallo?
Also known as salsa fresca referring to the freshness of the ingredients in this salsa. Another name is salsa cruda because it is uncooked and salsa Mexicana because the red, green and white of the tomatoes, jalapeños and onion are the same as the colour of the Mexican flag. No matter what you call it, it is seriously fresh and delicious!
How long will this recipe keep for?
Our fresh tomato salsa recipe will keep for 4 days in the refrigerator.
Comments / Questions / Tips

Subscribe now for a free copy of the Gran Luchito e-cookbook filled with delicious, authentic Mexican recipes and join our mailing list for all the latest recipes, news and blog updates.