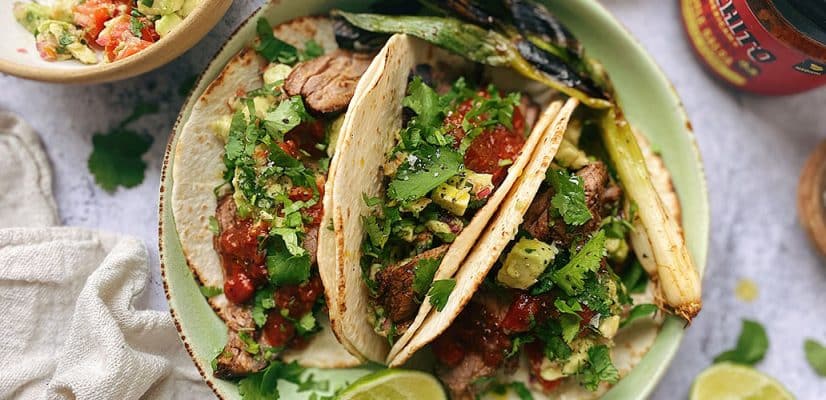 Carne Asada Tacos
These Carne Asada Tacos are inspired by our love of carne asada steak! There is nothing like the smell of grilled steak cooking away alongside spring onions over the grill; simply served with warm tortillas, homemade guacamole and a good Mexican salsa on the side. Pure glory!
So we wanted to recreate this same feeling, but for a day when perhaps there is not a lot of time to get the grill going but still be able to enjoy that carne asada taste. For the days where you do have that extra time and nice weather, get the barbecue going and just use the same recipe!
For any other day get your pan very hot in your kitchen, marinate your steak quickly and cook it to your liking (we recommend medium especially if using bavette). Pop in a couple of spring onions on the side to get that lovely charred flavour and juices from the meat in them.
Serve your steak sliced and wrapped in Gran Luchito Soft Taco Wraps, topped with fresh homemade guacamole and our Gran Luchito Chipotle Salsa, with lime wedges and those delicious grilled onions on the side. You could also add a sprinkling of our Crunchy Salsa Macha for some nutty and spicy texture! 
Prep time

Cook time

Total time

Ideal for

Dinner

Make it

Mexican

Serves

2
Nutrition: Per serving
kcal 116
fat 5.7g
saturates 1.2g
carbs 8.6g
sugars 1.6g
fibre 0.8g
protein 7.5g
salt 0.51g
How to make it
Place your steak over a plate (room temperature), sprinkle with Chipotle Fajita and Taco Mix , squeeze the lime juice on top and drizzle over 1 tablespoon of olive oil . Rub the steak with the spice mix and oil, then set aside.
Heat up a cast iron pan with the remaining olive oil. Once it's hot enough, cook the steak and spring onions, about 3 minutes on each side for medium term and let the spring onions get nicely charred . Season with a pinch of flaky salt and freshly ground black pepper.
Once ready, remove the steak from the pan and wrap it with foil, let it rest for 6-7 minutes before cutting.
In the meantime prepare a quick homemade guacamole by adding all the ingredients into a bowl and seasoning with a little salt and pepper. Mix with a spoon and set aside.
Warm up your Soft Taco Wraps and serve them with slices of delicious steak topped with the guacamole, a nice amount of Chipotle Salsa, freshly chopped coriander, lime wedges and the grilled spring onions on the side.
* We recommend adding the charred spring onion into your tacos for extra flavour, either roughly chopped or whole (as you prefer).
What To Serve With Carne Asada Tacos
This carne asada taco recipe is best served with:
More About Tacos
Similar Recipes You Might Like to Try
FAQs
How do I cut carne asada for tacos
When cutting steak for your carne asada it's important to cut against the grain/muscle. This will mean that the meat will be less chewy. Simply identify which way the grain of the meat flows, rotate ninety degrees and start cutting. Make sure your slices are thin.
What cut of meat is carne asada?
There isn't one specific cut. Inexpensive cuts work great as it doesn't have to be tender to start with. Try bavette, skirt or hanger steak. They have nice marbling and fat which keeps the meat moist. Another trick for tender meat is the carne asada marinade! The lime is what tenderises the meat, and the Smoky Chipotle Fajita and Taco Mix brings that beautiful smoky depth of flavour!
How do I cook carne asada in the oven?
Instead of cooking the beef in a frying pan (which can be messy) its perfectly possible to cook the carne asada in the oven. Get the oven extremely hot (220c) and place the meat in the oven. After 15 mins turn the oven down to 180c and cook for a further 20 mins per 500g.
The hot oven at the start sears the meat and creates a maillard reaction which really adds to the flavour or the meat.
Comments / Questions / Tips

Subscribe now for a free copy of the Gran Luchito e-cookbook filled with delicious, authentic Mexican recipes and join our mailing list for all the latest recipes, news and blog updates.