Steak Fajitas
Fajitas are a crowd pleaser and super easy to prepare. This steak fajita recipe is made with delicious rump steak, cut into strips and cooked with our mild Fajita Simmer Sauce so that you can achieve sizzling Mexican fajitas in no time in the comfort of your own home! This is what makes it the perfect fuss-free midweek recipe to feed your family. You can also prepare this steak fajita recipe with chicken or portobello mushrooms for a vegetarian fajita option.
All you need to do is fry your onions, peppers, cherry tomatoes and then your sliced steak. Add the Gran Luchito Red Fajita Simmer Sauce and leave it to simmer for a couple of minutes and that's it, dinner is done!
Serve your steak fajitas with freshly chopped coriander, warm Gran Luchito Soft Taco Wraps and wedges of lime on the side.
Prep time

Cook time

Total time

Ideal for

Dinner

Make it

Mexican

Serves

4
Nutrition: Per serving
kcal 115
fat 3.5g
saturates 0.8g
carbs 12.4g
sugars 2.1g
fibre 0.8g
protein 7.9g
salt 0.39g
How to make it
Heat olive oil in a frying pan over medium heat.

Add the red onion and peppers, season with a pinch of salt and freshly ground black pepper. Cook for 5 minutes, then add the cherry tomatoes and fry for a further minute or two. Remove your vegetables from the heat and transfer onto a plate and set aside.

Add the remaining oil to the same frying pan once it is very hot, then add your steak strips and let your meat get a bit of colour without overcooking it.

Add the vegetables back into the pan with the meat and pour in all of the Red Fajita Simmer Sauce. S

eason with a pinch of salt and freshly ground black pepper to taste. Simmer for a couple of minutes and remove them from the heat.

Finish your fajitas with freshly chopped coriander scattered on the top, and serve with warm Soft Taco Wraps and wedges of lime on the side.
What To Serve With These Steak Fajitas
We recommend serving these fajitas with sides of our:
Download Our Free Guide To Fajitas
Your free Fajita guide will be emailed to you immediately.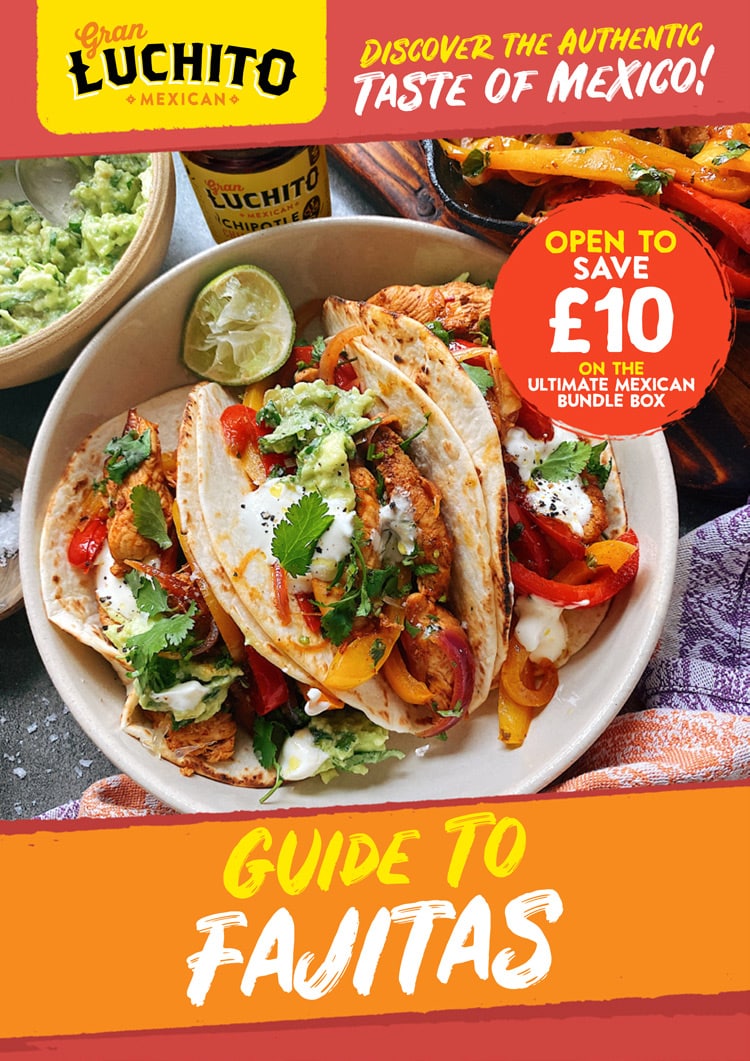 Similar Recipes You Might Like to Try
Comments / Questions / Tips

Subscribe now for a free copy of the Gran Luchito e-cookbook filled with delicious, authentic Mexican recipes and join our mailing list for all the latest recipes, news and blog updates.