Steak Enchiladas
We've made these Steak Enchiladas lovingly just for you, so we hope that you enjoy them and keep coming back to make them more than once! With the help of Gran Luchito Chipotle Enchilada Sauce you can make this amazing dish for dinner in no time. We do all the work for you so that you can make this steak enchiladas recipe at home any day you want.
Attention steak lovers! This is the perfect marriage of juicy tender steak with slow cooked onions and our Chipotle Enchilada Sauce.
These steak enchiladas with red sauce are made with Gran Luchito Soft Taco Wraps filled with steak and onions and then wrapped into a taco-like shape. Once filled, they can be laid in a baking dish and finally covered in the delicious red enchilada sauce and grated cheese scattered on top.
Once baked in the oven we recommend serving steak enchiladas recipes alongside Refried Beans, our recipe for Mexican Elotes, or Mexican Rice.
Prep time

Cook time

Total time

Ideal for

Dinner

Make it

Mexican

Serves

3
How to make it
Heat up 1 tablespoon of olive oil in a frying pan over medium heat. Once hot enough add in the onions and fry until they soften and get a bit of colour (5-7 mins). Simply season with a pinch of salt. When ready, remove the onions from the pan and set aside.

In the same pan add the remaining olive oil and butter, then heat it up over medium-high heat. Season the steak with salt and pepper, then place it into the pan and cook the steak for 2 to 3 minutes on each side (for medium) depending on the thickness. Once ready, remove the steak from the heat and allow it to rest for 6 to 7 minutes before cutting. 

Preheat the oven to 180˚C/360˚F.

Cut the steak into bite-size pieces. In a medium size baking dish, start laying the enchiladas. Add some of the steak into one of your

Soft Tacos

, then add a spoonful of fried onions, and wrap it into a taco-like shape and place it in the baking dish. Repeat the same process with the rest of the tortillas and steak. Once your baking dish is full, pour in the

Chipotle Enchilada Sauce

on top and the grated cheese, and place them in the oven for 15 minutes.

In the meantime, prepare a quick pico de gallo by combining in a bowl the tomato, onion, and coriander with the lime juice and extra virgin olive oil. Simply season with a pinch of salt and black pepper, and set aside.

Remove the hot enchiladas from the oven and serve them warm. Add spoonfuls of pico de gallo on top and enjoy!
What To Serve With Steak Enchiladas
Serve our delicious and authentic steak enchiladas with sides of either Mexican Rice or Baked Elotes:
Download Our Free Guide To Enchiladas
Your free Enchilada guide will be emailed to you immediately.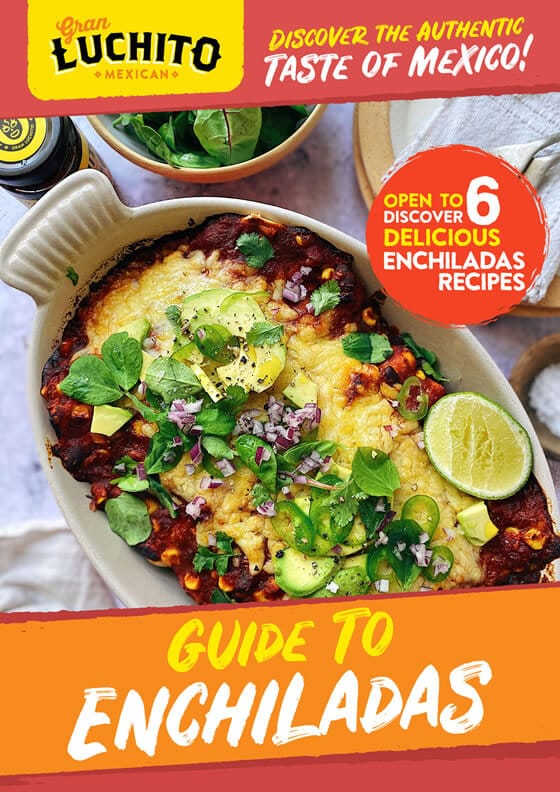 Similar Recipes You Might Like to Try
FAQs
Are these steak enchiladas healthy?
Our recipe for steak enchiladas is healthy, yes. But as with all enchiladas, don't eat them too often, because they can be heavy on saturated fat and refined carbs. So go easy on the cheese!
How to eat steak enchiladas?
With a knife and fork! Although some people like to eat them with their hands, it is simply a matter of personal preference.
What to eat with steak enchiladas?
We like to serve steak enchiladas with a side of crisp green salad for a lighter option, or some rice, corn or beans for a heavier option. Try our recipes for Mexican Salad, Mexican Rice, Black Beans and Rice, Refried Beans or Mexican Black Beans. Our corn recipes to try are Mexican Corn, Elotes, Corn Ribs with Macha Mayo, or BBQ Corn.
Comments / Questions / Tips

Subscribe now for a free copy of the Gran Luchito e-cookbook filled with delicious, authentic Mexican recipes and join our mailing list for all the latest recipes, news and blog updates.