Elotes
Elotes are a staple of the Mexican street food scene and where you will often find the longest queues. Elote translated means corn cob but what makes them so special? The sweetcorn cobs get a lovely char from being on the grill and then a slathering of an irresistible sauce.
These Mexican baked Elotes are super delicious and a perfect addition to a summer barbecue. Prepared very easily with only a few fresh ingredients and our delicious Gran Luchito Chipotle Paste, you can easily duplicate or triplicate this elotes recipe and make a big tray of them to serve to your guests. 
The elotes taste even better if you get a nice char on them before covering in the Chipotle Paste sauce. This is very easily achieved over a very hot pan. Once you get the char and cover them with the sauce, they go in the oven to get even more scrumptious.
Serve with freshly chopped coriander on top and lime wedges, then pass them around to your guests for everyone to enjoy!
Prep time

Cook time

Total time

Ideal for

Snack

Make it

Mexican

Serves

4
Nutrition: Per serving
kcal 105
fat 8.6g
saturates 2.7g
carbs 4.2g
sugars 0.9g
fibre 0.8g
protein 3.3g
salt 0.38g
How to make it
Preheat your oven to 200°C/390°F and heat up a cast-iron pan over high heat. Brush your corn with olive oil, and season with salt and freshly ground black pepper.

Place the corn over the hot pan and let it char all around, turning around from time to time with the help of kitchen tongs.

In the meantime, in a bowl add the sour cream, 

Chipotle  Paste

, mayo, crumbled feta cheese, the lime zest and juice, half of the coriander, a pinch of salt and freshly ground black pepper, then mix with a spoon.

Once your corn is charred all around remove the cast-iron pan from the heat and pour the creamy Chipotle sauce over the corn.

Make sure it's covered well and place your pan in the oven for 15 minutes (use a baking dish if your pan is not oven proof).

Once ready, remove from the oven and arrange on a nice platter. Garnish with the rest of the coriander and lime wedges.
Download Our Free Guide To Mexican Classics
Your free guide will be emailed to you immediately.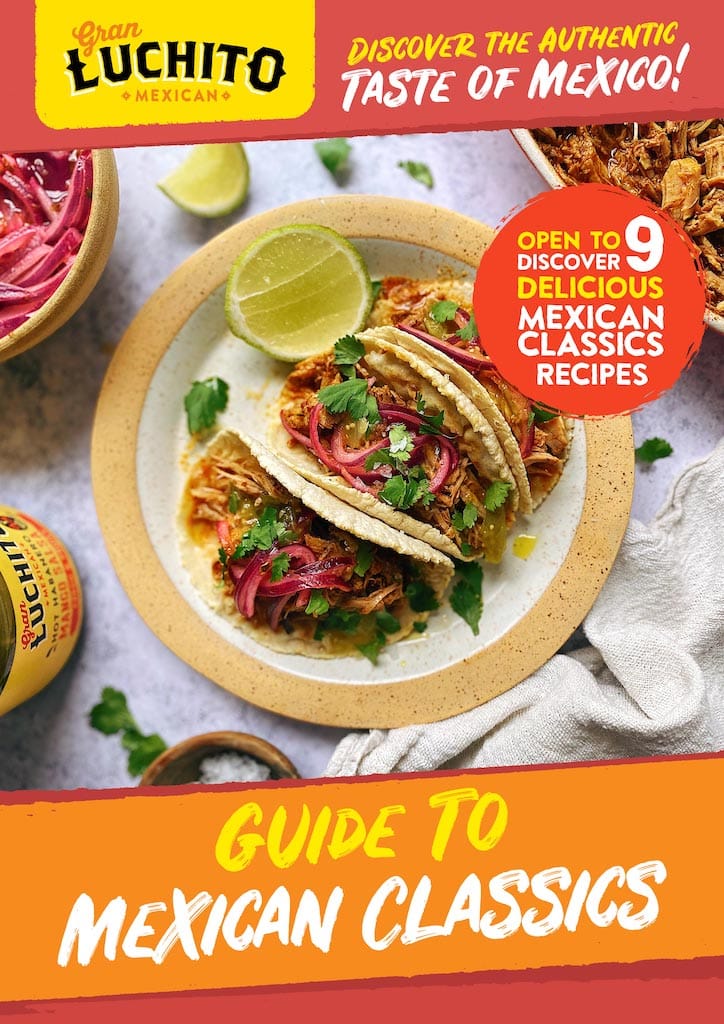 Similar Recipes You Might Like to Try
FAQs
Where do elotes come from?
Elotes go all the way back to the Aztec civilization, and its popularity was well known throughout Mexico and Central America. Indigenous tribes would grow the crop and enjoy it on their journeys.
How to serve elotes at a party?
A nice way to serve them at a party would be on a big platter, or chopping board. That way you can either arrange them side by side in a row, or all piled up on top of each other.
Where to get elotes near me?
You need to find corn on the cob in it's husks, if you want to be really authentic. Try your local supermarket (although unlikely), next would be independent greengrocers and food markets near you. That would be your best bet. Don't be afraid to ask your greengrocer if they don't have it.
Comments / Questions / Tips

Subscribe now for a free copy of the Gran Luchito e-cookbook filled with delicious, authentic Mexican recipes and join our mailing list for all the latest recipes, news and blog updates.

wpDiscuz