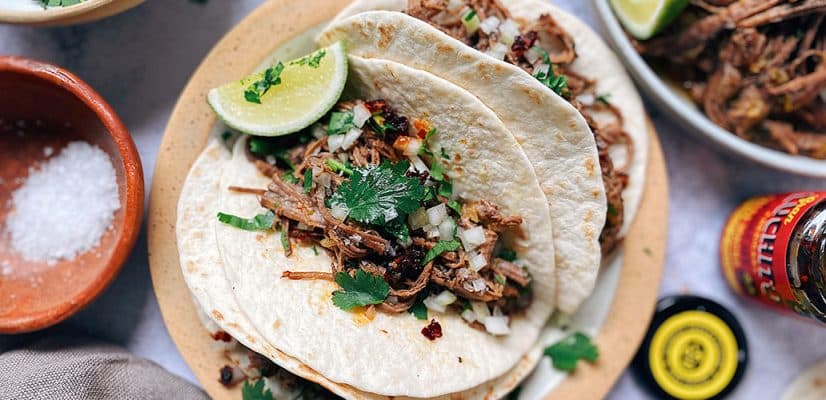 Slow Cooker Barbacoa Beef
Barbacoa refers to the cooking method that is used to prepare this dish, where goat or beef is cooked for a long period of time in a man-made oven in the ground.
This is done by digging a hole in the ground that's then lined with hot stones where the meat is placed, after carefully being wrapped in maguey leaves. The oven is covered, and the meat is left to cook slowly overnight. The result is meat that's very tender and juicy, and normally served with tortillas and salsa.
This Slow Cooker Barbacoa Beef recipe is easy to prepare at home. By using a slow cooker, or the oven, you can achieve succulent and tasty Mexican barbacoa with the use of a few simple ingredients and a touch of Gran Luchito Chipotle Paste!
If that wasn't enough, to make your barbacoa beef tacos taste even better try serving them with a few spoonfuls of Gran Luchito Salsa Macha, the best condiment, and an ingredient that will become a new favourite in your home.
If you enjoyed this beef barbacoa, be sure to check out our other slow cooker Mexican recipes.

---
---
Prep time

Cook time

Total time

Ideal for

Dinner

Make it

Mexican

Serves

4
Nutrition: Per serving
kcal 114
fat 4.5g
saturates 1.2g
carbs 8.1g
sugars 1.7g
fibre 0.6g
protein 9.7g
salt 0.48g
How to make it
If you're cooking in the oven, preheat it to 180˚C/350˚F. Heat up a large frying pan with a drizzle of olive oil. Season the brisket with salt and pepper, and once your oil is smoking hot, sear your meat until it gets a good colour on both sides. When ready, remove the meat from the pan and place it in the slow cooker or in an ovenproof dish.

Then add all of the barbacoa ingredients into the slow cooker, place the lid on, and cook slowly for 6 hours. If cooking your barbacoa in the oven, place all the ingredients in a baking dish and cover tightly with tin foil, then place it in the middle of your oven for 4 hours at least. Make sure the liquid doesn't dry completely during the cooking time. Add water or a bit of chicken stock if necessary, then recover and keep cooking until it's tender and easy to shred.

Once your barbacoa is ready, remove

the meat

from the slow cooker and shred it with the help of two forks. Place

the shredded beef

back into the slow cooker and combine it with the meat juices. Serve on a nice platter that you can bring to the middle of the table.

Warm up the

 Soft Tacos

over a hot pan, wrap them in a tea towel to keep them warm, and serve them alongside your barbacoa. Prepare a few bowls with the coriander and the onion, and don't forget the Crunchy Salsa Macha

and limes.

To make your tacos, add a good amount of barbacoa into a warm tortilla wrap, then garnish with the coriander and raw onion. Drizzle with our addictive

Salsa Macha

and finish with a squeeze of lime. Enjoy!
What To Serve With Slow Cooker Barbacoa Beef
Serve the Barbacoa Beef on tortilla wraps with a side of Mexican Corn and a large dollop of Homemade Guacamole.
Download Our Free Guide To Mexican Classics
Your free guide will be emailed to you immediately.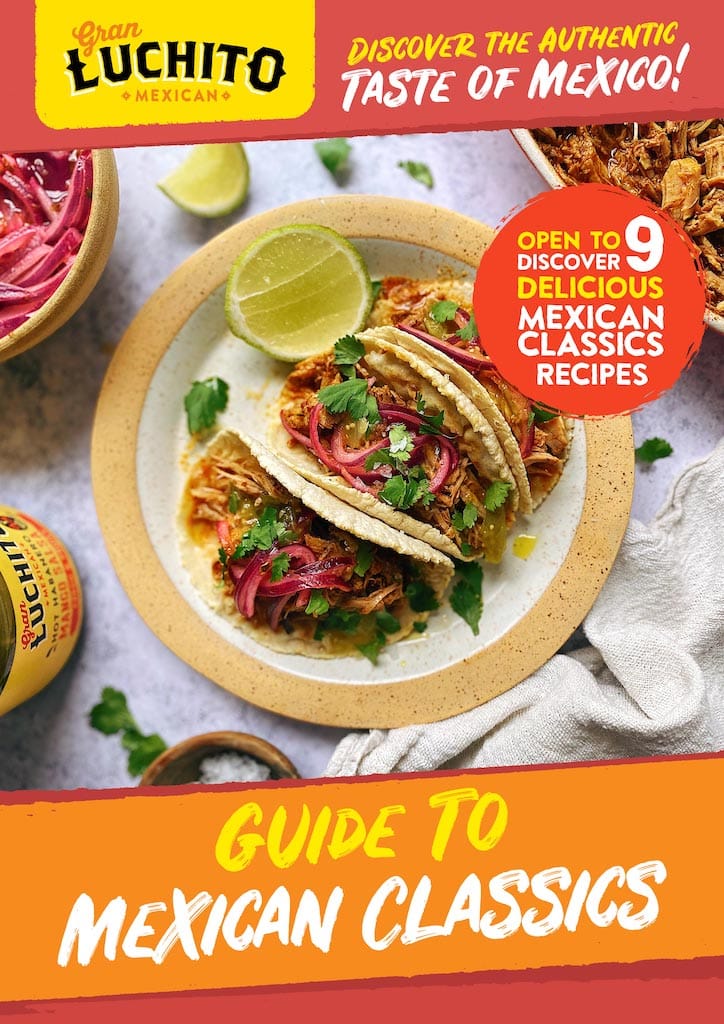 Similar Recipes You Might Like to Try
FAQs
What is barbacoa beef?
Barbacoa is an authentic Mexican method of cooking meat. It involves cooking beef, goat or lamb, in a flavorful marinade of dried chillies and spices, and results in very tender and juicy meat that's then shredded before being served.
How to serve barbacoa beef?
Once the meat is shredded, it's traditional to have it served warm on a big platter that is put in the centre of the table. Serve it alongside warmed soft tortilla wraps and other various garnishes. You could also serve it another way in barbacoa beef bowls, with all of your ingredients arranged nicely inside a bowl. Another popular way is a spread of tacos, and have the beef already filled into the tortilla wraps.
What kind of beef for barbacoa?
We've used beef brisket in this recipe because it's super tender beef that will soak in all the seasonings and spices making this barbacoa irresistible. But you can also use chuck, short rib, or stewing steak.
Comments / Questions / Tips

Subscribe now for a free copy of the Gran Luchito e-cookbook filled with delicious, authentic Mexican recipes and join our mailing list for all the latest recipes, news and blog updates.

wpDiscuz