Homemade Guacamole
Guacamole is one of the most famous of Mexican recipes and definitely one of our favourites. What can be better than dipping Gran Luchito Tortilla Chips into some fresh homemade guacamole?! If you've been treated to some table side guacamole at a restaurant in Mexico, then the idea of trying to make your own guacamole at home can be a bit daunting but it needn't be!
Our recipe for homemade guacamole was inspired by a trip to Southern California where we found delicious guacamole made with mild tomatillos and jalapeños. We decided to play with the ingredients and make a Mexican guacamole recipe using our Gran Luchito Tomatillo Salsa which adds a fresh, zingy flavour. The result is a really tasty and easy guacamole recipe that is full of fresh flavour only requires a handful of ingredients!
Prep time

Cook time

Total time

Ideal for

Side

Make it

Mexican

Serves

4
Nutrition: Per serving
kcal 362
fat 25g
saturates 4.5g
carbs 15.1g
sugars 3.8g
fibre 1.8g
protein 2.4g
salt 0.77g
How to make it
Finely dice the onion and roughly chop the coriander.

Remove the flesh from the avocados and mash them in a bowl to a slightly lumpy consistency.

Add half of the coriander and all the onion into the mashed avocados, as well as the lime juice, olive oil and

Gran Luchito Tomatillo Salsa

.

Season to taste and integrate all the ingredients with a spoon. 

Serve with the remaining coriander scattered on top and Gran Luchito Lightly Salted Tortilla Chips on the side, or use it as a side to almost anything.
Sign Up For Your Free Guide To Mexican Classics
Your free guide will be emailed to you immediately.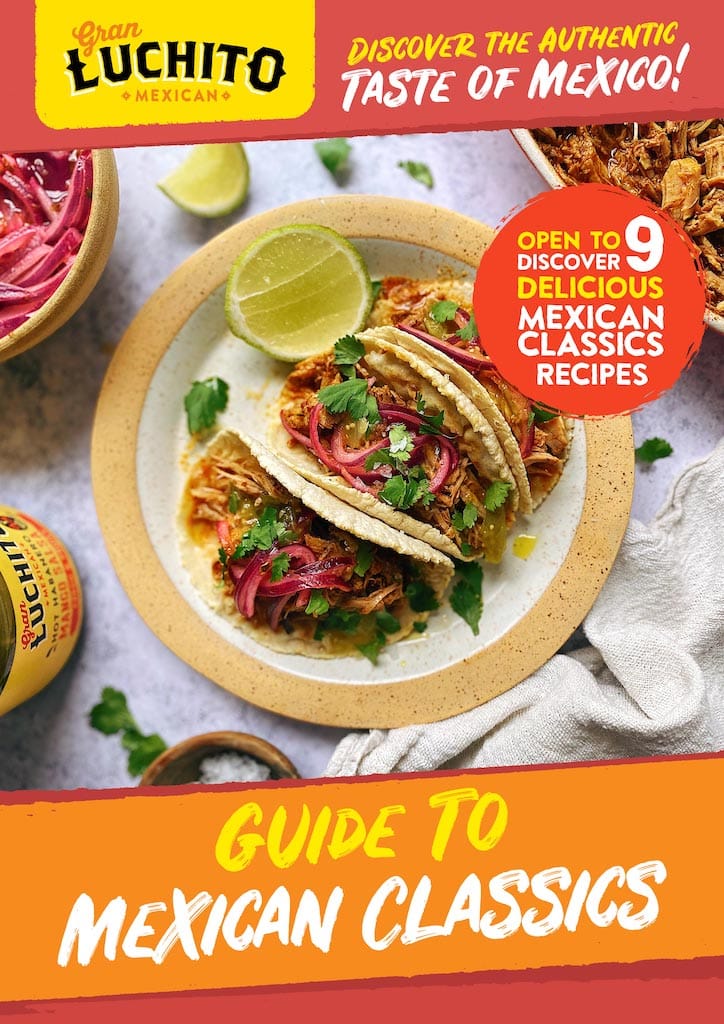 Similar Recipes You Might Like to Try
FAQs
How do you keep guacamole from turning brown?
Removing air is the key here! Place your guacamole into an airtight container, press down on the guacamole to remove any air pockets, and press cling film completely and securely over the surface of the guacamole.
How far in advance can you make guacamole?
Using our cling film method to keep it from going brown, you can make guacamole the day before and store overnight.
Why does fresh guacamole taste so much better than store bought?
The key here lies in the freshness and simplicity of the ingredients. A good guacamole recipe will have avocados, coriander, onion, lime, salt and pepper whereas the squeezy version in the supermarket is predominantly water and is bulked out with cream cheese and milk products. It really is pretty simple to make a fresh, great tasting guacamole at home - we hope you give it a try!
How can you make guacamole healthier?
Guacamole is packed with fibre and good fats and is lower in carbs and calories vs. hummus. One of the healthy ways we like to enjoy guacamole is with crudite - batons of carrots, celery and red pepper are perfect for dipping into guacamole.
Comments / Questions / Tips

Subscribe now for a free copy of the Gran Luchito e-cookbook filled with delicious, authentic Mexican recipes and join our mailing list for all the latest recipes, news and blog updates.