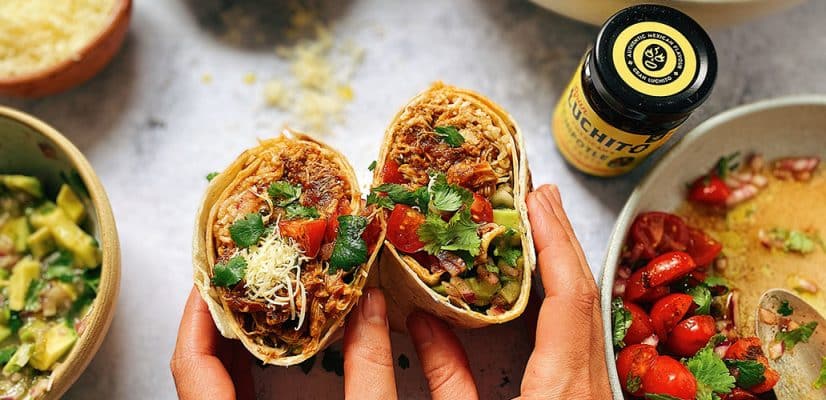 Chicken Burrito
Here is our take on what has become one of the most popular fast foods out there in recent times. For this chicken burrito recipe, we've slow-cooked the chicken until it's tender enough to pull apart. This can be done either in a slow cooker or in a regular casserole dish over the hob. The remaining cooking liquid is reduced and then combined with the shredded meat for extra succulent meat.
Simply serve this chicken burrito with our perfect homemade Guacamole recipe, a freshly made Pico De Gallo, and some steamed rice, all wrapped up into two Gran Luchito Burrito Wraps for extra room.
Our Gran Luchito Chipotle Paste works really well in a chicken burrito or any burritos! It gives them a subtle smoky spice that you'll be wanting again and again. 
Check out our Burrito Recipes collection for more burrito inspiration!
Prep time

Cook time

Total time

Ideal for

Lunch

Make it

Mexican

Serves

4
Nutrition: Per serving
kcal 142
fat 8.4g
saturates 2.1g
carbs 9.2g
sugars 1.9g
fibre 0.9g
protein 6.5g
salt 0.44g
How to make it
Begin by marinating the chicken. In a freezer bag or airtight plastic box, place the thighs, add the

Chipotle Paste

, chorizo, olive oil, red onion, garlic, coriander stalks, lime juice and ale. Mix everything well with your hands, then seal and leave in the fridge to marinate for at least 1 hour.

While the chicken is marinating, get cracking on the other elements of the burrito (guacamole, pico de gallo and rice).

Once the chicken is ready to use, place it in the slow cooker or in a large casserole dish. Add the chopped tomatoes and season with a pinch of salt and pepper. Pop a lid on and simmer on a low heat for a couple of hours, or cook in the slow cooker for 2 to 3 hours, until the chicken is falling apart.

When the chicken is done, transfer the meat to a bowl.

Place the remaining cooking juices into a saucepan on a high heat and boil for about 15 to 25 minutes to reduce and thicken. 

Meanwhile, shred the chicken with a couple of forks, discarding the bones. Pour the reduced sauce onto the shredded meat and mix with a spoon.

Warm the

Burrito Wraps

in a pan, and place two wraps overlapping each other (see pictures). Add a spoonful of rice, then the delicious chicken, and top with guacamole and pico de gallo. Wrap tight and cut in half, then enjoy the best chicken burrito recipe! Repeat the same process with the rest of the wraps to make more chicken burritos.
Chefs Tip – The chicken can be marinated and cooked earlier in the day, or the day before if needs be.
What To Serve With Burritos
If you are wondering what to serve with this chicken burritos recipe, why not go for some:
If you are going all out, you could use some of the chicken and make some of these too:
More About Burritos
Our How To Make Burritos blog will help you to master everything you need to know about making homemade Burritos. And our Burrito Recipes is our collection of tried and tested Burrito recipes with more flavours, protein and veggie options. For more ideas on side dishes, check out What To Serve With Burritos for further inspiration.
Similar Recipes You Might Like to Try
FAQs
How many calories in a chicken burrito?
If you have all of the trimmings inside, salsa, cheese, rice/beans, chicken, guacamole, wraps, maybe a bit of sour cream, a typical burrito can easily be 1,000 calories. One way to cut the calories down is to have a burrito bowl instead, without the wrap (300 calories each).
How to cook chicken for burritos?
For this recipe, we have slow-cooked the chicken for a couple of hours until it can be shredded. This can be done either in a slow cooker (with chopped tomatoes) or in a pan (with lid) on the hob. You could, however, also grill the chicken and then tear it up. It won't be as tender, but hey, it's still a chicken burrito!
What's inside a chicken burrito?
Chicken and other ingredients such as rice, cooked beans (either whole or refried), vegetables such as lettuce and tomatoes, cheese, and condiments such as salsa, pico de gallo, guacamole, or crema.
Comments / Questions / Tips

Subscribe now for a free copy of the Gran Luchito e-cookbook filled with delicious, authentic Mexican recipes and join our mailing list for all the latest recipes, news and blog updates.