Find in the Mexican Section
QUICK AND EASY
BURRITOS
RECIPES
Wondering just what to put in your burritos? Our collection of burrito recipes will give you some serious inspiration on delicious fillings and different ingredient combinations, from slow-cooked chicken and pulled pork to refried beans and spicy jackfruit. Fancy something even more imaginative? Why not try your hand at our deep-fried chimichangas, ditch the tortilla with a fresh burrito bowl, or start your day right with a tasty breakfast burrito. Get ready to wrap!
THE DEFINITIVE MEXICAN
GUIDE TO
BURRITOS
Our guide to burritos covers everything you need to know about this Mexican crowd-pleaser. First you need to learn how to make burritos, from the cooking of ingredients through to the assembling of the tortilla wrap. Once you've perfected that, you're ready to move onto our guide on what side dishes to serve with a burrito.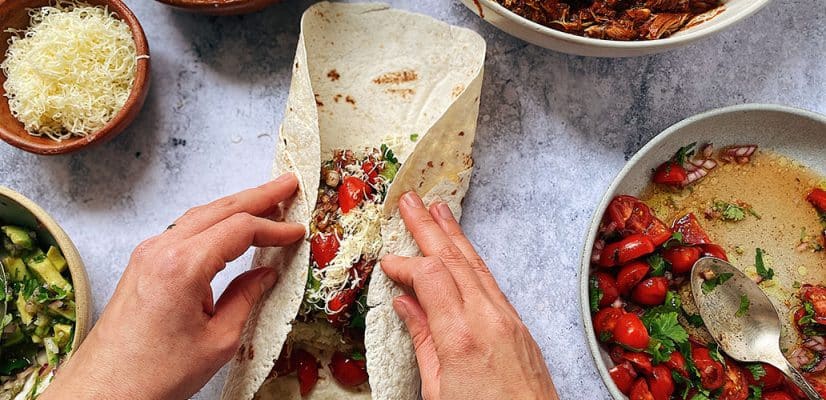 How to Make Burritos
Read time: 8 mins
You don't have to make a trip to your favourite local Mexican restaurant to have an epic burrito! We cover everything you need to know about making burritos at home including what goes in them and how to roll like an expert!
What to Serve with Burritos
Read time: 10 mins
Some burritos can be filling, and many side dishes are found stuffed inside the burrito itself such as beans and rice. Having said that, in this article we share some of our favourite side dishes that would make lovely accompaniments, and are perfect for adding some texture, contrast, and crunch on the side!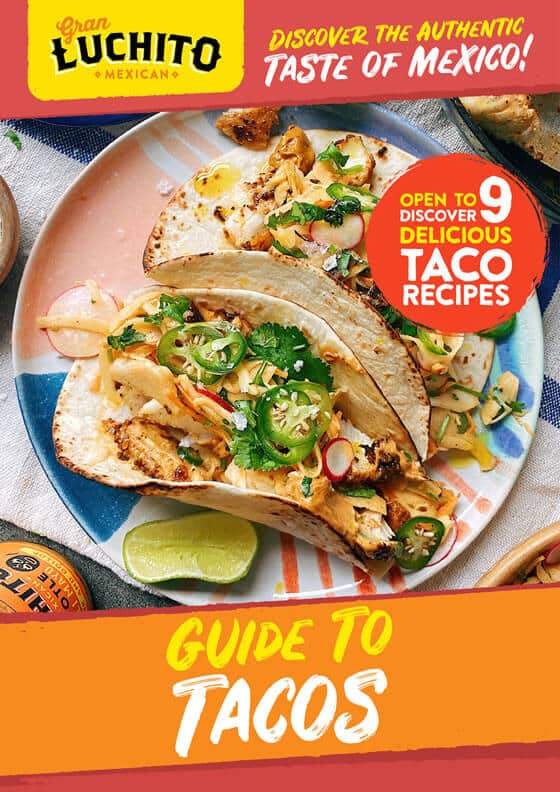 Sign up for our free Guide to Burritos
Free Burritos Cookbook
Save £10 on our Ultimate Mexican Bundle Box (UK only)
Monthly newsletters with our latest recipes and special offers
Our Favourite Burrito Toppings
Once you've decided on your fillings, burrito toppings are an opportunity to add a contrast of taste and texture. We love to add a portion Mexican Rice and a protein such as Gran Luchito Cantina Beans. Some of our other favourite burrito toppings include:
GRAN LUCHITO MEXICAN
BURRITOS
FAQs
Looking to continue your burrito education? We've provided more information in the frequently asked questions below, or alternatively visit the Gran Luchito Youtube Channel for more recipe inspiration.
What are burritos
Burritos are tortillas filled with meat (typically chicken, beef or pork), a layer of Mexican rice and/or beans (either refried or black beans), veggies such as lettuce and tomatoes, and finally toppings such as cheese, salsa, guacamole, sour cream and jalapeños. Meat can be substituted with ingredients such as spicy jackfruit or beans to create vegan alternatives.
What's the difference between a burrito and a taco?
The key differences between tacos and burritos are in their size, quantity and how they're served. Tacos are small and served open. You'll likely need 3 or 4 to satisfy your appetite. A burrito, on the other hand, uses a larger tortilla, is usually served wrapped, and one can be enough to fill a hungry stomach.
What kind of tortilla do you use for a burrito?
Burritos are best made with a flour tortilla as a corn one would break with that size of tortilla.
What do you serve with burritos?
We think chips and salsa are a must, or take it up a notch with nachos! Mexican rice and refried beans are also typical sides. We think a side of Mexican corn is also a delicious accompaniment.
Can you freeze burritos?
Yes! Just roll them tightly in aluminium foil, place them in a freezer bag and then into the freezer. It's as simple as that! The best way to defrost them is to thaw them in the fridge the night before and then, when you wish to eat them, microwave for no more than 2 minutes. This will warm them but prevent them from being soggy. They can remain in the freezer for up to 3 months.
What's in burritos?
Like most of the cuisine in Mexico, burritos really vary in fillings and size depending on the region. You will find burritos with crispy fish and cabbage in Baja, breakfast burritos with eggs and Mexican chorizo in Mexico City, and smothered in red enchilada sauce in Sonora.