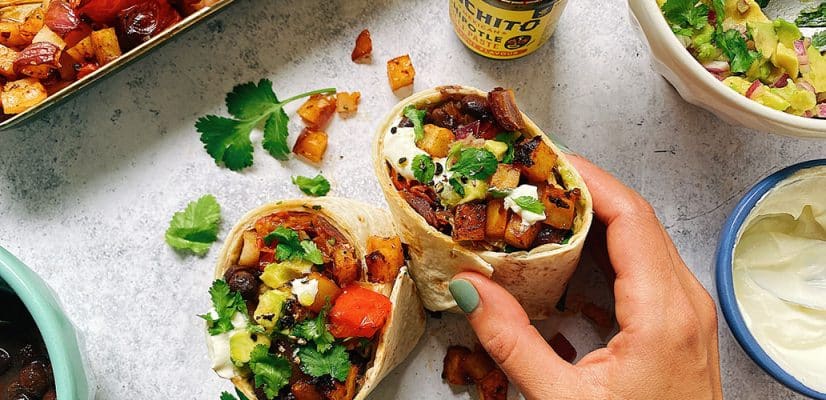 Vegan Burrito
We love a good burrito recipe here at Gran Luchito and we always like to have something for everyone, so here is our Vegan Burrito made with tasty veggies roasted with potatoes and a bit of our magical Chipotle Paste!
The result is a delicious and substantial filling to stuff your burritos with. We also like to add a spoonful of Cantina Beans, not only as a good source of protein but also as another vegan filling that adds more flavour and texture to this vegan burritos recipe.
Prepare some nice fresh homemade guacamole to go with your vegan burritos and add vegan creme fraiche to make it even more perfect.
If you are after something lighter without the wrap, but love the taste of this easy vegan burrito, then make it into a vegan burrito bowl. Just add all of your vegan burrito ingredients into a bowl, and tuck in!

---
---
Prep time

Cook time

Total time

Ideal for

Lunch

Make it

Mexican

Serves

4
Nutrition: Per serving
kcal 159
fat 8.1g
saturates 2.9g
carbs 18.3g
sugars 2g
fibre 1.2g
protein 2.2g
salt 0.62g
How to make it
Preheat the oven to 200ºC/390ºF. In a small bowl mix the olive oil, soy sauce, vinegar and

Chipotle Paste,

then whisk briefly and set aside. 

Then in a large lined tray place the potatoes, onions, red pepper and cherry tomatoes. Pour the chipotle mixture on top and mix everything together with your hands. 

Spread the veggies evenly over the tray, add a pinch of salt and freshly ground black pepper and bake in the oven for 35 to 40 minutes (times may vary depending on your oven).

In the meantime, prepare a quick guacamole. Add the avocado flesh into a bowl, then mash lightly with the help of a fork. Add the red onion, lime juice, extra virgin olive oil, a pinch of salt and freshly ground pepper. Mix everything lightly and set aside.

Pour the

Cantina Beans

into a small saucepan and warm them up over a low heat.

Remove your potatoes from the oven and check that they are cooked through. Warm up two

Burrito Wraps

over a hot non-stick pan, until nice and soft.

Place the two warm wraps

over the kitchen counter (slightly overlapping each other) then add a good amount of roasted chipotle potatoes, a spoonful of beans, guacamole and a spoonful of vegan creme fraiche.

Roll and wrap up your burrito, cut in half and enjoy! Repeat the same process to make more burritos, and to reheat simply place them in the oven for 10 mins at 180˚C. For tips on how to fold your burritos check out our How To Make Burritos blog.
What To Serve With Vegan Burritos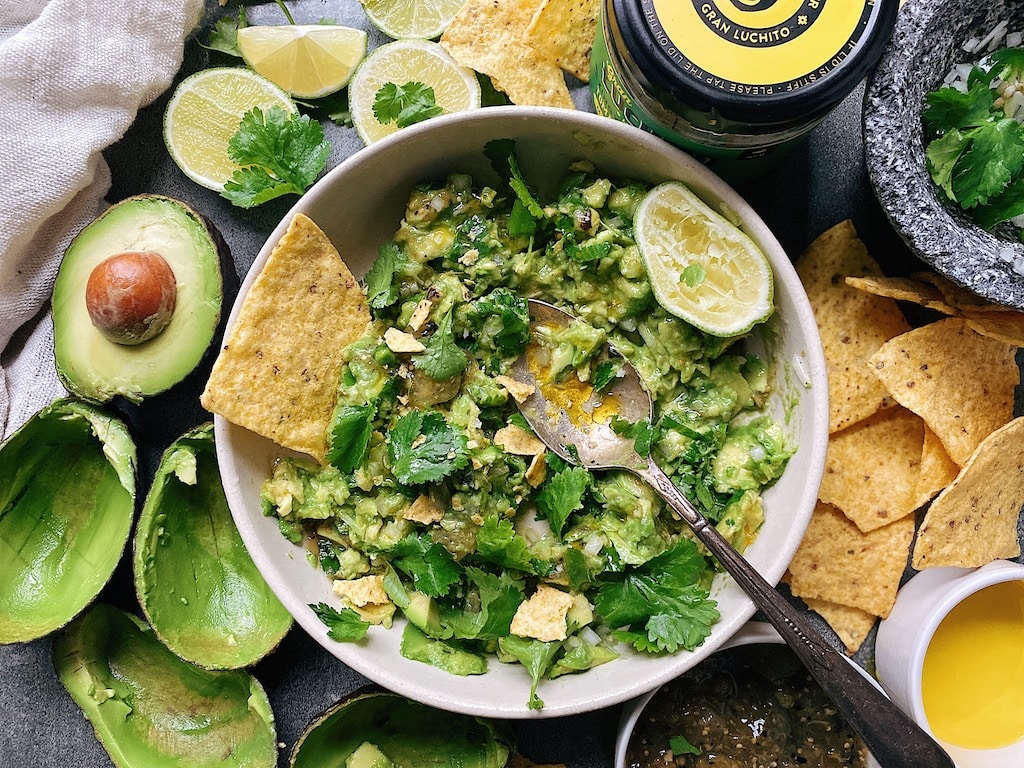 Serve with a side of homemade guacamole
And some Vegan Nachos
You can try this vegan burrito recipe with a side of Vegan Nachos and some Gran Luchito Tomatillo Salsa. Don't forget to try our recipes for Vegan Chilli or Vegan Tacos!
Similar Recipes You Might Like to Try
FAQs
Is this vegan burrito healthy?
Yes, very healthy. All of the ingredients in this vegan burrito are wholesome and good for you. With no dairy it means there is less calories too - cheese is replaced by fresh homemade guacamole!
What can I substitute potatoes for?
If you don't have potatoes, consider substituting them for brown rice and corn. A very tasty combination!
What if I don't have any Cantina Beans?
You could use refried beans, or kidney beans. But of course for next time, our black Cantina Beans are the best!
Comments / Questions / Tips

Subscribe now for a free copy of the Gran Luchito e-cookbook filled with delicious, authentic Mexican recipes and join our mailing list for all the latest recipes, news and blog updates.