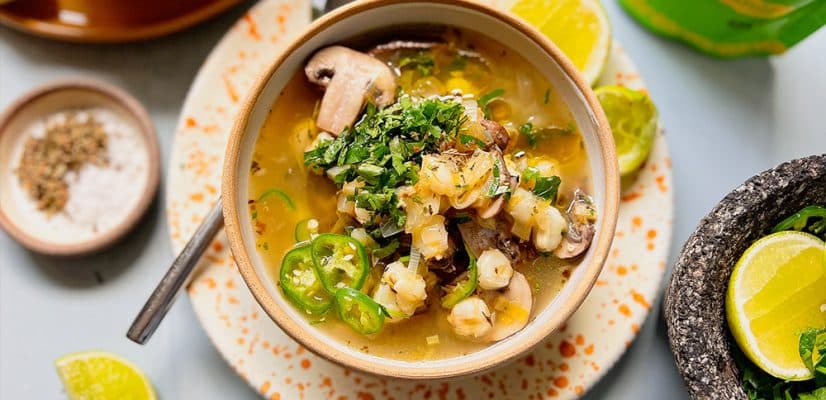 Vegan Pozole
Pozole is a heartwarming Mexican soup, traditionally prepared with pork, hominy and Mexican dried chillies, commonly garnished with diced onion, shredded lettuce, Mexican oregano and lime. Pozole is considered a special occasion dish often prepared during special festivities such as Day of the Dead and Mexican Independence Day, or simply to celebrate special birthday milestones.
There are different kinds of pozole, pozole "Rojo" or red, is the most well-known one and is made with a chilli paste made with Mexican dried chillies. You can also find pozole "blanco", white, and "Verde" or green prepared with tomatillos, jalapeno, onion, garlic and coriander, which give a greenish hue to this dish, hence the name.
This is a vegan version of pozole, where we bring together a combination of rich flavours while replacing the customary meat with mushrooms, a good protein source in plant-based diets. The key to making this pozole as flavoursome as its meat counterpart is to use a luscious flavour base. For this we use a mixture of tomatillos, onion, garlic, coriander and jalapeno, these ingredients are key when making a green-style pozole or pozole "Verde".
Gran Luchito Tomatillo Enchilada Sauce is the perfect sauce to make this vegan pozole "Verde" much more convenient and easier to prepare at home.
When making pozole the garnishes are just as important as the dish, from shredded lettuce, diced onion, Mexican oregano, finely diced chilli, coriander and limes, they all contribute to creating extra layers of flavour that will make your pozole taste even more delicious.
Main ingredients to make vegan pozole:
Hominy: Hominy is the main ingredient to make pozole and is a maize kernel that has been treated with an alkaline solution, such as limewater, this helps to remove the outer layer and make it easier to digest.
Vegetable stock: Flavoursome vegetable stock is key to making your pozole taste even better, homemade or store-bought, both work.
Plant-based protein: Substitute pork with a plant-based protein, mushrooms are a good source of protein and a delicious ingredient to add instead of meat.
Top Tips when making vegan pozole:
Use pre-cooked canned hominy. This comes precooked and makes it much easier to prepare as it reduces the cooking time.
Simmer the soup for a long period. Is no secret that simmering soups for a long time helps to deepen and concentrate flavours even more.
Experiment with different types of mushrooms. Chestnut, oyster, enoki, king oyster or regular white mushrooms are all good options and will add something new to your pozole.
Make a vegan version of our recipe for pozole soup "rojo", red. Try making a vegan pozole rojo as well. You can use Gran Luchito Chipotle Paste as the base for your soup.
Serve this vegan pozole as a main or a starter followed by vegan pulled pork and or rice and beans on the side.
Prep time

Cook time

Total time

Ideal for

Dinner

Make it

Mexican

Serves

4
How to make it
Heat up a saucepan with the vegetable oil over medium heat. Once hot enough add the leeks, onion and garlic, stir and cook for 2 to 3 minutes or until they soften. Open the Tomatillo Enchilada Sauce sachet and pour it all in the saucepan. Add the vegetable stock, bay leaf, hominy, oregano and a good pinch of salt and pepper. Bring to a boil and then reduce the heat to low and simmer for 30 minutes covered with a lid.
In the meantime slice the mushrooms and heat up a large frying pan with the oil over high heat. Then add half of the mushrooms and season them with a pinch of salt and tamari sauce, fry quickly allowing them to get a bit of colour and turn slightly soft then remove from the pan and cook the remaining mushrooms with tamari sauce, once ready reserve the browned mushroom on the side.
After 30 minutes of simmering your pozole, check that the hominy is cooked through. You can do this with a slotted spoon, remove a piece from the pot and press it with your fingers making sure that it is nice and soft. If ready you can remove from the heat and add the browned mushrooms into the pozole, if not simmer for a bit longer before adding mushrooms.
Serve the vegan pozole verde in bowls, with the garnishes on the side for people to customize their pozole as they wish, and enjoy!
What to serve with Vegan Pozole
Download Our Free Guide To Tacos
Your free Taco guide will be emailed to you immediately.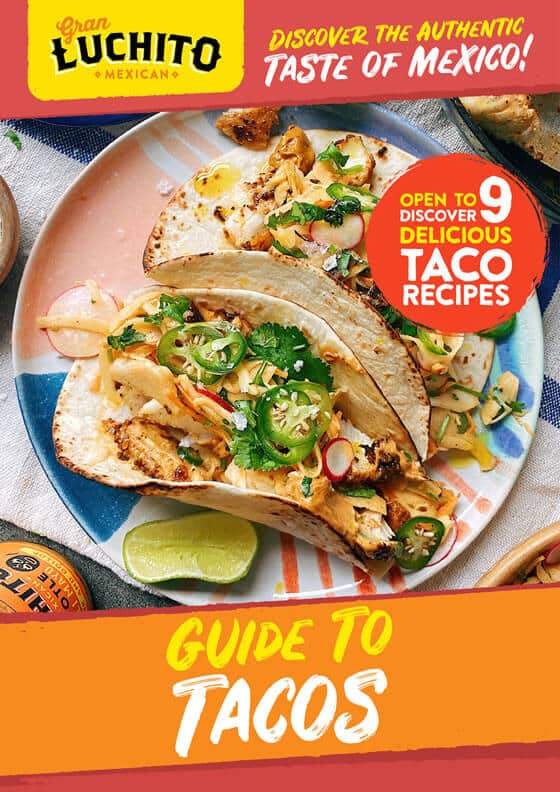 Similar Recipes You Might Like to Try
FAQs
What toppings can I add to Vegan Pozole?
Toppings for Vegan Pozole can include sliced radishes, diced onion, shredded lettuce or cabbage, chopped cilantro, lime wedges, and avocado slices.
What type of corn should I use for Vegan Pozole?
Hominy is the traditional type of corn used in Pozole. It is made from whole corn kernels that have been soaked in a mineral lime bath.
What is Vegan Pozole?
Vegan Pozole is a traditional Mexican soup that has been adapted to exclude meat and other animal products. It typically includes hominy - dried corn kernels that have been treated with an alkali, various spices, and a variety of vegetables.
Comments / Questions / Tips

Subscribe now for a free copy of the Gran Luchito e-cookbook filled with delicious, authentic Mexican recipes and join our mailing list for all the latest recipes, news and blog updates.