Vegan Nacho Cheese
There's no doubt that we all love a luscious and creamy nacho cheese sauce, especially when it's served over our nachos. There really is nothing more satisfying than a plate of homemade nachos with plenty of warm cheese sauce to relax with and watch a good film. 
The best thing about this nacho cheese sauce recipe is that it's made with plant-based ingredients, which makes it vegan friendly! You can get creative and either just serve it simply alongside some tortilla chips, or pour it over your favourite nachos recipe.
We use cashew nuts to prepare this vegan nacho cheese sauce and add nutritional yeast to give that cheesy savoury umami flavour. Our Gran Luchito Crunchy Salsa Macha also not only provides flavour but colour to the easy vegan nacho cheese recipe as well.
Our favourite way to enjoy this vegan cheese dip is to serve it with Gran Luchito Chipotle Tortilla Chips and a sprinkle of our tasty Salsa Macha on top. It's a match made in heaven! 

---
Found On Amazon In United Kingdom and Germany.
---
Prep time

Cook time

Total time

Ideal for

Snack

Make it

Mexican

Serves

4
Nutrition: Per serving
kcal 198
fat 14g
saturates 2.4g
carbs 12.8g
sugars 2.1g
fibre 0.9g
protein 5g
salt 0.24g
How to make it
Place your cashew nuts in a bowl and cover them with hot water. Leave them to soak for 30 minutes at least.

Heat up a frying pan with the olive oil and gently fry the onion and garlic until translucent, once ready set aside.
Once your cashews have been soaked for more than 30 minutes, place them in the blender with ¾ of the soaking liquid. Add the fried onion and garlic, 2 teaspoons of Crunchy Salsa Macha, nutritional yeast, lemon juice and freshly ground black pepper. Blend until really smooth, and once ready taste and adjust the seasoning if necessary. Add more liquid if it's too thick in consistency ( it should be creamy and smooth).

Place your vegan cheese nacho sauce into a small saucepan and warm it up over a low heat until lovely and steamy. Try not to leave it on the pan for too long as it will burn, and stir continuously.

Serve in a bowl whilst still warm, and sprinkle some Salsa Macha on top. Place the Chipotle Tortilla Chips on the side and get ready to dip in. Enjoy!
Download Our Free Guide To Nachos
Your free Nachos guide will be emailed to you immediately.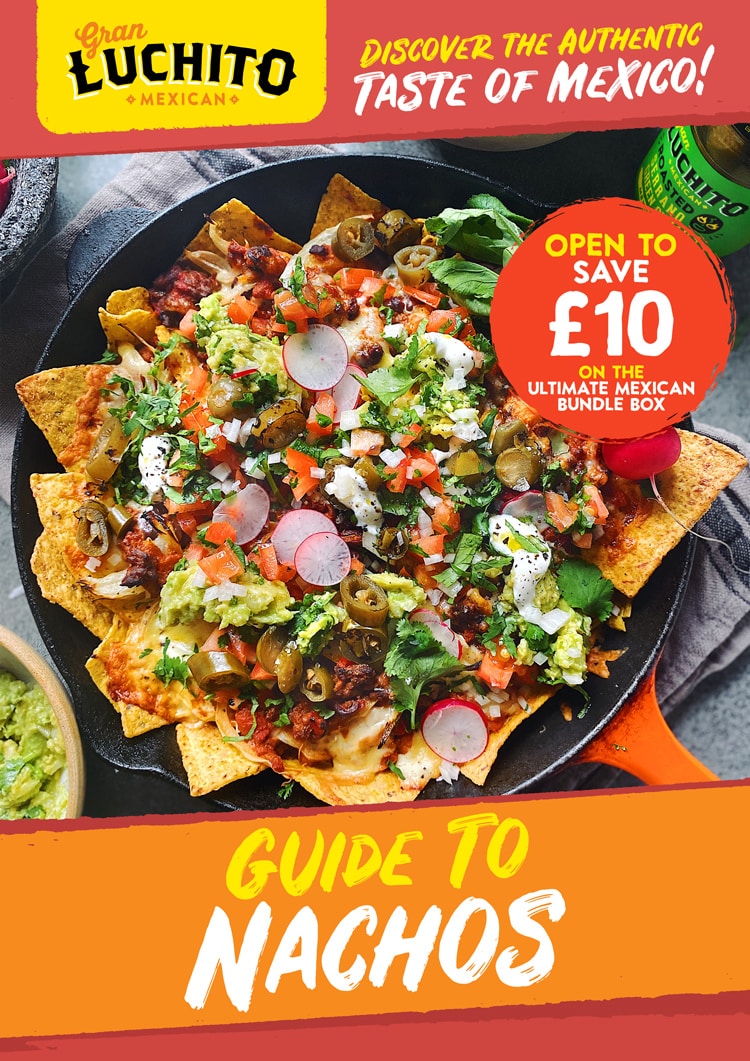 What To Serve With Vegan Nacho Cheese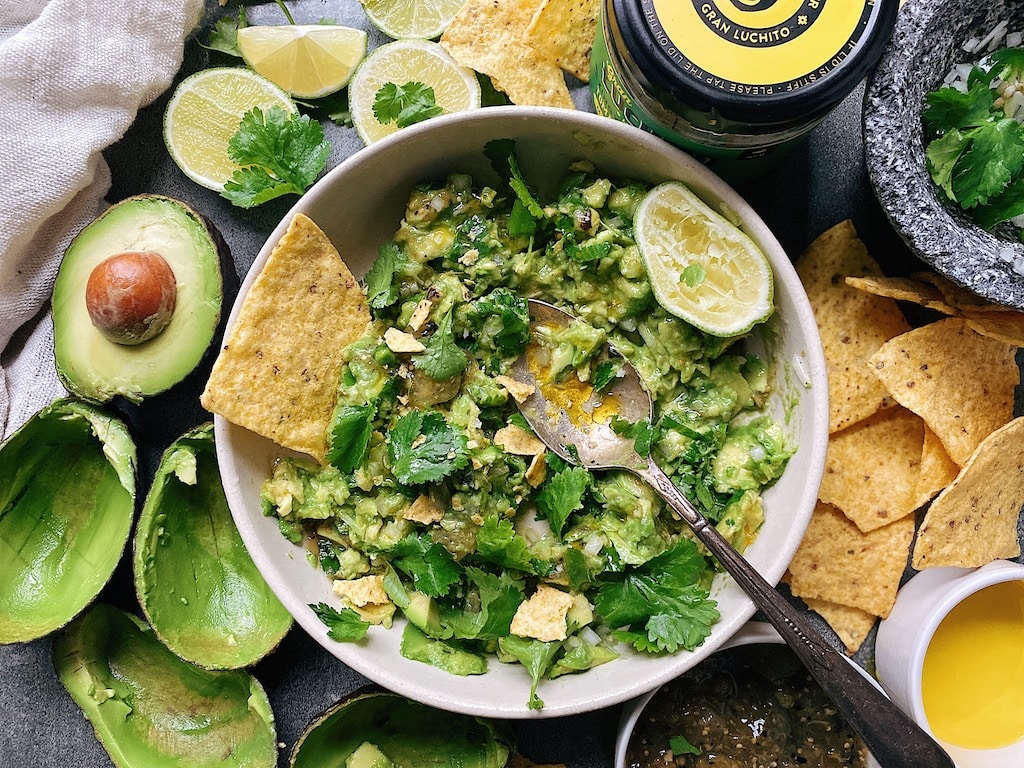 Serve it with a side of homemade guacamole
And some Vegan Nachos
Similar Recipes You Might Like to Try
FAQs
Can you eat too much nutritional yeast?
Although nutritional yeast is generally safe for most people, it may cause negative reactions in individuals who are sensitive to it. In large doses, it can cause digestive discomfort or facial flushing due to its high fiber and niacin content.
How do you reheat vegan nacho cheese?
Reheat it on the stove and not in the microwave. Slowly reheating over low heat and stirring frequently will help your sauce to reheat evenly and smoothly. Only reheat it once, and add more water if necessary to adjust the consistency.
Can you freeze vegan nacho cheese?
We wouldn't recommend freezing it, no.
How long does vegan nacho cheese keep in the fridge?
Consume within the week, or better within 3 days.
Comments / Questions / Tips

Subscribe now for a free copy of the Gran Luchito e-cookbook filled with delicious, authentic Mexican recipes and join our mailing list for all the latest recipes, news and blog updates.