Vegan Enchiladas
Enchiladas have to be one of our most favourite things to eat here at Luchito. Nothing is more delicious than a savoury filling rolled into tortillas, covered in a delicious Mexican sauce, then sprinkled with grated cheese and a bit of crema.
We love the way that these vegan enchiladas verde are easy to adapt into a vegan dish and still provide a super delicious and wholesome meal for your friends and family. 
For a tasty vegan filling, we use not only veggies but also like using Merchant Gourmet puy lentils, and a bit of Gran Luchito Tomatillo Enchilada Sauce brings loads of flavour to this tasty filling.
The savoury filling is then wrapped into Gran Luchito Soft Taco Wraps with a spoonful of coconut yoghurt. It's covered with the rest of the Tomatillo Enchilada Sauce, a bit of grated mozzarella-style vegan cheese, and the rest of the coconut yogurt dolloped all around the top. 
If that vegan enchilada sauce wasn't delicious enough, once you bake them in the oven it produces the most comforting steamy vegan enchiladas to serve for your family.
Prep time

Cook time

Total time

Ideal for

Dinner

Make it

Mexican

Serves

4
Nutrition: Per serving
kcal 83
fat 2.2g
saturates 0.6g
carbs 12.3g
sugars 2.5g
fibre 1g
protein 3.4g
salt 0.5g
How to make it
Preheat the oven to 200˚C/390˚F. Begin by preparing the filling for your enchiladas. Heat up a pan with olive oil, and once it's ready add in the shallots and garlic. Fry gently over a medium heat and then add in the carrots. Stir and let the mixture cook for a couple of minutes.

Once your carrots are slightly softer you can add the courgette and fry gently with the rest of the ingredients. Add the ready-to-eat puy lentils, 1/3 of the

Tomatillo Enchilada Sauce and the vegetable stock.

Cook for 2 to 3 minutes on medium heat.

Finally add the spinach, and season with a pinch of salt and freshly ground pepper. Stir and let the spinach wilt slightly, then remove from the heat and finish with freshly chopped coriander scattered on top, and set aside.

Open your packet of

Soft Taco Wraps

, and add into each soft tortilla a few spoonfuls of the lentil filling and a spoonful of coconut yoghurt. Wrap tightly and place each one into a baking dish. Repeat the same process with the rest of the filling and Soft Tacos.

Pour the rest of the

Tomatillo Enchilada Sauce

over your tacos, scatter the grated vegan cheese on top and dollop the remaining coconut yoghurt at the top. Drizzle with olive oil and add freshly ground black pepper, and bake in the oven for 20 minutes.

Serve as soon as they come out of the oven with a side of our vegan Mexican Rice recipe, or a fresh green salad.
Download Our Free Guide To Enchiladas
Your free Enchilada guide will be emailed to you immediately.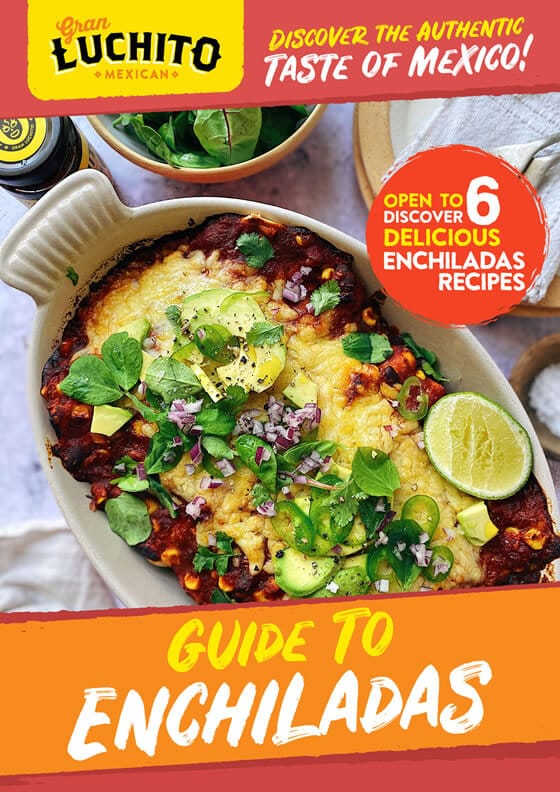 What To Serve With Vegan Enchiladas
Similar Recipes You Might Like to Try
FAQs
What vegetables should I use for vegan enchiladas?
The beauty of this recipe is that you can use what you have on hand or can find at your local supermarket or farmers market. So go wild with different concoctions! As you can imagine, this dish is packed with vitamins and nutrients from the veg.
Are your Soft Taco Wraps and Tomatillo Enchilada Sauce vegan?
Yes, these two Gran Luchito products are vegan-friendly.
What can i use instead of green enchilada sauce?
If you don't want a green sauce, then you can use our red Gran Luchito Chipotle Enchilada Sauce! It's a mild sauce with a blend of chipotle chillies, fire-roasted red tomato, onion and garlic. If you don't have enchilada sauce, or you run out of it you can use any tomato based sauce, but try to ramp up the heat a bit with a chilli.
Comments / Questions / Tips

Subscribe now for a free copy of the Gran Luchito e-cookbook filled with delicious, authentic Mexican recipes and join our mailing list for all the latest recipes, news and blog updates.