Pulled Pork Nachos
Here at Gran Luchito, we love nachos, and we especially have a soft spot for Pulled Pork Nachos. They may not be the most authentic Mexican food but nonetheless, they are delicious and the perfect sharing dish to prepare when you have friends around.
The slow cooker pulled pork takes a bit of time to prepare but it's worth all the effort. We find that it's a good idea to prepare a big amount of our recipe for pulled pork and keep some in the freezer to use next time you have some friends over.
To make these nachos extra special we add the beautifully cooked pork, flavoured with our pantry staple Gran Luchito Chipotle Paste, and serve it over layers of Gran Luchito Chipotle Tortilla Chips. Top them with cheese, quick pickled red onions, toasted corn kernels and finally creme fraiche.
We like to serve these pulled pork nachos with dollops Gran Luchito Hot Habanero Mango Salsa, but for extra heat don't forget to try Gran Luchito Fire Roasted Serranos.

---
Found On Amazon In United Kingdom and Germany.
---
Prep time

Cook time

Total time

Ideal for

Snack

Make it

Mexican

Serves

4
Nutrition: Per serving
kcal 200
fat 13g
saturates 4.6g
carbs 14.6g
sugars 2.4g
fibre 0.4g
protein 6.2g
salt 0.61g
How to make it
If making

pulled pork from scratch

, we recommend preparing it the previous day or on the same day in the morning.

If using leftovers, pop it in the oven at about 180°C / 360°F covered in foil, or in a saucepan covered with a lid, and reheat for 10 to 15 minutes. Once warmed, stir through the

Chipotle Paste

.

Prepare your quick pickled onions by adding the sliced onions into a small bowl with the lime juice, vinegar, extra virgin olive oil,

a pinch of salt and pepper. Mix with your hands briefly and let it rest while you prepare the rest of the ingredients.

Heat up a small frying pan with olive oil and once hot enough, add the corn kernels. Stir and let them cook until they get lightly toasted. Simply season with a little salt and set aside once ready.

Get an ovenproof dish or medium-sized lined baking tray. Add a layer of our Chipotle Tortilla Chips, then half of the spicy pulled pork and half of the grated cheese on top.

Repeat the same layers, and finish your nachos by scattering the spring onions on top. Bake in the oven until the cheese has melted.

Once ready, remove from the oven and garnish your nachos with the toasted corn kernels, spoonfuls of creme fraiche, dollops of Hot Habanero Mango Salsa and the quick pickled red onion. For extra heat don't forget to add Fire Roasted Serranos!
What To Serve With Nachos
If you are wondering what to serve with this pulled pork nachos recipe, why not go for some:
More About Nachos
Our How To Make Nachos blog will help you to master everything you need to know about making homemade Nachos. And our Nachos Recipes is our collection of tried and tested Nachos recipes with more flavours, protein and veggie options. For more inspiration on side dishes, check out our What To Serve With Nachos blog.
Download Our Free Guide To Nachos
Your free Nachos guide will be emailed to you immediately.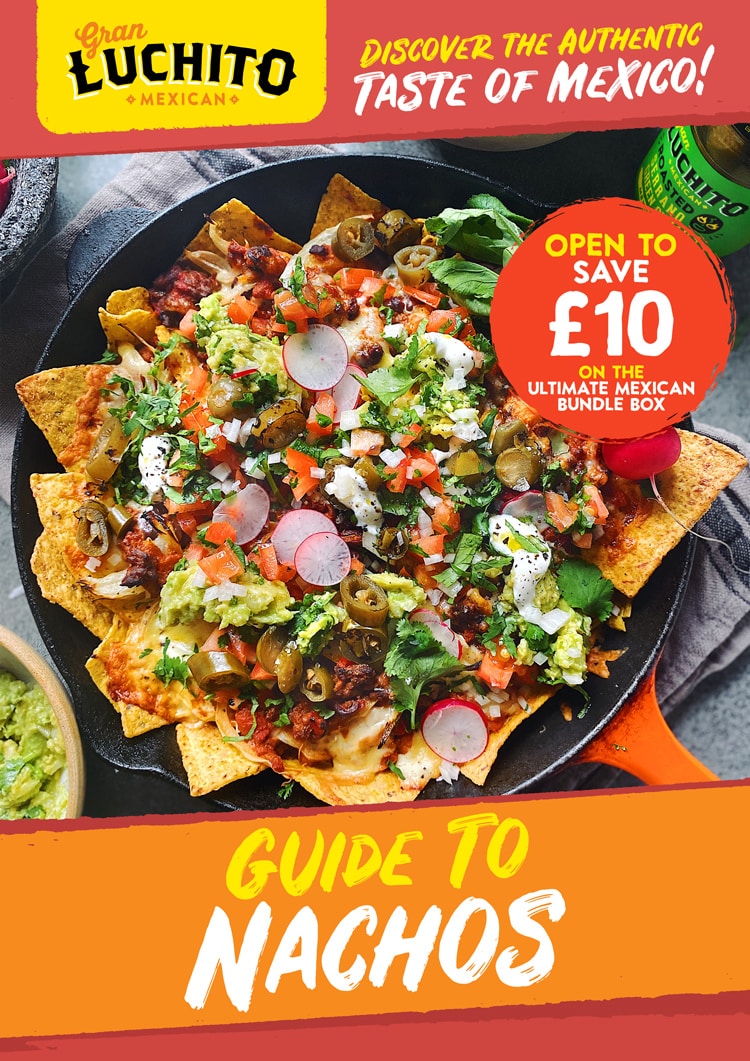 Similar Recipes You Might Like to Try
FAQs
When should the pulled pork be made for this recipe?
Our recipe for slow cooker pulled pork takes at least 6 hours, so it's best to start it in the morning if you are having these nachos in the evening. You can also make the pulled pork the day before, and store it in the fridge overnight. The pork can last about 4 days in the fridge.
Can you freeze pulled pork?
Yes! It keeps in an airtight container in the freezer for up to six months. To thaw it, put it in the fridge overnight. To defrost quicker than that, remove the meat from it's packaging and put it in a microwave-safe container. Put it in the microwave on the defrost setting to slowly thaw, rotating halfway through if it doesn't revolve on it's own. This should take about 7-8 minutes per pound.
Are these pulled pork nachos spicy?
Yes, they are. The pulled pork is not too spicy, but can be made more spicy with a bit more Chipotle Paste added to it. What makes these pulled pork nachos spicier is the Hot Habanero Mango Salsa, and the Serrano Chillies added to it. If you prefer things on the milder side, swap the Mango Salsa for our Tomatillo Salsa, and skip the Serranos or swap them for our Jalapeno & Pineapple.
Comments / Questions / Tips

Subscribe now for a free copy of the Gran Luchito e-cookbook filled with delicious, authentic Mexican recipes and join our mailing list for all the latest recipes, news and blog updates.