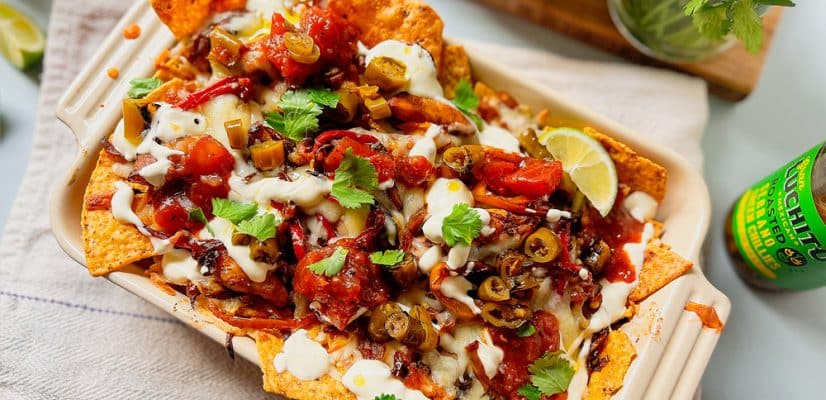 Fajita Nachos
These nachos are the ultimate game day snack, easy to prepare and every bit delicious. Fajita nachos are the tasty result of the combination of two Tex-Mex's most loved recipes.
Nachos are the classic party food to serve when you are entertaining, fajita nachos are the easiest way to take them to the next level. These nachos are loaded with all the flavours of fajitas, including grilled chicken, sautéed peppers and onions, and melted cheese. We top them with our favourite nacho garnishes, like sour cream, Gran Luchito Chipotle Salsa and Fire Roasted Serranos.
Top Tips When Making Fajitas Nachos:
Use high-quality tortilla chips. This will make a big difference in the texture of your nachos, Gran Luchito Lightly Salted Tortilla Chips are perfect for this.
Create at least 2 layers of tortilla chips, fajitas and cheese, to make sure you get a good amount of toppings vs. tortilla chips ratio. Nothing worse than getting to the bottom of your nachos and finding no more toppings left.
Add a good amount of cheese. The cheese is what makes nachos so delicious, and you want to achieve that gooey texture once you bake them.
If you like spicy food try our fire-roasted serranos and add them on top, for extra heat.
You can serve fajitas nachos alongside our recipe for sweet potato quesadillas and air fryer empanadas to serve a bigger spread for your friends or family.
Prep time

Cook time

Total time

Ideal for

Snack

Make it

Mexican

Serves

2
How to make it
Heat up a large frying pan over medium-high heat with half of the olive oil. Once the oil is hot enough, add the chicken strips. Let them cook for a couple of minutes and then add the Chipotle Paste, season with a pinch of salt and freshly ground black pepper, and stir the paste with the chicken. Once your chicken gets a bit of colour and is cooked through, remove it from the pan and place it on a plate on the side.
Add the remaining olive oil into the pan and now fry the onions, stir and let them get translucent. Then add the peppers and season with salt and pepper, fry until the pepper gets deliciously charred and soft. Then return the cooked chicken to the pan, add a squeeze of lime juice and a sprinkle of coriander, remove from the heat and set aside.
Get a medium-sized baking dish or tray, open the pack of Lightly Salted Tortilla Chips and place a layer of tortilla chips, then add half of the grated cheese on top and half of the fajitas, making sure they are both distributed evenly. Then create another layer of nachos with the remaining tortilla chips, grated cheese and fajitas, place them in the oven and bake for 6-7 minutes just enough to let the cheese melt at the top.
Once ready remove the fajita nachos from the oven, and get ready to serve them. Drizzle them with the sour cream on top, then add generous spoonfuls of Chipotle Salsa, a bit of Fire Roasted Serranos and the remaining coriander on top, serve while they still warm and gooey, enjoy!
What to serve with Fajita Nachos
Download Our Free Guide To Tacos
Your free Taco guide will be emailed to you immediately.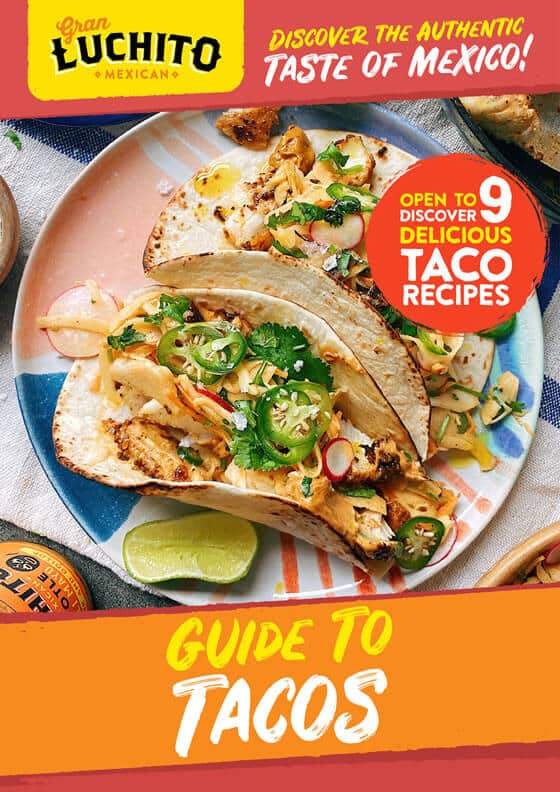 Similar Recipes You Might Like to Try
FAQs
What are Fajita Nachos?
Fajita Nachos are a Tex-Mex dish that combines the flavours of fajitas and nachos. They typically consist of crispy tortilla chips topped with seasoned grilled fajita-style chicken or beef, melted cheese, and various toppings like tomatoes, onions, peppers, sour cream, and guacamole.
Can I make Fajita Nachos with vegetarian or vegan options?
Absolutely! Fajita Nachos can easily be adapted to suit different dietary preferences. Instead of using meat, you can substitute with marinated and grilled tofu, tempeh, or even a mixture of colourful grilled vegetables. Non-dairy cheese alternatives and plant-based toppings can also be used to make this dish vegan-friendly.
Can I make Fajita Nachos ahead of time?
Although it's best to assemble Fajita Nachos right before serving to keep the chips crispy, you can prepare most components in advance. Marinate and cook your fajita meat ahead of time, chop the veggies, and prepare any toppings or sauces. When ready to serve, simply assemble and quickly heat the ingredients so the flavours meld together.
Comments / Questions / Tips

Subscribe now for a free copy of the Gran Luchito e-cookbook filled with delicious, authentic Mexican recipes and join our mailing list for all the latest recipes, news and blog updates.