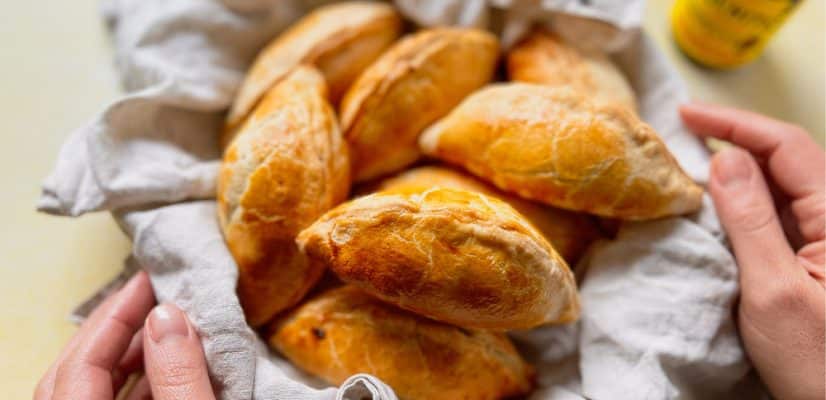 Air Fryer Empanada
Air fryer empanadas are the answer to empanada cravings, especially when you don't have much time to prepare them.
To make these empanadas you will need store bought shortcrust pastry, this will save you a lot of time, but if you prefer it you can make your own too.
Then prepare a quick filling by frying onion, potatoes, peas, minced beef with Chipotle Paste, this quick Mexican picadillo is perfect for empanadas.
Stretch the pastry dough, cut circles, add a spoonful of picadillo on each, seal the edges and that's it! They are ready to go into the air fryer. Just remember for beautifully golden brown empanadas, brush them with an egg wash and cook them in the air fryer for 15 minutes.
Other filling ideas:
These empanadas are perfect for freezing and then pop them directly into the preheated air fryer at 200 ˚C for 15 minutes. Don't forget to brush them with an egg wash before cooking them.
A few things to remember when making empanadas on an air fryer:
Preheat the air fryer. This will make cooking time much faster and you will achieve best results.
Don't overcrowd the air fryer. Place just enough empanadas to cook at one time, depending on the size of your tray, we recommend 2 or 3 empanadas at a time.
Use egg wash. To achieve beautifully golden brown empanadas, whisk together an egg with a splash of milk then use it to brush your empanadas before you cook them.
We recommend serving these empanadas with a side of Mexican Slaw or Chipotle Crema.
Prep time

Cook time

Total time

Ideal for

Snack

Make it

Mexican

Serves

5
How to make it
To prepare the filling add the olive oil over a hot pan. Fry the onions with the potatoes over medium heat, stir and let them cook for 5 minutes. Stir in the Chipotle Paste and mix it with the potato mixture, add the minced beef and break it into the pan with a wooden spoon, let the meat brown for a further 5 min.
When the beef gets a bit of color, add the chopped tomatoes, Worcestershire sauce, water, a pinch of salt and pepper, cover the pan with a lid and let it simmer for 15 to 20 minutes, until the potatoes are cooked through. Add the frozen peas a few minutes before the filling is ready and just let them cook with the steam and the lid on. Let the filling cool down completely before using.
Preheat the air fryer to 200˚C / 392°F.
Over a clean surface add a sprinkle of plain flour, stretch the short crust pastry block with a rolling pin. With a 12 cm cookie cutter or the rim of a glass cut pastry circles. Add a good amount of the beef filling into the center of each, brush the edges with the egg wash and fold it in half pressing the edges with your fingers to close your empanadas, repeat the same with the remaining pastry circles. Don't forget to bring the remaining dough together again and roll it out to make more empanadas and make use of all the pastry.
Place 3 or 4 empanadas at a time in the air fryer basket, do this with the empanadas standing up so you get both sides brushed with an egg wash and golden brown on both sides. Cook in the air fryer for 15 minutes at 180 ˚C.
What to serve with Air Fryer Empanadas
Download Our Free Guide To Tacos
Your free Taco guide will be emailed to you immediately.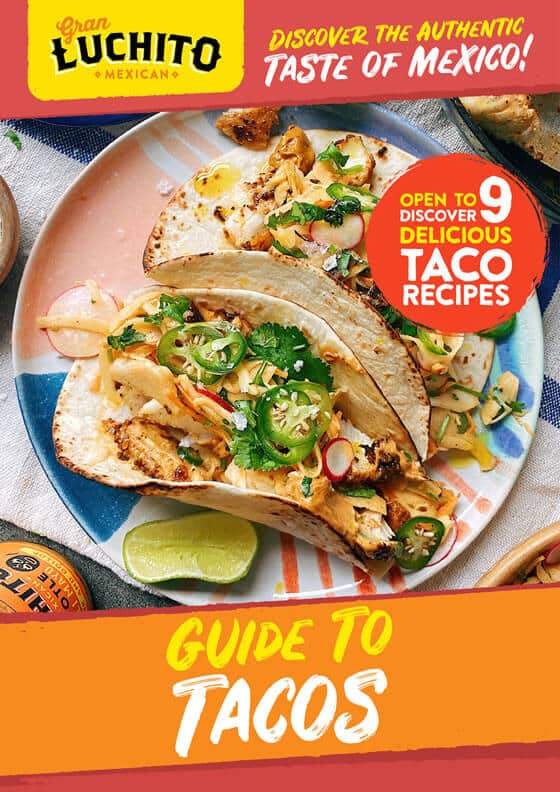 Similar Recipes You Might Like to Try
FAQs
How do you know when empanadas are ready?
If you want perfectly cooked empanadas, you need to air fry them until the exterior is golden brown and crunchy.
How can I prevent my empanadas from falling apart?
When rolling out the dough, if it crumbles or splits, the dough is likely too dry. Add some cold water to the dough and knead it lightly with your hands.
How long to heat empanadas in air fryer?
Place empanadas in a single layer in the air fryer basket and preheat to 350 degrees. Bake for 6 minutes (adding 1 minute if cooking more than 2 at once) and allow to cool for 1-2 minutes.
Comments / Questions / Tips

Subscribe now for a free copy of the Gran Luchito e-cookbook filled with delicious, authentic Mexican recipes and join our mailing list for all the latest recipes, news and blog updates.