Air Fryer Tacos
Air fryer tacos are a family favourite, they are easy to prepare and a healthy midweek meal that will come very handy during busy days.
To make these air fryer tacos you will need:
Gran Luchito Soft Tacos or corn tortillas, an essential ingredient when preparing tacos at home.
Chicken. Our favourite protein could be swapped for steak strips or ground turkey for a leaner choice.
Gran Luchito Chipotle Fajita & Taco mix. The perfect all round seasoning when you want to add smoky chipotle to your meals. For a different variation of this recipe you can also try our Ancho BBQ or Guajillo Fajita & Taco Mix.
Homemade Macha Mayo. A delicious creamy and spicy dressing to drizzle over your tacos, using Gran Luchito Crunchy Salsa Macha.
A Fresh Garnish. Salad leaves, shredded cabbage or a bit of coriander, bring a nice texture as well as a fresh touch.
What to serve with Air Fryer Tacos:
Tips when cooking tacos in the air fryer:
Preheat the air fryer for best results.
Add a coating of cooking spray oil to your tacos to make them crispy on the outside.
Cook 2 or 3 at a time depending on the size of your air fryer, avoid overcrowding the air fryer for best results.
Prep time

Cook time

Total time

Ideal for

Dinner

Make it

Mexican

Serves

3
How to make it
In a frying pan, heat up the olive oil, when it is hot enough add the onions, the chicken strips with the Chipotle Fajita & Taco Mix, season with a pinch of salt and pepper. Stir and let the chicken cook through for 6 to 7 minutes. When ready, remove from the heat and add the lime juice on top, then set aside.
Preheat the air fryer. Get the Soft Tacos, and place them over a clean kitchen surface. Add a spoonful or two of the chipotle chicken strips onto each tortilla, fold in half and repeat the same process until you use all of the filling.
Spray the tacos on both sides with cooking spray oil or brush with a bit of olive oil. Place 3 tacos at a time and cook in the air fryer for 9 to 10 minutes at 180 ˚C, until lovely and crispy. Cook the remaining tacos in the same way.
Serve the air fryer tacos with a handful of salad leaves, coriander and a spoonful of Macha Mayo. Once you have added the garnish to all your air fryer tacos, arrange them over a nice platter and serve.
What to serve with Air Fryer Tacos
Download Our Free Guide To Tacos
Your free Taco guide will be emailed to you immediately.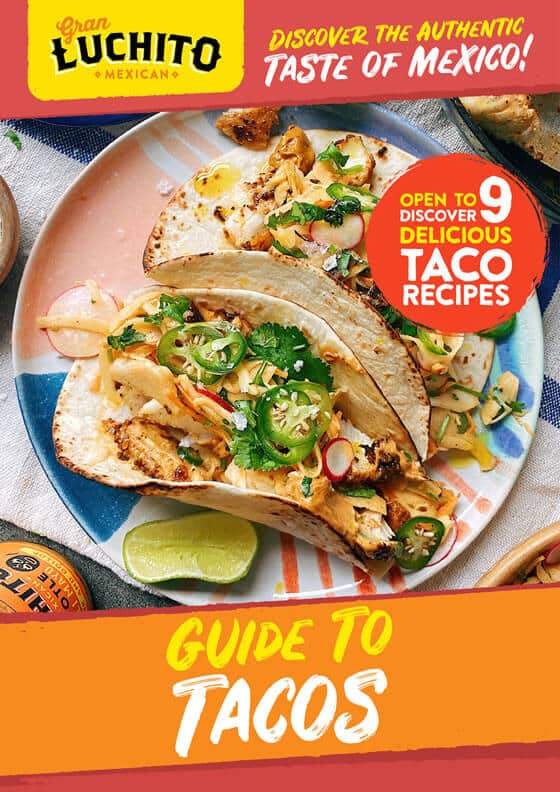 Similar Recipes You Might Like to Try
FAQs
How long to heat tacos in air fryer?
To begin, preheat the air fryer to 375 degrees Fahrenheit. Then, place the tacos in the basket of the air fryer so that they are not touching. Sauté for approximately 3 minutes, or until thoroughly cooked. Enjoy!
How to make crunchy taco in air fryer?
Use a pastry brush to lightly cover both sides of each tortilla with oil. Wrap the taco shell around the mould. Put mould in the basket of an air fryer for 4-6 minutes at 400 degrees Fahrenheit until golden and crisp.
Can you put soft taco shells in the air fryer?
Of course. You will still need to reheat the tortillas to make them soft and pliable, but they will crisp up nicely in the air fryer, similar to corn tortillas.
Comments / Questions / Tips

Subscribe now for a free copy of the Gran Luchito e-cookbook filled with delicious, authentic Mexican recipes and join our mailing list for all the latest recipes, news and blog updates.