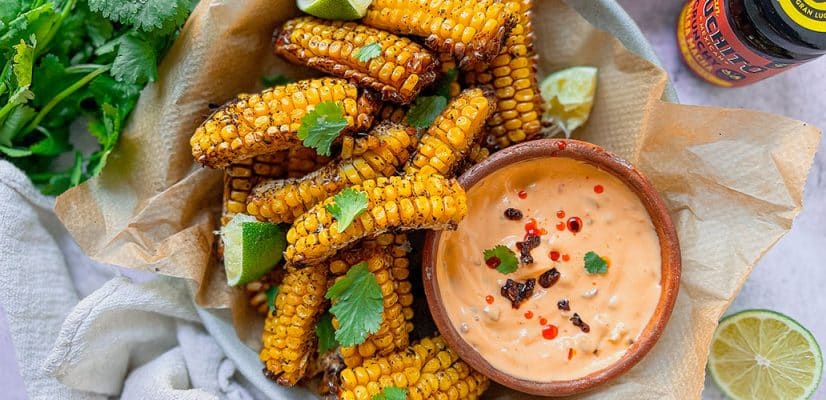 Corn Ribs with Macha Mayo
We're not sure who was the original source that first came up with corn on the cob ribs but when we saw this trend on TikTok we knew we had to try it and see for ourselves.
Well, we can attest that this is actually a pretty good idea and a delicious way to cook fresh corn on the cob! We especially loved the tasty charred edges that form with the spice mix while the corn ribs in the oven cook away.
Another big plus is how easy it is to prepare, aside from the challenging bit of cutting the corn. Just make sure to use a sharp knife, and once you're past that, all you need to do is to season the corn ribs with Gran Luchito Smoky Chipotle Fajita and Taco Mix and a bit of olive oil.
You then bake the chipotle seasoned corn pieces in the oven, until they curl up and the corn kernels are cooked. This may vary depending on your oven, and also on the freshness of your corn, but it should take about 20 to 30 minutes.
Serve your corn ribs recipe hot, and get ready to dip them into a delicious homemade salsa macha mayo, prepared simply by combining regular mayo with Gran Luchito Crunchy Salsa Macha and a bit of lime. It's a very simple yet delicious salsa macha recipe! 
Prep time

Cook time

Total time

Ideal for

Snack

Make it

Mexican

Serves

2
Nutrition: Per serving
kcal 243
fat 23g
saturates 2.2g
carbs 7.1g
sugars 2.3g
fibre 3.6g
protein 2.8g
salt 0.81g
How to make it
Preheat the oven to 200˚C/390˚F. Peel the leaves off the sweetcorn and remove the silks. Cut the ends of each corn so that you get a stable base. Then place the corn standing on its base and cut it into 4 pieces lengthwise. You will need a sharp knife for this and it may be a bit tricky, so be careful while you do it.

Place the corn pieces in a large bowl and add the

Smoky Chipotle Fajita & Taco Mix

, olive oil, a pinch of salt and freshly ground black pepper. With your hands make sure to rub the spice and oil onto each corn piece.

In a lined baking tray place your pieces of seasoned corn, and bake in the oven for 20 to 30 minutes. The time may vary depending on your oven or on how fresh the corn is, so keep an eye on it. Half way through the roasting time, flip them with the help of kitchen tongs to make sure they roast evenly.

While the corn is cooking, get a small bowl and combine the mayo,

Crunchy Salsa Macha

, olive oil and lime juice. Mix with a spoon until the sauce is completely integrated and season with a bit of salt and freshly ground pepper, then reserve.

Once your corn is roasted and has curled up, remove it from the oven. Place your corn ribs in a bowl and serve as a snack with delicious salsa macha mayo on the side, ready to dip into the corn. It's so delicious!
Download Our Free Guide To Mexican Classics
Your free guide will be emailed to you immediately.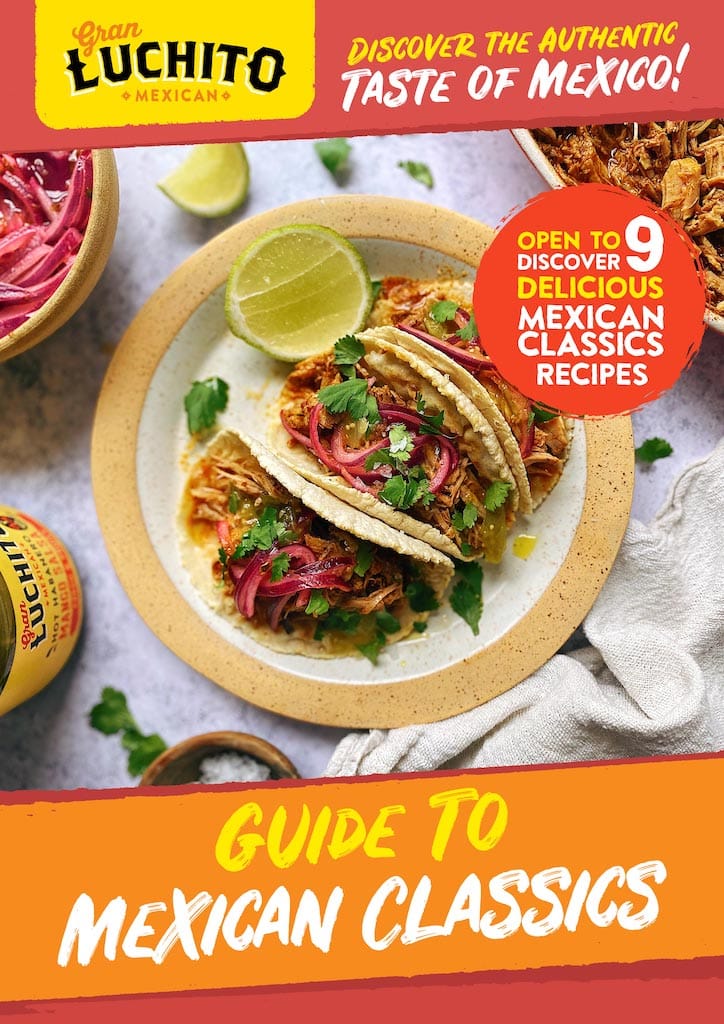 Similar Recipes You Might Like to Try
FAQs
Is this corn ribs recipe spicy?
Relatively, yes. The corn ribs have a more subtle heat as they are marinated in the smoky chipotle fajita and taco mix. The mayo is slightly hotter, with the salsa macha stirred in. If you like it slightly less hot, then go easy on the amount you stir in and do a taste test!
What else can you use instead of the corn with the macha mayo?
Just about anything! Pair it with chicken or other vegetables you might like with mayo, such as crispy homemade chips. You could even try it in coleslaw.
What if I don't have salsa macha?
This corn ribs recipe would go well dipped in our Chipotle Mayo!
Comments / Questions / Tips

Subscribe now for a free copy of the Gran Luchito e-cookbook filled with delicious, authentic Mexican recipes and join our mailing list for all the latest recipes, news and blog updates.