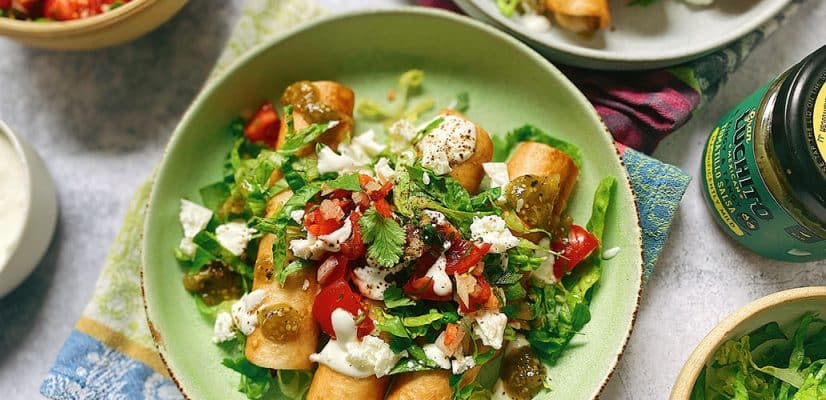 Chicken Taquitos
A sure-fire way to get the party started is to whip up a batch of our easy Chicken Taquitos to pass around! It's the perfect way to welcome guests into your home. A freshly made platter of this homemade taquitos recipe alongside some margaritas or a couple of chilled beers is the bees knees. 
But what you ask is a taquito? Crispy taquitos are delicious rolled tacos usually filled with shredded meat, shallow fried until crispy and garnished with shredded lettuce, salsa and sour cream.
For our chicken taquitos recipe, you can either use poached chicken that you can prepare at home, or to save time you can also use a rotisserie chicken. Shred the meat and then cook briefly with fried onions and add Gran Luchito Smoky Chipotle Fajita & Taco Mix to boost the flavour even more.
Prep time

20 mins

Cook time

30 mins

Total time

50 mins

Ideal for

Dinner

Make it

Mexican

Serves

4
How to make it
If cooking your own chicken, place the thighs, cloves, bay leaf, black peppercorns and salt into a small saucepan. Cover with water and simmer for 20 to 30 mins, until the meat is cooked through.

Once ready, remove from the heat and place the cooked chicken into a bowl. Shred the meat with two forks or your hands (reserve the stock for another recipe). If using a rotisserie chicken simply shred the meat and set aside.

In a frying pan add the olive oil and once it is hot enough fry the onions gently. Now add the shredded chicken, the

Gran Luchito Smoky Chipotle Fajita & Taco Mix

, a bit of salt and freshly ground pepper, and stir. Cook briefly and reserve.

Prepare a quick pico de gallo by adding all the ingredients into a small bowl. Season with a pinch of salt and freshly ground black pepper, then mix with a spoon and set aside.

To make your taquitos, add a spoonful of the chicken mixture into one of the

Gran Luchito Soft Taco Wraps

. Roll tight and repeat the same with a second tortilla. Secure both with the help of two toothpicks, as this will help to keep their shape while they are cooking. Repeat this process with the rest of the filling and Soft Tacos. 

Prepare a frying pan with vegetable oil. Once it is hot enough (for frying) place two secured taquitos at a time into the pan and cook until golden and crispy. When they're ready, remove from the oil and carefully and place over kitchen paper. Repeat the same with the rest of the taquitos.

Serve warm and garnish with the shredded lettuce, spoonfuls of sour cream drizzled on top, crumbled feta cheese, a bit of pico de gallo and last but not least a spoonful of Gran Luchito Tomatillo Salsa. Enjoy!
What To Serve With Chicken Taquitos
Serve it alongside:
Download Our Free Guide To Mexican Classics
Your free guide will be emailed to you immediately.
Similar Recipes You Might Like to Try
FAQs
Where did taquitos originate?
A taquito, is a Spanish word for small taco. Two Southern California restaurants are often given credit for their roles in the early development of the taquito. Cielito Lindo in LA, and El Indio Mexican Restaurant in San Diego. The latter began selling taquitos during World War II, when tortilla factory owner Ralph Pesqueria, was asked by workers across the street for a portable lunch option. Pesqueria, who used a recipe developed by his Mexican grandmother, has claimed credit for introducing the word taquito for the dish.
How do you keep taquitos crispy?
To keep the chicken taquitos warm and crispy until you're ready to serve, place them, in a single layer if possible, on a wire rack which in turn is placed on a baking sheet, and keep in a warm oven.
How do you reheat frozen taquitos?
To freeze, place cooked taquitos on a parchment-lined sheet pan and place the pan in the freezer. Once frozen, remove and place taquitos in a freezer bag for storage. To reheat, bake from frozen for 20-25 minutes in a 425°F oven.
Please let us know what you think of this recipe