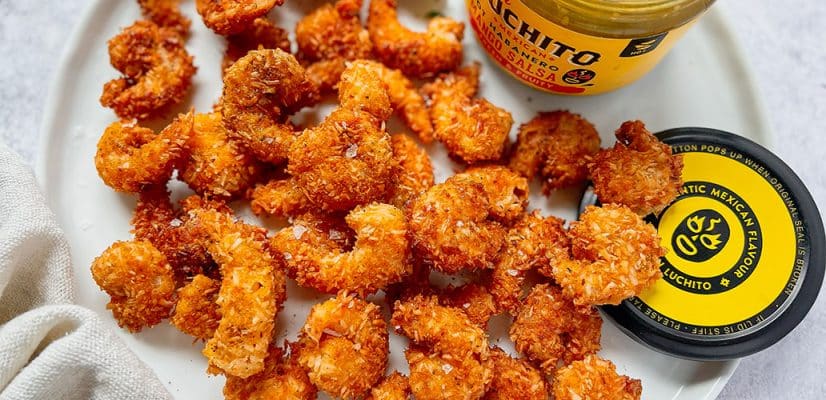 Coconut Prawns
Coconut prawns are normally found in the Yucatán Peninsula, specifically the city of Campeche. Here, fresh prawns are easily sourced and coated with dried coconut flakes, and fried until golden and crisp. A coconut prawns recipe is normally accompanied by a nice fruity and spicy salsa, such as mango with habanero, or papaya and habanero.
Preparing these crispy coconut prawns at home will transport you to a warm beach in Mexico! Warm and freshly made fried prawns served with Gran Luchito Habanero Mango Salsa are just what you need over the warm summer months, and are perfect for entertaining friends and family.
To make our recipe for coconut prawns even more delicious, we mixed a bit of Gran Luchito Garlic and Guajillo Fajita & Taco Mix with the flour, to make sure every layer of breadcrumbs is full of flavour. For the breadcrumbs, we recommend preparing your frying station ahead of time, as this will allow things to run smoothly and not get messy. 
So here are a few tips:
For the breadcrumbs, add the ingredients you will need into shallow bowls, in the order of use. So first prepare a bowl with the flour, then another one with the beaten eggs, and finally one with the crumbly breadcrumbs.

Make sure your oil is hot and ready to go once you have coated your prawns. You always want to maintain raw shellfish at a certain temperature when cooking, for food safety, so you want to cook your prawns relatively fast.

A tip when breading your prawns is to use your right hand for coating them in dry ingredients, and your left one for the liquid ingredients. This way you don't need to wash your hands every three seconds! It will keep things nice and tidy.
Prep time

Cook time

Total time

Ideal for

Snack

Make it

Mexican

Serves

2
Nutrition: Per serving
kcal 230
fat 17g
saturates 3.5g
carbs 10.3g
sugars 2.1g
fibre 1.1g
protein 9.2g
salt 0.91g
How to make it
Prepare 3 shallow bowls for your breadcrumb station. In the first one place the flour with the

Garlic and Guajillo Fajita & Taco Mix

and mix with a spoon. In the second bowl, add the eggs beaten with a pinch of salt and pepper. Lastly, in the third bowl mix the dried coconut with the breadcrumbs.

Heat up a frying pan with the olive oil over high heat. Once your oil is very hot you can begin to fry your prawns. To check if it is hot enough, add in a pinch of breadcrumbs and if it begins to bubble away quickly it means it's ready. You may want to then reduce the heat to medium-high.

While the oil is heating up, add your prawns 6 at a time into the flour

mixture, then use your right hand to coat them. Once ready, shake the excess off and with your left hand place them into the egg mixture. Drip any excess egg off into the same bowl and place them directly into the coconut breadcrumb mixture. Use your right hand again to cover and coat all of your prawns properly. In this way you use one hand for dry ingredients, and the left hand for liquid ingredients. Repeat the same process with the rest of the prawns and place them on a plate ready to fry.

Once the prawns are nicely breaded, place them carefully into the hot oil and fry until crispy and golden brown on both sides. Remove with a slotted spoon and place them over kitchen paper to absorb any excess oil, then repeat the same process with the remaining prawns.

Serve your fried prawns recipe while it's still warm with our delicious hot Habanero Mango Salsa on the side, ready to dip in.
What To Serve With Coconut Prawns
Serve these coconut prawns, or any Mexican prawn recipes with some extra tasty snacks:
Download Our Free Guide To Mexican Classics
Your free guide will be emailed to you immediately.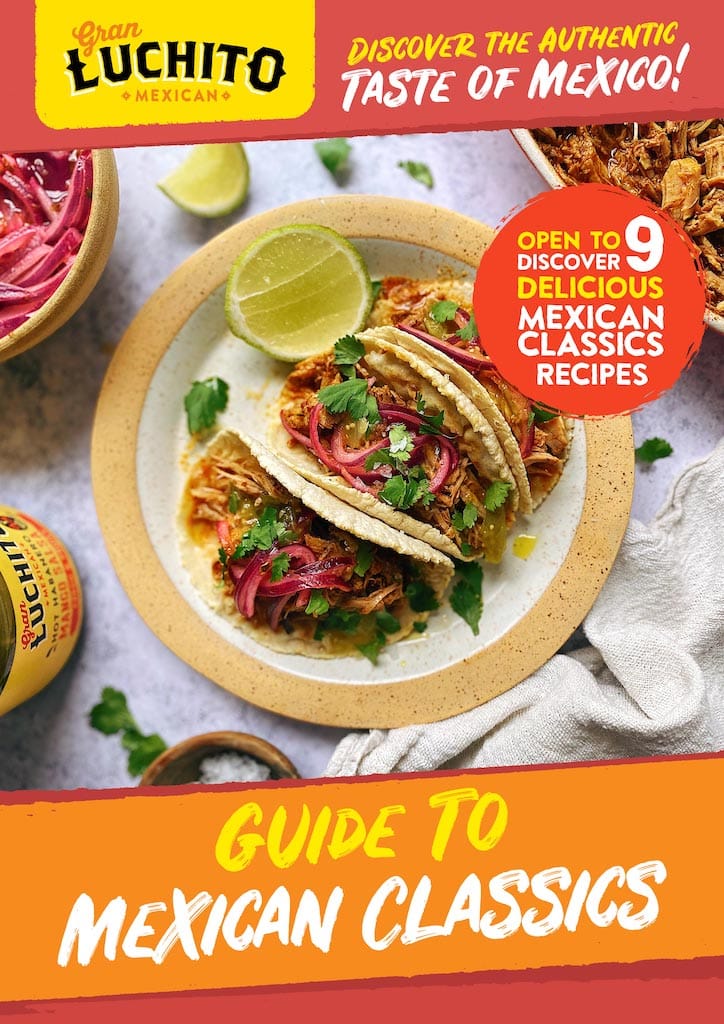 Similar Recipes You Might Like to Try
FAQs
What to serve with coconut prawns?
We'd recommend always serving these with a hot spicy and fruity sauce - our Gran Luchito Hot Habanero Mango Salsa is perfect! Additionally, some coleslaw, rice or a batch of quesadillas.
Where can I buy desiccated coconut?
You can definitely buy it in places like Wholefoods, Holland & Barrett, or online at Amazon or Ocado. Larger supermarkets such as Sainsbury's and Tesco's will also have it.
What are the best prawns to use?
We've used king prawns, as they fry up quickly and nicely, but you can also use jumbo prawns if you want to impress!
Comments / Questions / Tips

Subscribe now for a free copy of the Gran Luchito e-cookbook filled with delicious, authentic Mexican recipes and join our mailing list for all the latest recipes, news and blog updates.

wpDiscuz