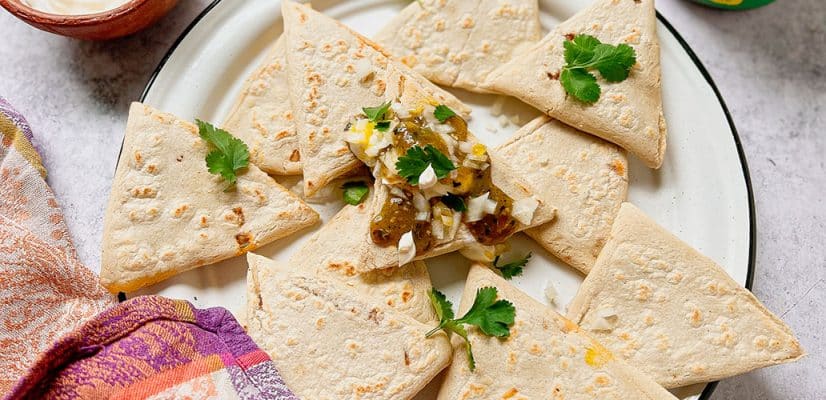 Tetelas
Tetelas are masa antojitos from the Oaxaca region in Mexico, normally prepared and sold by street vendors where "senoras" or cooks prepare them freshly. Tetelas can also be found in day markets or served at restaurants. 
A tetelas recipe is made with nixtamalized corn masa. This is the same dough that is used to make corn tortillas, where dried corn is soaked and cooked in an alkaline solution (limewater). This makes the corn easier to grind into a dough, adds flavour as well as increases the nutritional value of the masa.
The corn masa is shaped into balls with the palms of your hands, then pressed down into a tortilla-like shape. It's then filled with a smear of refried beans and a bit of "Queso Oaxaca"; a stringy cheese made in the region that melts nicely when warmed up. They are then folded into a triangle shape encasing the beans and cheese. These are then warmed up over very hot "comales" or pans, until they get lightly toasted on both sides. These tetelas are usually served warm with a freshly made salsa.
To make tetelas and masa at home, you will need a tortilla press and masa de harina.
We chose the comfort of potatoes to fill our tetelas, fried with onion and flavored with Gran Luchito Chipotle Paste, a bit of butter, and mashed roughly once cooked. Fill your masa triangles with the tasty chipotle potatoes and a bit of grated cheese. Once they have been warmed up over a hot pan and lightly toasted on both sides, they are ready.
Serve these tetelas with a bit of creme fraiche and our Gran Luchito Tomatillo Salsa for that last perfect touch!
Our recipe makes 12 tetelas.
Prep time

Cook time

Total time

Ideal for

Lunch or Snack

Make it

Mexican

Serves

4
Nutrition: Per serving
kcal 164
fat 7.6g
saturates 4.1g
carbs 19.6g
sugars 2.0g
fibre 2.1g
protein 4.2g
salt 1.1g
How to make it
Begin by preparing your chipotle potatoes. In a frying pan, heat up the olive oil over medium heat. Once ready, add the onion and fry gently until it softens for about 2 minutes. Now add the potatoes, the Chipotle Paste, cumin, and season with salt and pepper. Stir and let it cook for 5 minutes. Finally add the water and butter. Stir and cover the pan with a lid, then cook for a further 15 minutes until your potatoes cook through.

Once your potatoes are ready, remove them from the heat and crush them a little bit with a potato masher. Finish them by adding the coriander and leave to cool down on the side.

Now prepare the masa for your tetelas by combining in a bowl the masa de harina with the water and salt. Mix with your hands or a wooden spoon, and bring everything together into a soft masa or dough. Knead briefly and cover it with a damp cloth to avoid it from drying out.

Prepare two square pieces of plastic film by cutting the sides of a ziplock bag. Form a masa ball with your hands and place it in between the plastic films and into the tortilla press. Press the masa down into a tortilla-like shape, remove the top film and add a spoonful of chipotle potatoes and a bit of cheese. Fold into a triangle shape making sure to encase all the filling inside. 

Warm up the tetela over a hot non-stick pan, a couple of minutes on each side, until they get lightly toasted. You can cook a couple at a time.

Repeat the same process with the remaining masa, filling, and cheese. You can keep your tetelas warm by covering them with a tea towel. Serve whilst they are still warm, add a spoonful of creme fraiche on top, and a nice amount of Tomatillo Salsa. 
What To Serve With Tetelas?
Serve your tetelas with one or both of these delicious dips! Frijoles or Chicken Mole would also work well.
Download Our Free Guide To Mexican Classics
Your free guide will be emailed to you immediately.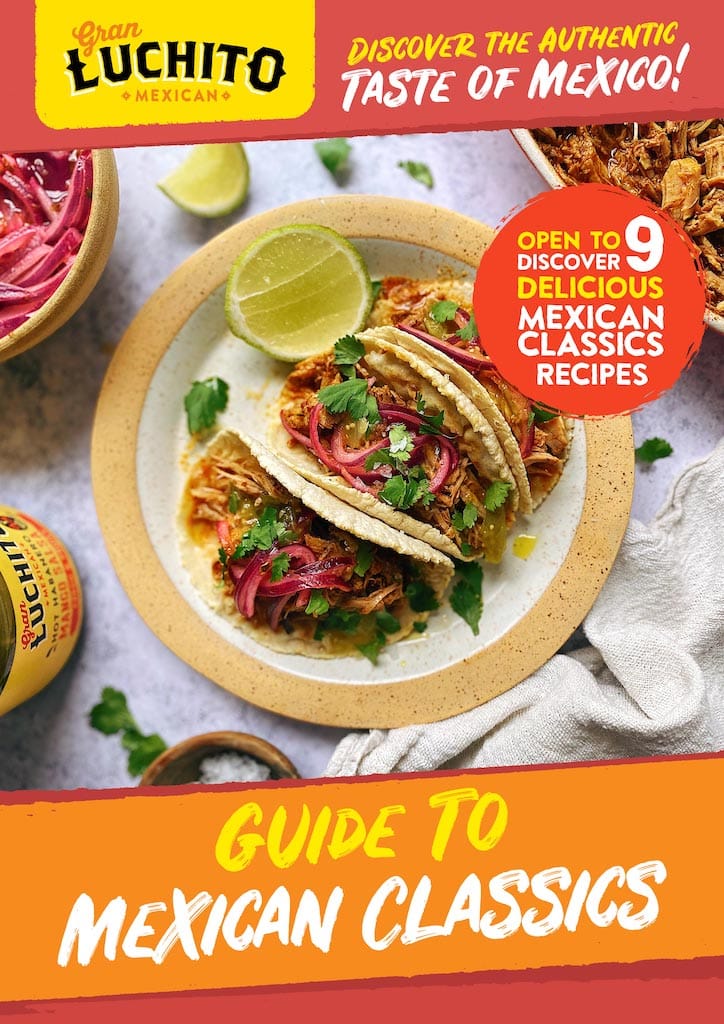 Similar Recipes You Might Like to Try
FAQs
What is corn masa?
Masa is a dough made from ground nixtamalized corn. It is used for making corn tortillas, gorditas, tamales, pupusas, and many other Latin American dishes.
What is masa de harina?
Masa de harina is the dough's dried and powdered form. The flour is reconstituted with water to make a dough (masa) before it is used in cooking.
When would you normally eat tetelas?
Once made, they are best eaten straight away. They are normally had as a snack in Mexico, with some salsa and maybe some crema. One trick is to refrigerate any leftovers and then reheat them in the toaster the next day!
Comments / Questions / Tips

Subscribe now for a free copy of the Gran Luchito e-cookbook filled with delicious, authentic Mexican recipes and join our mailing list for all the latest recipes, news and blog updates.