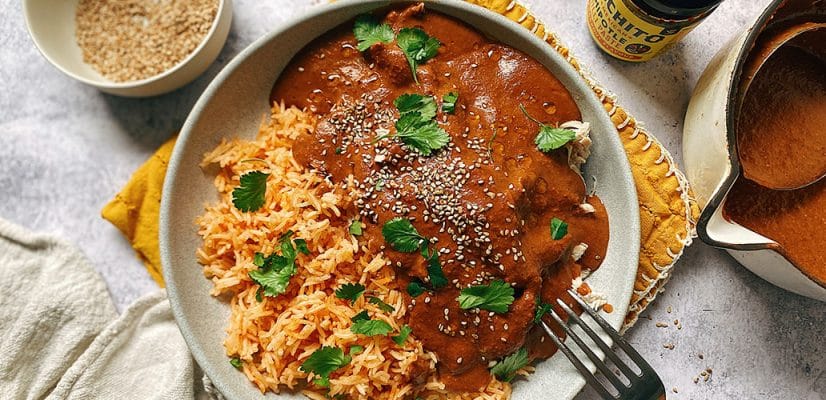 Chicken Mole
Mole is one of the most important dishes in Mexican gastronomy. It's origin goes back to pre-hispanic times but it was perfected during viceroyalty times. It's name comes from the Nahuatl "molli" or "mulli" which means sauce or mixture.
Mole is considered very precious and is prepared mainly during special occasions and festivities, such as Day of the Dead or to celebrate the Independence of Mexico. It's a very unique and complex dish, and you can find many mole recipes, not just chicken mole, around the country. It's believed that today in Mexico you can find about 50 different types of mole, but perhaps some of the most well-known ones are: mole poblano, mole negro, mole verde, mole manchamanteles, mole amarillo and mole coloradito.
Typically mole is prepared with a combination of Mexican dried chillies, nuts, sesame seeds, spices, fruit, garlic, onion and enriched with chocolate and chicken stock. However, it's preparation varies according to the region and the cook! Mole poblano is perhaps one of the most popular recipes. It was invented by a nun in the convent of Santa Rosa in 1681, in Puebla, Mexico when she was asked to cook a special dish for the viceroy.
For our Chicken Mole at Gran Luchito, we use Gran Luchito Chipotle Paste to give a smoky and sweet taste to this easy mole recipe, and it's prepared in a simple way so that everyone can prepare this at home. We recommend freezing any leftovers to enjoy later, as this is one of those recipes that tastes even better the day after when it's reheated. 
Don't forget to serve this Mexican chicken mole recipe alongside Mexican Rice and Stuffed Poblano Peppers or Tamales for a truly authentic Mexican feast! For further information on traditional Mexican dishes, check out our guide on What Is Authentic Mexican Food.
Prep time

Cook time

Total time

Ideal for

Dinner

Make it

Mexican

Serves

5
Nutrition: Per serving
kcal 84
fat 4g
saturates 0.9g
carbs 5.5g
sugars 4.2g
fibre 1.1g
protein 6.7g
salt 0.55g
How to make it
Begin by poaching your chicken. In a large saucepan place the raw chicken breasts, white onion, garlic clove, 1 bay leaf, 1 tablespoon of salt and cover with the water. Let it simmer on a medium heat for 30 to 40 minutes.

Once your chicken is cooked and your stock concentrated, remove the cooked chicken from the pan and shred the meat with the help of two forks. Strain the remaining stock and reserve. You should have about 1 litre / 4 cups of stock for the mole.

Begin to prepare the mole ingredients in a frying pan. Add 1 tablespoon of olive oil, and once hot enough add in the tomatoes, onion and garlic cloves. Let the vegetables get a bit of colour and stir from time to time. Once the tomatoes and onions turn soft, remove the vegetables from the pan and place them in a large bowl, then set aside.

In the same pan add a bit more oil (1 tablespoon) and gently toast the peanuts, sesame seeds, stale bread, cinnamon stick (broken down into smaller pieces), peppercorns, clove and coriander seeds. Stir and cook for a minute or two, then remove from the pan and place the mixture in the bowl with the rest of the cooked ingredients.

Finally, add a bit more oil (1 tablespoon) into the same pan and once hot enough, add the banana and raisins.

Let the banana get caramelized and once ready remove it from the pan, place it with the rest of the cooked mole ingredients.

Now in a blender place the fried mole ingredients, the

Chipotle Paste

(a bit of the stock to aid the blending) and blend smoothly, if your blender is not big enough you can do this in two parts. Once your mole mixture is ready, place the mole into a large saucepan over medium heat with a bit of olive oil and stir for 2 to 3 minutes.

Add the chicken stock and integrate into the sauce. Once your mole begins to simmer, add the dark chocolate broken into smaller pieces and stir it in until it merges completely. Season with salt and freshly ground pepper, then cook on low heat for 40 minutes covered with a lid.

You can add the shredded chicken into the mole sauce and combine. Serve with a side of Mexican Rice and garnish with a sprinkle of toasted sesame seeds on top. Enjoy!
What To Serve With Chicken Mole
Serve this Chicken Mole recipe alongside:
Download Our Free Guide To Mexican Classics
Your free guide will be emailed to you immediately.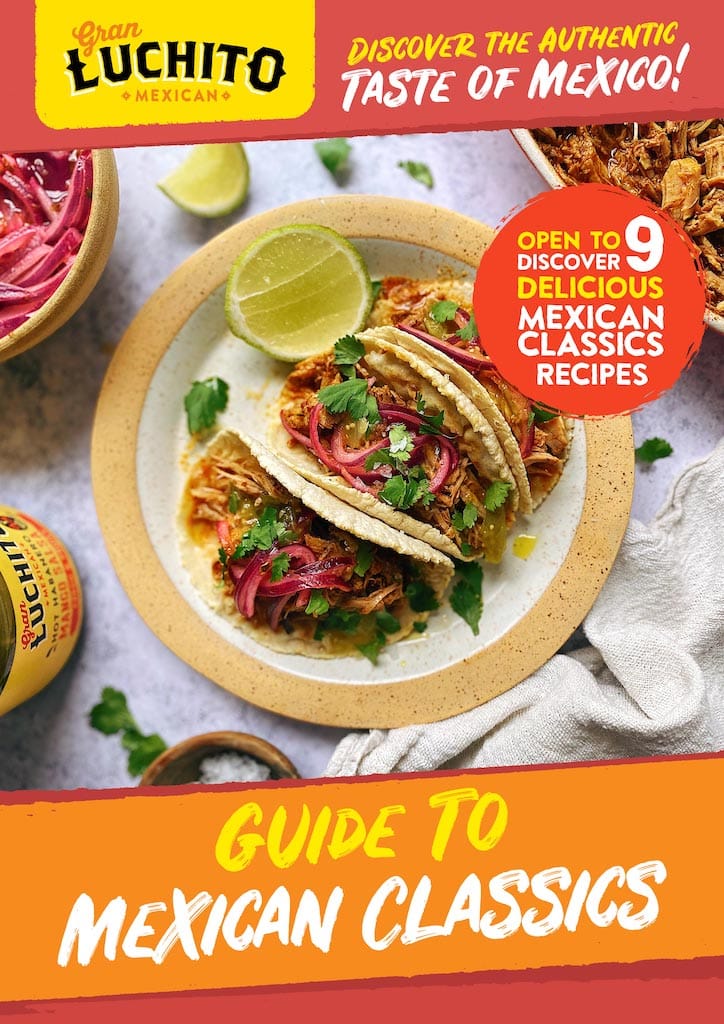 Similar Recipes You Might Like to Try
FAQs
What is mole?
Mole is a traditional sauce and marinade originally used in Mexican cuisine. Brownish-red in color, this sauce includes the common elements of dried chiles, sweet fruits, and other sweet-savory ingredients.
What does mole taste like?
All mole sauces taste a bit different. Some are sweeter, others are spicier, with varying consistencies—but they all feature spicy, smoky, and earthy-sweet notes contributed by ingredients such as chiles, nuts, warm spices, raisins, and tomato.
Is mole a chocolate sauce?
Many people think of mole as a chocolate sauce, but chocolate isn't included in all mole recipes. When it is, it's just one of many ingredients that make up the sauce. Mole Negro, Mole Poblano, Mole Colorado — each of these types of mole may contain a few ounces of chocolate, but when the end result is nearly a gallon of sauce, it's clear that chocolate isn't the biggest flavor component of the dish.
How do you serve mole?
As one legend of the origin of mole sauce tells it, nuns in Mexico put together a random assortment of ingredients upon hearing that the archbishop was coming to visit. The only meat they had on hand was an old turkey who wandered the grounds, and so they cooked it and ladled their sauce over the top.
Ladling mole over meat is the most common way to serve it. Of course, you can also combine the meat and sauce together before serving for tacos and burritos. It's also delicious served in enchiladas.
Can you freeze mole sauce?
Mole sauce can be frozen for up to 4 months. Just place cooled sauce in a freezer-safe container. It will keep about 3 days in the fridge.
Comments / Questions / Tips

Subscribe now for a free copy of the Gran Luchito e-cookbook filled with delicious, authentic Mexican recipes and join our mailing list for all the latest recipes, news and blog updates.

wpDiscuz