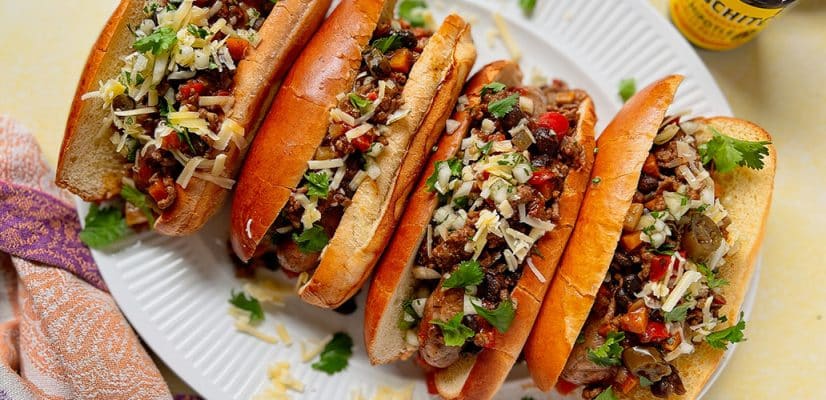 Chilli Dogs
Chilli dogs are an American classic and a favourite amongst chilli lovers. They are a fun family meal that's meant to be enjoyed with gusto!
Chilli dogs mainly consist of hot dogs topped with a generous amount of chilli con carne, a sprinkling of cheese, and finely diced onions, which makes them incredibly delicious and irresistible to eat. There are a few extra toppings that we recommend to add, such as Gran Luchito Fire Roasted Serranos if you like your chilli hot dog even hotter, and Gran Luchito Chipotle Tortilla Chips crumbled on top to add a bit of crunch. This is the thing about a hot dog and chilli – the messier they are the better!
In our opinion, this chilli dogs recipe is one of the best ways that you can prepare a hot dog and make use of leftover chilli. But this recipe also works well when you're feeding a crowd, as all you have to do is to prepare a big batch of chilli con carne and keep it warm, then get the grill going with the sausages. Once they're done, have the brioche buns ready to top with the sausages and then with the chilli.
If you have any leftover chilli, place it in a closed container in the fridge for up to 3 days. To reheat, simply place it in a saucepan with a lid on top over high heat until piping hot. Then you can make our recipe for Chilli Con Carne Burrito or a nice Breakfast Chilli.
Prep time

Cook time

Total time

Ideal for

Main Course

Make it

Mexican

Serves

6
Nutrition: Per serving
kcal 146
fat 8.7g
saturates 3.6g
carbs 8.1g
sugars 2.6g
fibre 1.2g
protein 8.8g
salt 0.68g
How to make it
Start by making the chilli con carne. In a large casserole dish, heat up 1 tablespoon of the olive oil, add the onion, garlic, celery, carrots and red peppers. Stir your ingredients gently and fry it over medium heat for 8-10 mins or until nice and soft. Then add the

Chipotle Paste

, the cumin,

Cantina Beans

(with juices), chopped tomatoes, coriander stalks, a pinch of salt, and freshly ground black pepper. Let this simmer over medium heat while you fry the meat.

In another pan, heat up the remaining olive oil and fry the minced beef until it's nice and brown (this will add extra flavour to the chilli) and simply season with salt and pepper. Once it's ready, add the cooked beef to the rest of the ingredients in the casserole, place a lid on, and let your recipe for chilli cook over low heat for 30 to 40 minutes at least. 

Meanwhile, get the BBQ going and start cooking your sausages over the grill.

Cut the buns down the centre and place a sausage inside each. Top with a generous amount of the chilli recipe, add a sprinkle of the remaining coriander, a bit of grated cheese, diced onion, a couple of Fire Roasted Serranos (if you like the heat), and enjoy your chilli cheese dog!
What To Serve With Chilli Dogs
Serve your chilli dogs with a big portion of these classic chicken nachos!
Alternatively these chicken fajitas with chipotle.
Download Our Free Guide To Chilli Con Carne
Your free Chilli guide will be emailed to you immediately.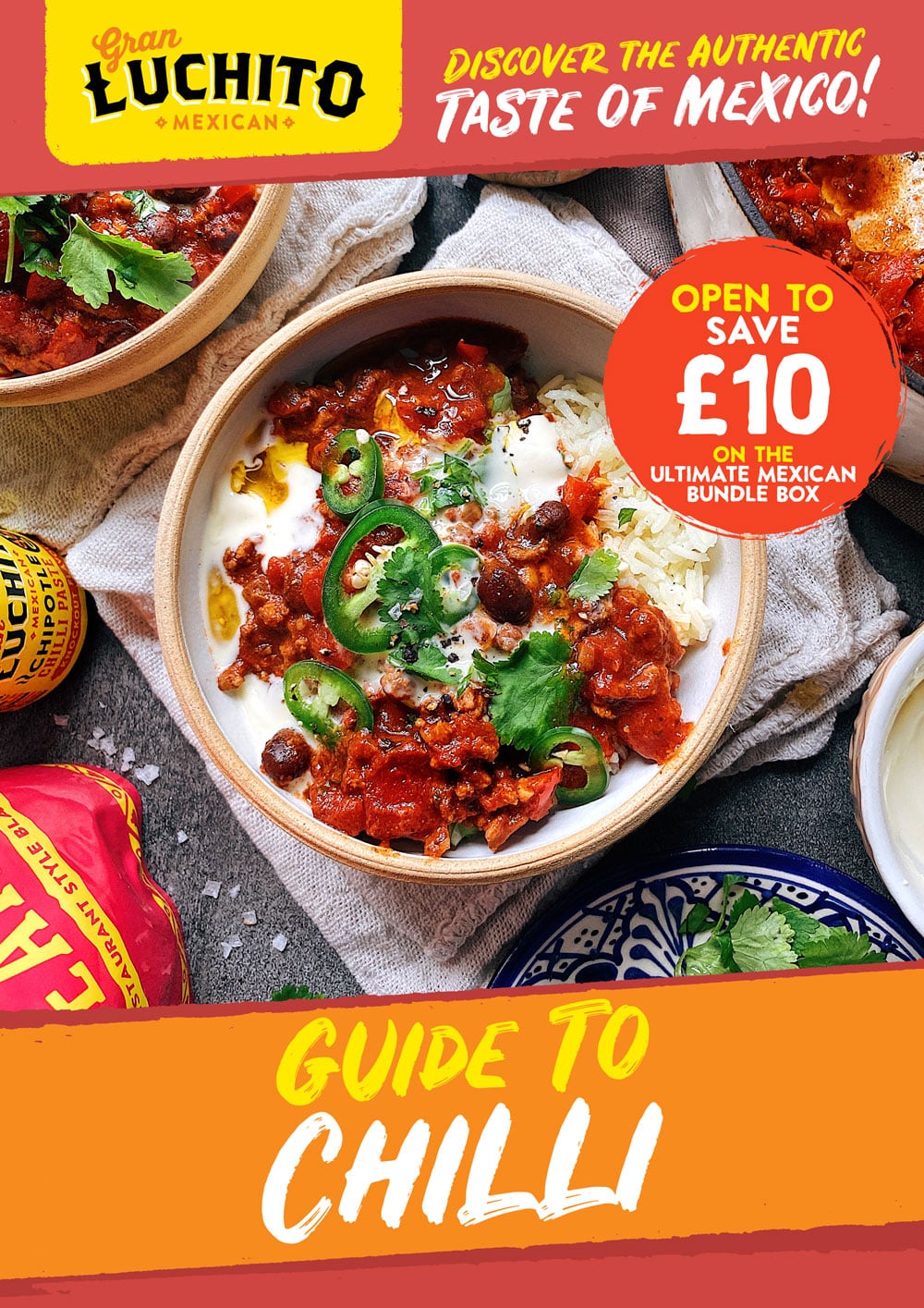 Similar Recipes You Might Like to Try
FAQs
What do you put in a chilli dog?
Along with the sausage and chilli con carne inside the bun, you can also add jalapenos, tomatoes, lettuce, sauces, onions, bacon, pickles, cheese, coriander etc.
Are chilli dogs spicy?
No they aren't spicy. The chilli in the name refers to the chilli con carne which goes on top of the hot dog and doesn't refer to the amount of spice.
Are chilli dogs healthy?
Heart disease is caused by bad fats, so try to go for sausages that are the best you can find, as well as making chilli that is lean meat. That way you keep the saturated fat content down, which is where most of the calories lie.
Comments / Questions / Tips

Subscribe now for a free copy of the Gran Luchito e-cookbook filled with delicious, authentic Mexican recipes and join our mailing list for all the latest recipes, news and blog updates.

wpDiscuz