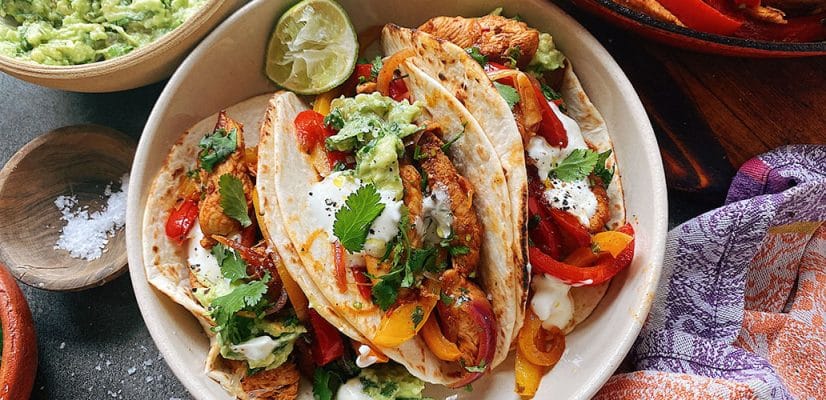 Chicken Fajitas With Chipotle
When it comes to homemade Mexican dishes, this Chicken Fajitas recipe is a brilliant dish to master. It requires only a few ingredients, is pretty quick and easy to make, and is a real crowd pleaser. Especially when you lay out all the toppings and everyone can make theirs just as they want! This makes Chicken Fajitas great for a midweek meal or when entertaining friends or family at the weekend.
What makes this the best Chicken Fajitas recipe? Hands down it is the flavour you get from our chipotle chicken fajita marinade – we think it's even better than what you might find at your favourite Mexican restaurant. The secret ingredient is our smoky Gran Luchito Chipotle Paste, which adds some Mexican magic and gives a great depth of flavour to the chicken. The Gran Luchito Chipotle Paste is mixed with freshly squeezed lime juice, dried oregano, olive oil, salt and pepper. We recommend marinating the chicken for an hour (or longer!) to really soak up the flavour in the fajita marinade.
Prep time

Cook time

Total time

Ideal for

Lunch

Make it

Mexican

Serves

2
Nutrition: Per serving
kcal 113
fat 6.9g
saturates 2.1g
carbs 9.9g
sugars 2.3g
fibre 1.4g
protein 2.8g
salt 0.37g
How to make it
To make the fajita marinade, mix the lime juice, 1 tablespoon of olive oil, 2 teaspoons of

 Chipotle Paste

, a sprinkle of dried oregano and a pinch of salt and pepper in a large bowl. 

Cover the chicken with the marinade and place it in the fridge in a closed container for at least one hour.

In another bowl toss in the sliced onion and peppers, add a drizzle of oil and season with a pinch of salt and pepper.

When you are ready to cook, heat a pan until very hot. Add the vegetables and cook them for 3 or 4 minutes until they char slightly. Remove your veggies from the pan and set aside for a minute.

Add the marinated chicken in the same pan and fry over high heat, let the chicken get a bit of colour and cook through (about 8 minutes).

Add your vegetables back in and stir. Season with salt and freshly ground black pepper to taste.

Finish your fajitas with a sprinkle of freshly chopped coriander on top.

Warm-up your Soft Taco Wraps, spoon in your fajitas, serve with the guacamole, a bit of sour cream and lime wedges on the side, and enjoy!
What To Serve With Chicken Fajitas
If you are wondering what to serve with this chicken fajitas recipe we have lots of ideas including classic Mexican side dishes such as:
More About Fajitas
Our How To Make Fajitas blog will help you to master everything you need to know about making homemade Fajitas. And our best Fajita Recipes is our collection of tried and tested Fajita recipes with more flavours, protein and veggie options. For further inspiration on side dishes, check out our blog on What To Serve With Fajitas.
Sign Up To Receive Our Free Guide To Fajitas
Your free Fajita guide will be emailed to you immediately.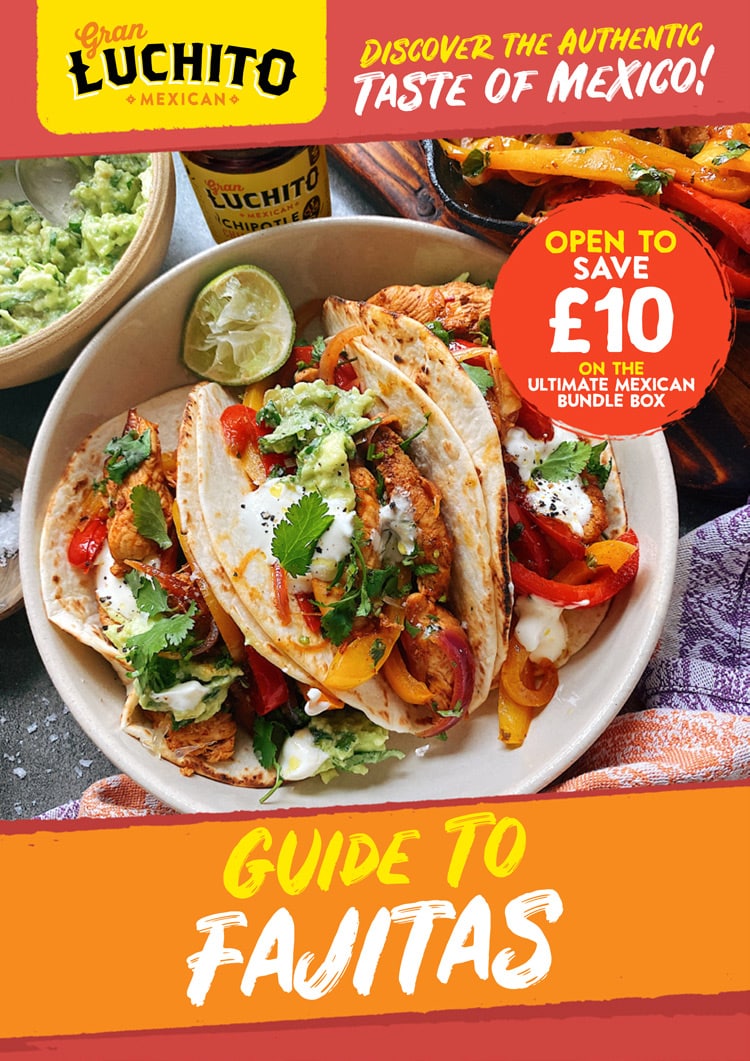 Similar Recipes You Might Like to Try
FAQs
Can I use chicken thighs in place of breasts in this chicken fajitas recipe?
Yes, chicken thighs work very well in this chicken fajitas recipe. We recommend cooking them whole and resting them before slicing.
Are these chicken fajitas healthy?
Yes, grilling food is one of the healthiest ways to cook and the added bonus is that they are loaded with peppers and onions. If you are on a calorie controlled diet we recommend using a jar of our authentic salsa as a topping as they are low in calories and you might want to consider limiting the number of tortillas and high calorie toppings such as grated cheese and sour cream.
Do you cut chicken before or after cooking?
If you are using chicken breast in this recipe, we recommend slicing the breast before marinating the chicken. If you are substituting chicken thighs then we recommend slicing after cooking.
How many calories in a chicken fajita wrap?
This recipe will make 4 very generous fajita wraps (2 per person) with approximately 255 calories in each fajita wrap (101 calories for 1 Soft Taco Wrap, 82 calories for 50g of chicken breast, 23 calories for peppers and onions, 40 calories for oil and marinade ingredients).
How to make healthy chicken fajitas?
With lean grilled chicken and veggies, chicken fajitas are a pretty healthy choice. When making fajitas at home, there are a couple of tips we recommend to make them even healthier. First, opt for chicken breast over chicken thighs as chicken breast is lower in calories, reduce the amount of oil used in your marinade and when cooking as there are 119 calories in 1tbsp of olive oil. You can serve fajitas over a bed of lettuce or in lettuce leaves instead of using tortilla wraps. Finally, choose healthier toppings such as pico de gallo and salsa - 1tbsp of Gran Luchito's Chipotle Salsa has only 4 calories whereas a similar amount of cheddar cheese has 80 calories.
Are chicken fajitas with chipotle spicy?
No, chicken fajitas are generally not spicy and have a mild flavouring. Our chicken fajitas recipe uses 2tsp of our smoky Chipotle Paste, so if you would like a milder version we recommend reducing the amount to 1tsp which should still give you lots fo flavour without the spicy kick.
Comments / Questions / Tips

Subscribe now for a free copy of the Gran Luchito e-cookbook filled with delicious, authentic Mexican recipes and join our mailing list for all the latest recipes, news and blog updates.