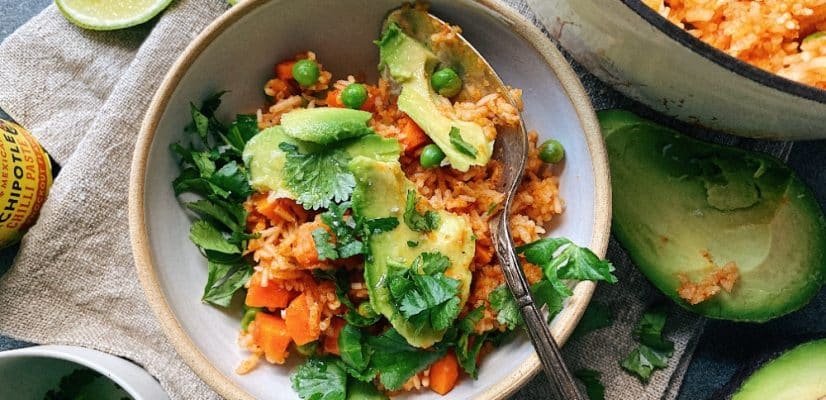 Mexican Rice With Chipotle
When it comes to Mexican food, in addition to beans and tortillas, red rice as it is known in Mexico is a staple of everyday meals.
The beauty of this restaurant style Mexican Rice recipe is not only how delicious it is, but also how easy it is to prepare, and that it goes well with almost any meal. This makes it one of the most cooked Mexican side dishes. In our cooking video Gran Luchito head chef, Susy V, shows you step-by-step how easy it is to make authentic and delicious Mexican rice.
Prep time

Cook time

Total time

Ideal for

Lunch

Make it

Mexican

Serves

4
Nutrition: Per serving
kcal 102
fat 7.7g
saturates 2.6g
carbs 5.5g
sugars 2.3g
fibre 1.6g
protein 2.9g
salt 0.31g
How to make it
Preheat your oven to 200°C / 390°F. Place the tomatoes, garlic clove and onion into a small baking dish. Drizzle with 1 tablespoon of the olive oil, and season with a pinch of salt and pepper. Bake for 20 minutes.

Once your vegetables are roasted, take them out of the oven and place them into a blender. Add the

Chipotle Paste

and blend smoothly. You should get about 1 cup of puree.

Prepare the basmati rice by washing it under the kitchen tap using a fine mesh sieve. Wash it with cold water until the water under runs clear, then set aside.

In a deep saucepan, heat the remaining olive oil over medium heat. Once ready, add the rice and carrots, then fry them lightly for a minute or two. Now add the chipotle tomato puree, stir and pour in the chicken stock, and season with a pinch of salt and pepper. Stir once to make sure the liquid is distributed evenly and finally add a bay leaf.

Cover your pot with a lid, and simmer on low heat for 20 minutes or so. Add the frozen peas 5 minutes before your rice is ready (without stirring), and cook until all the liquid is absorbed and you get lovely fluffy rice.

If you want to serve your rice with a chilli fried egg, make quick chipotle oil by adding a drizzle of olive oil to a frying pan and the

Smoky Chipotle Fajita and Taco Mix

. Gently crack the egg into the chilli oil and cook to your liking – we love sunny side ups with crispy edges!

Serve your chipotle rice warm, and for a full meal we like to serve it alongside the chilli fried egg, garnished with avocado, fresh chillies, coriander, onion for crunch, and a dollop of creme fraiche. Alternatively, you can just serve it as a side with some avocado and a bit of coriander scattered on top.
What To Serve With Mexican Rice
Mexican Chipotle Rice is a side dish that will go with just about anything – we love serving it with a side of Gran Luchito Refried Beans or Frijoles. For a restaurant-style experience to rival the best Mexican restaurant in town, try pairing it with:
Another one of our favourite ways to eat it is as a meal with a fried egg cooked in chipotle oil on top, so we have included that in steps 7-8 above, but that's optional
Download Our Free Guide To Mexican Classics
Your free guide will be emailed to you immediately.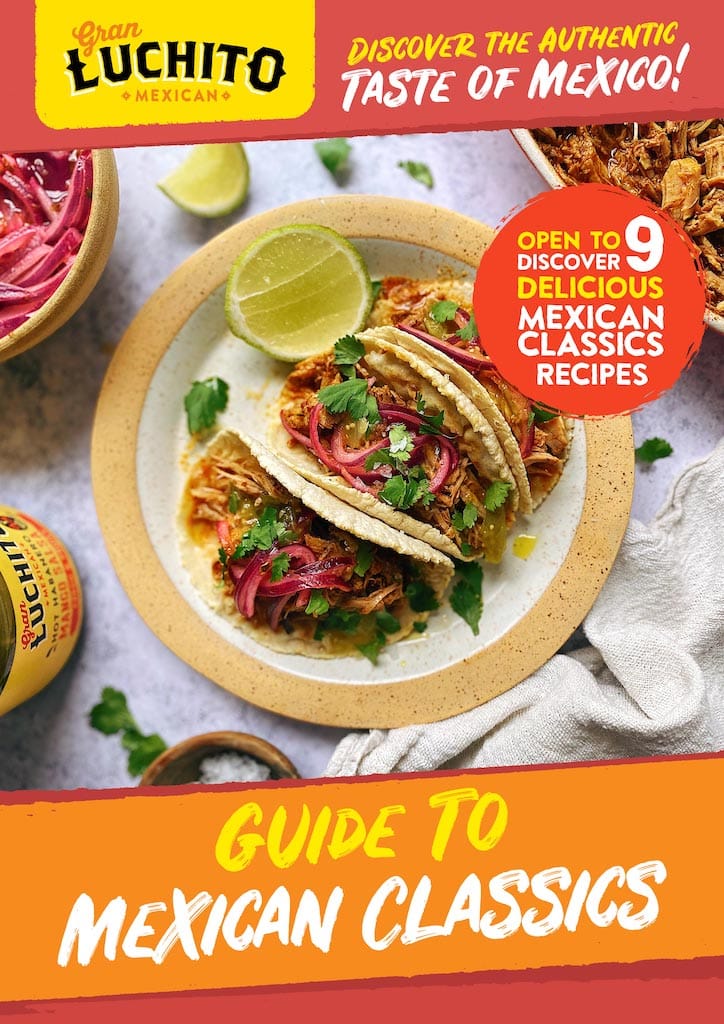 Tips To Make The Perfect Rice
Now rice is very easy to make but there are a few rules you have to always follow in order to get perfect rice, and that is:
Always wash your rice before cooking. Place it in a fine-mesh sieve under the tap and wash until the water under it runs clear. This means you wash away some of the starch and it helps to avoid your rice from sticking and getting mushy whilst it's cooking.
Rice and cooking liquid ratio is always 1:2, so if you are cooking 1 cup of rice you make sure you cook your rice with 2 cups of water, stock or any liquid.
Never stir the rice while it is cooking otherwise it will become mushy, simply let it cook by adding the liquid, covering your pot with a lid and letting it simmer on a low heat until the liquid is absorbed and the rice is cooked through.
Now with that said, for this recipe there may be a slight variation as the amount of liquid you add might change depending on how big your roasted tomatoes are and how much-roasted tomato puree you get. Bearing that in mind, you need to add the remaining liquid you need in order to achieve the 1:2 ratio. This can be in the form of chicken or vegetable stock.
Similar Recipes You Might Like to Try
Comments / Questions / Tips

Subscribe now for a free copy of the Gran Luchito e-cookbook filled with delicious, authentic Mexican recipes and join our mailing list for all the latest recipes, news and blog updates.