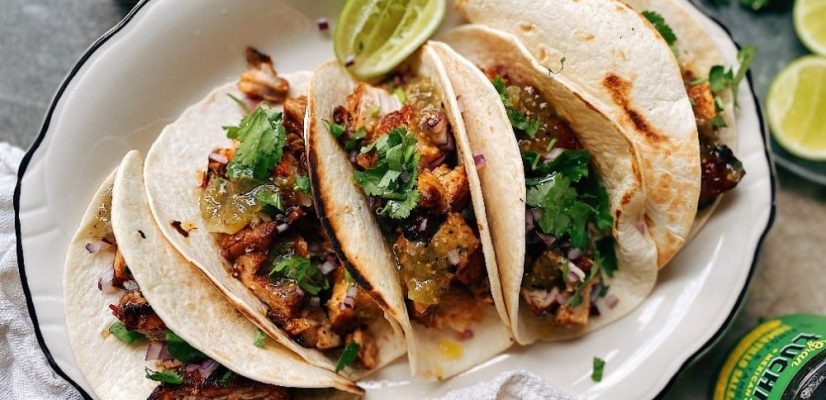 Pork Belly Tacos
We challenged our Head Chef, Susy, to come up with the most craveable, irresistible tacos she could imagine and she cooked these Pork Belly Tacos!
Pork belly, if you aren't familiar, is a boneless cut from the belly of the pig with a thick top layer of fat and then several thinner layers of fat marbled throughout it. This fat gives the pork an incredible flavour and heartiness. The key to making the best pork belly we think is to first slow cook it and then crisp it up in pan until it is caramelised. This will ensure your pork belly really is the most delicious and indulgent taco filling going!
For this Pork Belly Taco recipe we have slowly cooked pork belly in beer and spices until tender, then coated it in a delicious and spicy marinade (using our Gran Luchito Chipotle Paste). It then gets crisped up in a very hot pan, chopped up into carnitas-like chunks ready to be enjoyed with warm Gran Luchito Soft Taco Wraps. How does that sound?
We recommend making this on the weekend or when you have a little bit of extra time. It's one of those recipes that you have to enjoy the process as well as the final inevitable step when you get to eat them!
So pour yourself a little something, put that music on, and get cooking! We guarantee that the results will be 100% enjoyed!
If you love pork be sure to check out our Mexican Pork Recipes blog which has lots of yummy cooking inspiration, with everything from Slow Cooker Pulled Pork, and Twice Cooked Sticky Pork Belly.
Prep time

Cook time

Total time

Ideal for

Dinner

Make it

Mexican

Serves

3
Nutrition: Per serving
kcal 120
fat 9.2g
saturates 2.9g
carbs 1.3g
sugars 1.0g
fibre 0.3g
protein 7.6g
salt 0.48g
How to make it
Preheat the oven to 180°C / 350°F. With a very sharp knife cut your pork belly into smaller pieces about (½ inch width ). Then heat up a pan with 1 tablespoon of the olive oil over high heat, once the oil is very hot add the pork belly and brown all the way round, when it's ready remove your pan from the heat and set aside
In a baking dish add half of the beer, the stock, peeled garlic cloves, bay leaves, spring onions, black peppercorns and the coriander. Place all the fried pork into the liquid, and cover the baking dish with tin foil, wrapping it tightly.
Reduce the temperature of your oven to 160°C / 320°F and place your pork belly in the oven. Cook for 2 hours, add the rest of the beer half way through the cooking.
In the meantime, in a medium-sized bowl add the Chipotle Paste, orange juice, lime juice, red chilli and olive oil. Mix everything with a spoon and reserve.
Once ready, take your pork belly out of the oven. Get the prepared bowl with the chipotle mixture, remove the cooked pork pieces from the cooking liquid, place them directly into the bowl and coat them into the mixture.
Prepare a frying pan with the remaining olive oil. Once your oil is very hot add the pork belly and juices into the pan. Turn them around from time to time until they get lovely and caramelised.
Remove the pan from the heat. On a chopping board cut all of your pork into bite size pieces and season with a good pinch of flaky salt.
Warm up the Soft Taco Wraps and serve with the awesome pork belly. Garnish with finely diced red onion, fresh coriander, a good amount of Tomatillo Salsa and a squeeze of lime. Enjoy!
What To Serve With Pork Belly Tacos
Serve these delicious pork tacos with sides of:
Download Our Free Guide To Tacos
Your free Taco guide will be emailed to you immediately.


Similar Recipes You Might Like to Try
FAQs
How to cook pork belly for tacos?
We think that the best way to cook pork belly for tacos it to slow cook it first, with liquid, herbs and spices, and then fry it up in a pan to get the outside nice and crispy. This will ensure your pork belly is golden and caramelised all over, with a succulent inside.
Is pork belly salty?
Pork belly is unsalted. So what you buy will be unsalted. Some people like to make Salt Pork with their pork belly though, but this is not something that is cooked, it just means that it's cured pork. This is done by rubbing salts, spices, and sometimes even brown sugar on pork belly. This is then kept in the fridge for up to two weeks – the longer you let it stay there, the saltier it becomes. The salt also draws out any moisture from the pork belly, which makes the end result dry but flavourful.
Can you freeze cooked pork belly?
Although pork belly keeps better in the freezer when it's raw, you can freeze cooked leftovers as well. For cooked pork belly, try storing the skin and meat in separate containers so you can reheat them according to their own specifications.
Comments / Questions / Tips

Subscribe now for a free copy of the Gran Luchito e-cookbook filled with delicious, authentic Mexican recipes and join our mailing list for all the latest recipes, news and blog updates.