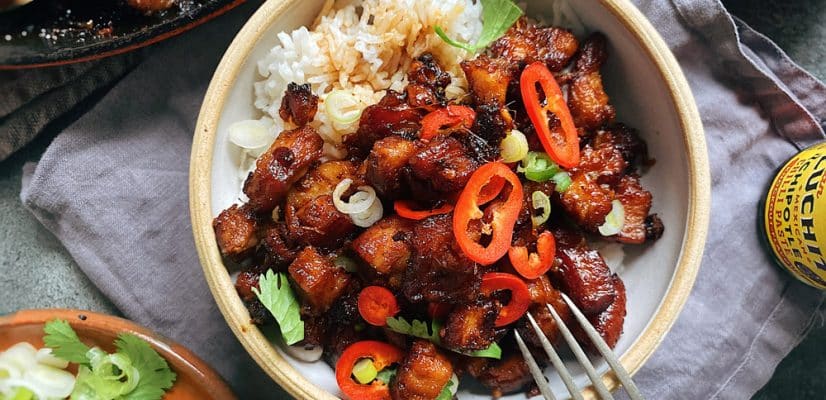 Twice Cooked Sticky Pork Belly
This twice-cooked sticky pork belly recipe is a must-try! When it comes to pork belly, what's not to love?! Pork belly has a delicious, rich and meaty flavour thanks to the layers of fat that surround the meat. Although it has become more fashionable over the past few years, pork belly is still an affordable cut. With some time and care you will be rewarded with tender meat and irresistible, crunchy outside bits – delicious!
We enjoyed making this pork belly recipe in the test kitchen and we have made a lot of delicious pork dishes! Packed with a lot of flavour, this sticky pork is a great dish for entertaining or when you are looking to impress that someone special but it's easy enough for a midweek meal as the slow cooker does a lot of the work.
First, the pork belly is cooked low and slow until beautifully tender, then it is glazed and crisped up with a Chipotle honey made using our Gran Luchito Chipotle Paste mixed with good quality honey. It's also very satisfying to use the delicious stock leftover from cooking the pork to make the accompanying rice super-tasty.
Serve this sticky pork belly with rice cooked in the slow cooker stock and you've got yourself an awesome meal.
If you like the sound of this sticky pork recipe, you should also check out our Pork Belly Tacos, crispy pork Carnitas or our Mexican Pulled Pork all of which we think are pretty irresistible pork dishes!
Prep time

Cook time

Total time

Ideal for

Dinner

Make it

Mexican

Serves

2
Nutrition: Per serving
kcal 164
fat 12g
saturates 3.1g
carbs 6.9g
sugars 2.9g
fibre 0.5g
protein 8.3g
salt 1.1g
How to make it
To Slow Cook The Pork:
Heat the oil in a frying pan until hot, add the chunks of pork belly and fry over medium/high heat until browned all over.
Transfer the seared pork to the slow cooker and add the ginger, garlic, sugar, white wine vinegar, stock, bay leaves and a good pinch of salt and pepper.
Mix and cook on high mode for 4 hours, or until the meat is very tender. If you don't have a slow cooker, place the ingredients in a baking dish. Tightly wrap with tin foil, and cook in the oven at 160°C / 325°F / Gas 3 for 3 hours. Make sure it doesn't run out of liquid, so add a bit of water if necessary.
Once ready, remove the pork belly from the slow cooker, or baking dish, and reserve the stock.
To Make The Sticky Pork Belly Sauce:
Heat the oil in a frying pan until very hot. Add the tender pork belly and leave to crisp up (it will spit a lot, so use a shield or a lid). Once crispy, carefully flip them over so they get crispy all over. Lower the heat to medium.
In a bowl, mix the

Chipotle

Paste

with the honey, soy sauce and ginger, then season with salt and pepper.
Add the mixture to the pork and cook for 5–10 minutes until it all goes sticky.
To Finish:
While the pork is cooking in the glaze, put the rice in a pan with the reserved stock, top it up with water, if necessary, and boil for about 8 minutes until tender. Drain.
Sprinkle the pork with the toasted sesame seeds, red chillies and spring onions and serve with the rice.
What To Serve With Twice Cooked Sticky Pork Belly
This recipe is best served with rice cooked in the same stock that was used for slow cooking, as this will enhance the flavour. Additionally, our Mexican Salad with a variety of vegetables and textures would make a delicious accompaniment.
Download Our Free Guide To Mexican Classics
Your free guide will be emailed to you immediately.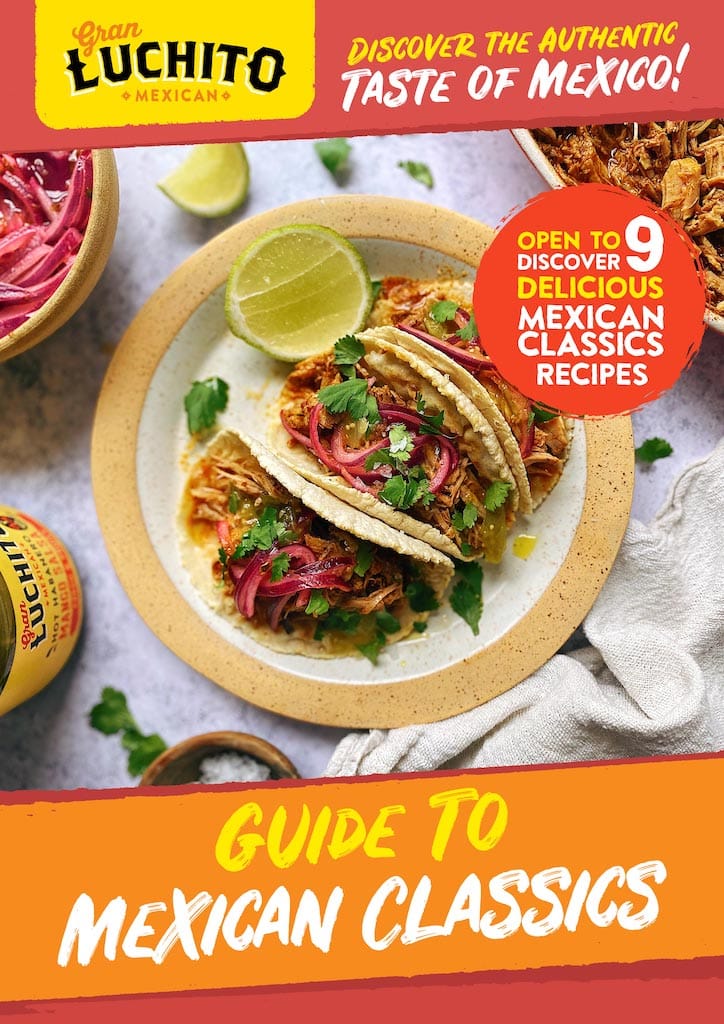 Similar Recipes You Might Like to Try
FAQs
How do you cook pork belly?
We think the best way to cook the pork belly is first to brown all over, then cook low and slow in a slow cooker allowing the fat to render over time resulting in tender meat. Then we like to crisp it up in a pan with our delicious chipotle glaze until sticky. This multi step approach ensures tender pork belly meat with a crispy finish - pure pork belly perfection!
Where does pork belly come from?
Pork belly comes from the belly of the pig and juicy layers of fat wrapped around the meat. This fat gives it loads of flavour. If cooked properly then the meat becomes very tender.
What's the difference between pork belly and bacon?
Pork belly is essentially bacon that hasn't been cured, smoked and sliced.
Comments / Questions / Tips

Subscribe now for a free copy of the Gran Luchito e-cookbook filled with delicious, authentic Mexican recipes and join our mailing list for all the latest recipes, news and blog updates.

wpDiscuz