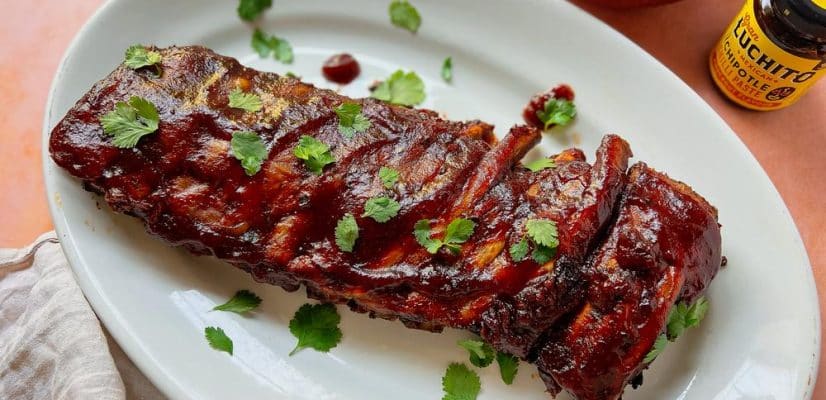 Pork Ribs with Chipotle BBQ Sauce
What's more delicious than succulent pork ribs slowly cooked and then covered with our special spice blend Gran Luchito Ancho BBQ Fajita & Taco Mix? If this didn't add enough flavour already, we then proceed to brush the pork ribs with our special recipe for Chipotle BBQ Sauce, prepared lovingly using our signature Gran Luchito Chipotle Paste. We then finish the Mexican ribs on the grill for an extra smoky taste, making sure to brush more of the chipotle sauce on as we go along and then serve the pork ribs recipe while it's still hot!
These bbq pork ribs are the perfect treat for BBQ season, and although it takes a bit of time to prepare, we can assure you that it's worth every minute. Likewise our chipotle BBQ sauce recipe will become a firm summer favourite in your home, because it's so addictive and very easy to put together. You can keep it in a jar in the fridge to use as you please!
We hope we've tempted you enough to try these tex mex ribs at home. They go perfectly with our recipe for a Mexican Burger, a side of Black Beans and Rice, our Elotes, and a very cold beer on the side. Enjoy!
Prep time

Cook time

Total time

Ideal for

Main Course

Make it

Mexican

Serves

2
Nutrition: Per serving
kcal 112
fat 5.0g
saturates 1.5g
carbs 10.1g
sugars 9.4g
fibre 0.4g
protein 6.3g
salt 1.4g
How to make it
Preheat the oven to 180˚C/360˚F. Begin by pre-cooking your Mexican pork. For this, place the ribs on a baking dish with the meaty part facing down and pour in the beer and stock. Add the peppercorns, bay leaves and salt. Cover tightly with tin foil and cook for 2 to 3 hours (the longer you can leave the pork ribs the more tender they will be).

In the meantime, prepare the Mexican BBQ sauce by adding all the ingredients into a small saucepan. Stir and bring it to a boil, then lower the heat to a minimum and cover with a lid. Let it simmer for 30 minutes, until thick and glossy. When ready, remove from the heat and discard the cinnamon stick. Allow it to cool down before placing the chipotle BBQ sauce in a jar with a lid and reserve.
If you are finishing the pork ribs over the grill, make sure to light your charcoal 20 minutes before you're planning to cook them, or 15 minutes before if you're using a gas grill (medium-high temperature). You can equally finish them in the oven at 180˚C/360˚F.
Once the ribs are ready, remove the baking dish from the oven and the ribs from the cooking liquid. Allow them to cool down slightly and place them over a tray or chopping board. Drizzle the olive oil on top and sprinkle with the Ancho BBQ Fajita & Taco Mix, then rub the seasoning all around them. Place half of the homemade chipotle BBQ sauce in a small bowl and with a pastry brush add that generously all over the ribs too.
To finish the pork ribs on the grill: place them over a part of it with medium heat (not the hottest side). Cook them with the lid down for 5 minutes approx. on each side, making sure to brush with more of the sticky BBQ sauce as you go along, and without letting them go dry. Serve the bbq ribs on a nice platter with your chosen side dishes.
To finish the pork ribs in the oven: simply place them on a baking dish once they have been seasoned with the Ancho BBQ Fajita & Taco Mix. Then brush with the chipotle BBQ sauce, cover with tin foil and cook them in the oven for 10 minutes. Serve the oven baked pork ribs whilst they are hot and with more chipotle BBQ sauce on the side.
What To Serve With Pork Ribs with Chipotle BBQ Sauce
Serve our delicious pork ribs with sides of:
Download Our Free Guide To Mexican Classics
Your free guide will be emailed to you immediately.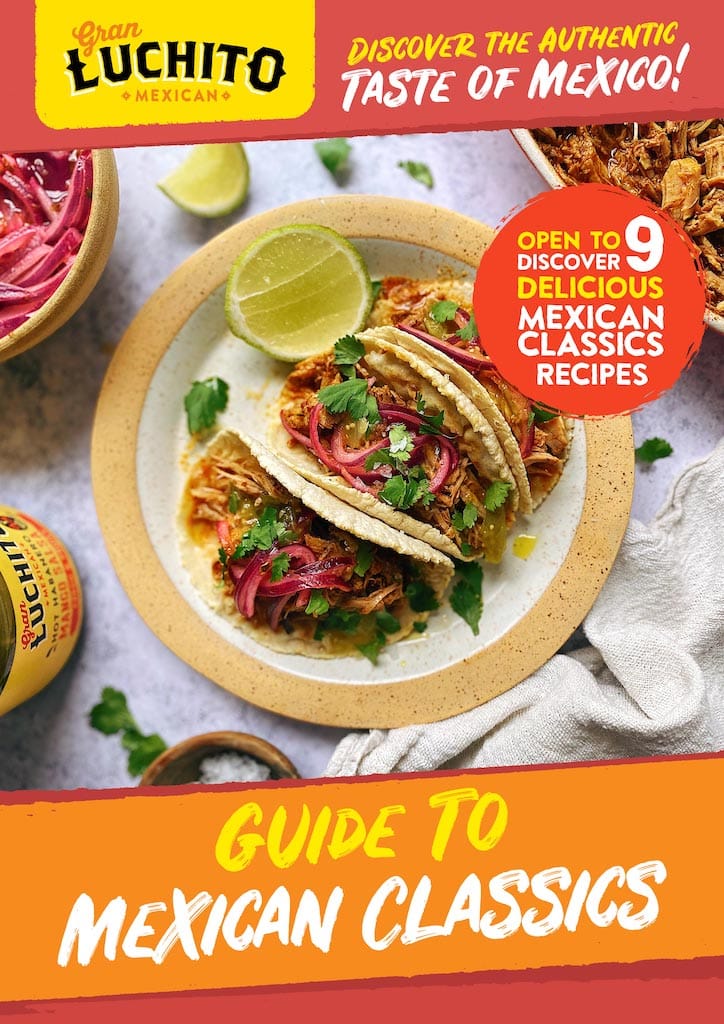 Similar Recipes You Might Like to Try
FAQs
How to cook pork ribs in the oven?
Put them in for 180˚C for 30 mins covered with foil. For tender ribs pre-cook in liquid first as we've mentioned in the recipe, then finish in the oven for 15 mins on a baking tray, covered with foil.
Is chipotle sauce spicy?
It's sweet and spicy but once it's on the ribs it balances out to become medium spicy.
Can pork ribs be pink?
For ribs recipes in general it is fine to see just a little bit of pink on the inside of your pork. Check the internal temperature with a thermometer to be sure. The United States Department of Agriculture (USDA) recommends that pork is cooked to 145 degrees Fahrenheit (medium-rare). You can then let it rest for 3 mins after you take it off the heat. However, in our recipe, there is no room for any pink as they are pre-cooked first in liquid and then finish on the grill.
Comments / Questions / Tips

Subscribe now for a free copy of the Gran Luchito e-cookbook filled with delicious, authentic Mexican recipes and join our mailing list for all the latest recipes, news and blog updates.